With a Mobile News Award under its belt and the million-customer milestone passed, Sky Mobile commercial director Sophia Ahmad and head of marketing Pierre Coppin have plenty to talk about
It's no secret that the MVNO space is growing at the expense of the UK's main operators. MNOs saw their customer numbers fall from a high of 75 million in 2014 to 71.2 million last year, while MVNOs saw users rise from 10.1 million to 13.07 million over the same period, according to CCS Insight.
Sky Mobile has played its part in this growth, having passed one million customers this June – a touch under two and a half years since it launched.
Though still a distance behind much longer-running leaders Tesco and Virgin, this puts the company roughly level with iD Mobile. Breaching the milestone is an impressive feat driven by Sky's USPs, including the ability roll over unused data from a previous month and increase or decrease data allowance based on necessity.
At the heart of Sky Mobile's drive are commercial director Sophia Ahmad and marketing director Pierre Coppin. Their drive to keep the company moving onwards and upwards is clear, with Sky recently underlining its ambition by announcing a November launch for 5G.
Mobile News took a trip to Sky's sprawling campus in Osterly, Middlesex to pick the brains of the two about 5G, unlimited data and the perks of calling on Tom Hardy to advertise a mobile network.
What are your working backgrounds?
Sophia Ahmad: I've been at Sky for 15 years. I spent the first 10 years in finance and worked on a number of launches, including that of NowTV and the work we did to get to 10 million customers. Stephen Van Rooyen [now Sky UK CEO] then offered me a role, so I moved over to marketing just to get an understanding of a different area.
Then Liz Wynn, who launched Sky Mobile,went on maternity leave, so I took over from her and stayed on in the role. She now works as commercial director for Sky TV.
Pierre Coppin: I worked at EE looking after profit and loss for data revenues at the time the company launched 4G before I came to Sky [in 2013] to work in TV. Six months in, I was in the right place at the right time when the mobile project was progressing behind the scenes – so I started working on that from the get-go as we were deciding whether we should launch a mobile service. I was looking after sales and marketing, how much marketing budget we would need, and how we would take the service to market.
How did you come up with Sky Mobile's core propositions?
PC: When mobile was 3G-led, we didn't have enough content within Sky that would be workable with the service. As a content-led business, you could watch more stuff when 4G came along, which made us more keen to do it. We did lots of user research, so everything emerged out of customer pain points: a question we tried to address was, what is it that MNOs aren't serving?
The answer mainly related to the transparency of price plans. Customers told us it was difficult to understand what they were buying and get out of their contract if they wanted to upgrade.
There was also a sense of a lack of fairness – so this was something that our rolling data came in to serve.
It looks like spending that time building the business around those customer pain points really worked out well, and the strong propositions we put in market nearly three years ago are still strong.
What types of customer did you survey for your research?
PC: We asked prospective customers such as our TV subscribers, as well as customers polled across the mobile networks and focus groups; it was carefully crafted.
You recently passed one million subscribers – was that within the expected time frame?
SA: It was actually a little bit faster than we'd expected. We're really happy and it's an important milestone because it's valuable to be able to reassure customers that a product is so good that one million people have taken it. All of our Sky teams thought it was a big achievement.
PC: It's one of those things you put on the page to start with and think "That's the aspiration". You don't know if you'll achieve it, but once you do in the time you wanted, that's a great feeling.
How advantageous has it been having pre-existing Sky TV and broadband customers to target?
SA: We launched very deliberately with a more compelling offer for Sky TV customers. In our first year and a half after launch, we offered unlimited free calls and texts for those customers because we wanted to give extra value to our TV base.
This move has really resonated with our Sky subscribers, who already trust us to provide TV or broadband services and have an existing billing relationship with us.
Do you target any particular demographics?
SA: We aim the service at all people; we're absolutely mass market.
Do you have any specific competitors from which you've sought to take market share?
PC: Not really; we go after everyone. If you look at the switching market, we'll be taking subscribers from the ones that are
suffering the most.
SA: We genuinely believe we have a proposition for everyone, so it's all up for grabs as far as I'm concerned.
How important is customer service to you given that you don't have a physical store presence like the MNOs?
SA: I don't think we are concerned about our customer service in a physical context. Our focus is on really simple customer
service. Users want a straightforward digital experience, which is why we've built mobile that way: you can go into your online account and alter your data allowance with the touch of a button, move to any plan or get new devices online.
PC: Even if we had lots of shops, we would make sure the digital process is simple: that's how you drive customer stickiness.
As part of a quad-play company, how much flexibility do you have?
SA: If you look at all of our marketing, we've pretty much just been focused on mobile rather than selling quad-play; the majority of it is: "Here is a brilliant phone or SIM plan".
We haven't spent a lot of money on marketing mobile as a bundle with the other products, although we have done a few combined things this year because we want to make sure a Sky household can get the most value they possibly can – and the more products you take from Sky, the better value you get.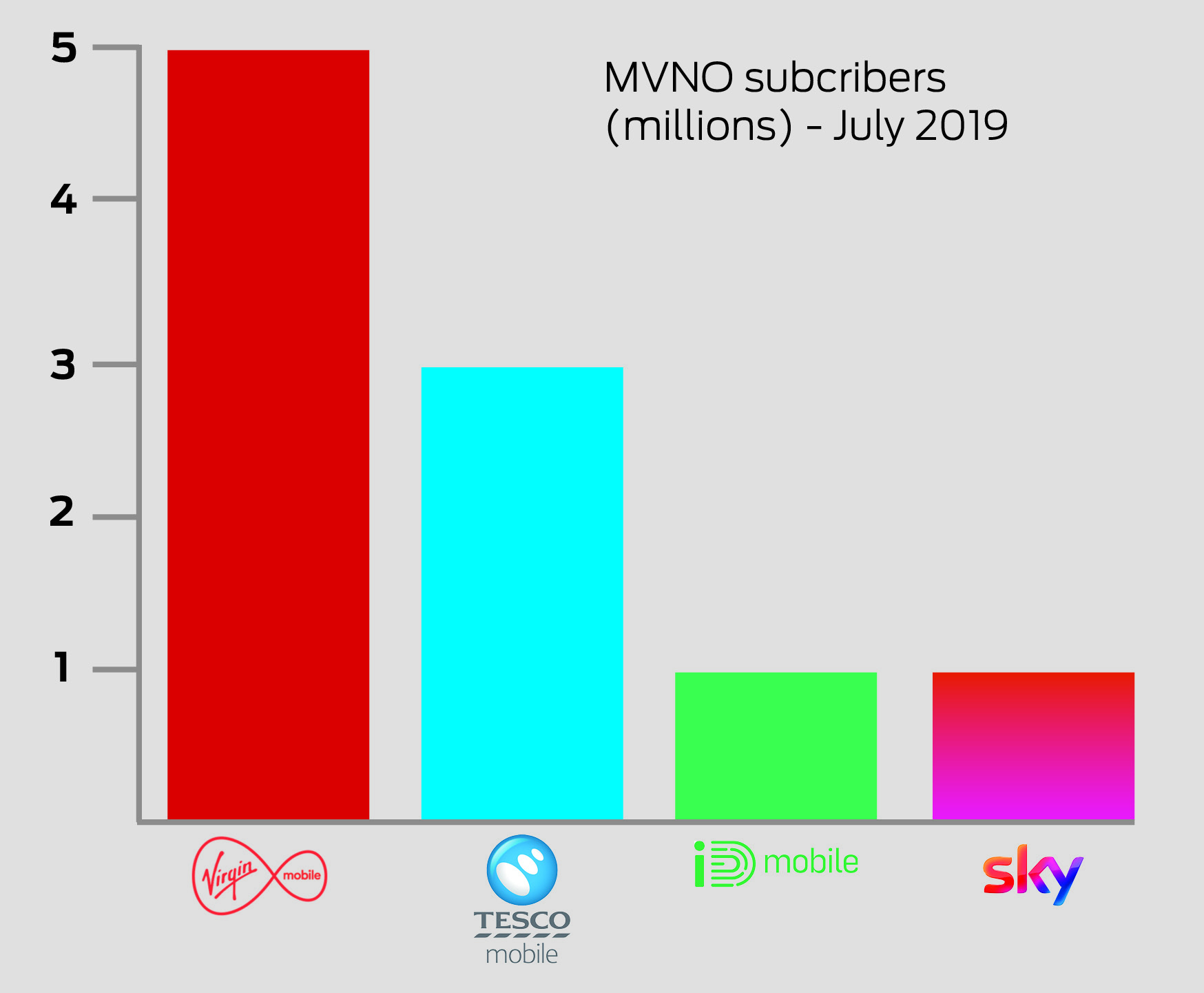 In July, we created a bundle with Sky TV that allowed you to get unlimited streaming of Sky apps with the TV services for £25 per month.
We do look for synergies where it makes sense. If a customer is open to buying more than one product, we will try and have something for them and create bundled propositions to appeal to them. However, many customers want to buy just one product at a time because more is a big commitment – so we're customer first rather than Sky first.
How much autonomy are you given as part of Sky?
SA: We've been built as a separate team within Sky rather than part of the TV or broadband teams, so we're responsible for mobile end to end.
PC: We're a bit like a start-up inside the business, with the opportunity to leverage the muscle, budget, know-how and systems it contains.
When someone launches a standalone MVNO, it can be quite hard without the support from elsewhere – but we've had support from a pre-existing executive team, while managing to maintain autonomy and flexibility.
How important has it been to have a sizeable marketing budget?
SA: We invest in a lot of marketing because we believe it's important to tell our customers what we have. Sky as a whole company makes significant investments in all its products, and wouldn't do mobile without making those investments.
Tom Hardy was our ambassador at Sky Mobile at launch, with his first advert being our best-performing one. Lily James is our current brand ambassador and will continue to be for the foreseeable future.
Much of your recent marketing has focused on moving to Sky Mobile via the new 'text-to-switch' rules. How well is that working for you?
SA: We're still marketing text-to-switch, and I can't give you any numbers because we're mid-quarter.
PC: Getting rid of the front-line barrier of customers having to speak to someone before switching makes customers more responsive to marketing, so we are seeing some positive
trends.
Why does Sky Mobile not have its own dedicated social media channels?
SA: We have a broader Sky account through which we promote the mobile service. I don't think everyone wants to hear every day from us; we release information at the right frequency and our strategy works quite well.
How important is it to be the UK's first MVNO with a 5G launch date, and how cooperative has O2 been as the network on which you operate?
SA: We announced in July last year that we were signing a new long-term deal with Telefónica, and that we would launch 5G at the same time as them. That's really important to us because our customers love innovation and the best products and services, so as a Sky brand I would be uncomfortable if we hadn't launched 5G this year.
We worked really hard with Telefónica to make sure we could launch at the same time. They've been a brilliant partner to have for us.
Why do you think you won the Mobile News Award for Best MVNO?
SA: We offer great customer service and feedback, and have a great network [O2 won the Best Network award], compelling proposition and strong product range.
PC: We tend to think of ourselves as behaving like a normal network. We decided we wanted to behave like a big network and that there was no reason why customers shouldn't think of us as an alternative to the Big Four.
That reflects in the fact we are marketing in a way that promotes our services more like a big operator would. When you compare us to other MVNOs that are more niche and targeted, it makes us
stand out a bit more.
Tell us about your new partnership with the environmental smartphone brand Fairphone.
PC: We've had a few initiatives aimed at helping with the environment and with good causes. But from a mobile perspective, we thought we needed to be bigger before we could support them on a wider scale.
We met up with Fairphone at MWC this year at a time when the company was looking for network partners across Europe – and we thought now was the right moment to support the launch of the company's latest phone.
This partnership supports what we said about having that flexibility in what we can do.
SA: It's a brilliant way of raising awareness of the importance of recycling phones – and a really good message to portray to our customers.
Do you have any intention of making a move into the B2B channel?
SA: We have no plans to do that at this time. Sky has a big B2B operation selling TV to hotels, restaurants and pubs, but at Sky Mobile we have a huge opportunity in the consumer market and that's 100 per cent our focus.
There's so much headroom ahead of us to grow in that space, and it doesn't feel like trying to do B2B at the same time is the right thing to do.
A lot of smaller MVNOs have been targeting specific customer bases. How might you cope with this market fragmentation?
SA: I think it's great that there are services like that out there. And there's more competition, which makes us work harder to make our customers happy. I think lots of other companies will look at the MVNO market, seeing that it is possible to launch one successfully.
How do you think Brexit will affect your business?
SA: Like every UK business, we will evolve and adapt to whatever happens with Brexit – that's the best anyone can say at the moment. If there's someone out there with a definitive plan, I'd love to hear it!
Is Sky considering launching a 5G broadband service?
SA: We already believe that we offer a brilliant broadband service that's delivered efficiently and well to many customers, so I personally don't believe that in the short term 5G is a reliable, credible alternative to this. So 5G broadband is certainly not a focus for us: we're just excited about what the technology can do for the mobile market.
Does the rise of unlimited data plans, particularly with 5G, threaten the uniqueness of the data rollover proposition?
SA: There's a small group of customers in the UK who want unlimited data because they are constantly streaming content or gaming, but the vast majority of customers use less than 5GB per month by Ofcom's figures. The average stated in the last Ofcom report was 2.9GB and we have our own undisclosed average that doesn't suggest unlimited is mass market.
With 5G, as adoption grows and new use cases become available, we'll always keep an eye on what's happening in the market, but I don't believe that unlimited will be mass market in the next 12 months and we don't have any plans to launch unlimited data.
How do you think Sky Mobile gets to the heart of customer needs?
SA: We've worked hard to build a mobile service we're really proud of, and that's coming through with what customers are telling us. Users also know Sky, so they believe that when we give them a mobile service, it will come with the great customer service that we're known for.
PC: Our rolling data has addressed a customer pain point. People didn't realise that they pay for stuff that gets taken away if they don't use up their monthly data.
We joked that if in the supermarket industry, Ocado came to your house and the delivery man went through your cupboards saying "You haven't eaten your pasta from last week, so we'll take it away", people would be quite offended – so it's interesting that the industry got away doing a few things over the years that people just accepted.