Chinese vendor is seeking to further boost its share in the UK and other markets after a fast start
Chinese vendor Realme has experienced a meteoric rise since it was founded in May 2018.
The company has made major strides in the smartphone market in its short lifespan, beginning with its expansion in Asian markets.
Realme achieved more than 800 per cent annual growth worldwide in Q3 2019, according to Counterpoint Research.
This means it is currently the world's fastest growing smartphone brand, ranking seventh in the global market.
Upon launching last year, the Chinese smartphone manufacturer aimed its first product – the Realme 1 – exclusively at the Indian market, with a bid to rival Xiaomi's dominance in the country.
Since then, Realme has risen to become the nation's fourth-largest smartphone brand there, amassing 6.7 million sales in Q3 2019 according to IDC.
After branching out into China and other Asian markets, Realme entered Europe for the first time in 2019 with the release of the
Realme 3 Pro in June. By July, the company had established itself in 20 markets around the world, including the UK.
The Lowdown
Realme is owned by multinational Chinese firm BBK ElectronicsCorporation, which also markets smartphones under the Oppo, Vivo and OnePlus banners.
Originally beginning in 2010 as a sub-brand of Oppo, Realme has since become an independent brand and captured more market share in India than Oppo in the third quarter of this year.
Despite being such a fresh brand, IDC research manager Marta Pinto believes the company has money to spend on its growth and marketing, aided by its position as part of the BBK group.
She adds that its focus on a younger target audience could help bring it long-term success.
"It has a clear mission and is targeting younger consumers by not aiming for the ultra-high-end portion of the market," says Pinto.
She says that Realme should ensure it is clear in explaining who it is and what it intends to deliver to its audience, helping convey its strategy of targeting the mid to low end of the smartphone market.
Prospects
Pinto thinks, meanwhile, that the underperformance of traditional brands such as Motorola and Sony paves the way for other vendors to launch more competitive products and offers to succeed in the UK market.
She points out that channels are actively searching for more partners, since they do not want to be so tied down to the dominant big brands and that gives room for Chinese vendors to capitalise.
"Traditional brands may have brand awareness, but there is space for new vendors otherwise Oppo and Xiaomi wouldn't be in the market.
"Realme will continue to expand as it increases investment in brand awareness."
X2 Pro
Most recently, the vendor announced the release of its latest flagship – the Realme X2 Pro – at the device's Madrid launch in October.
At the launch, attended by Mobile News, Realme country manager for Spain Emilio Alvarez said the company has already garnered 17 million customers worldwide and is aiming to "create an identity for young consumers around the world".
Levi Lee, director of Realme in Europe, meanwhile outlined the company's plans to quickly become a household name in the region, saying: "We care a lot about the European market and are very ambitious in our plans to expand.
"We will gradually expand to more and more countries, and I can tell you that it will be very fast.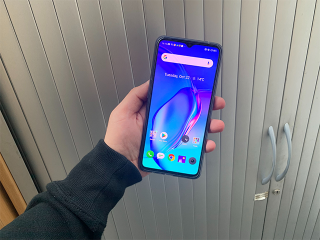 UK Ambition
"We are also ambitious and hungry for the UK market, as you can tell with the launch of the X2 Pro, which we will launch initially in only two markets in the world."
The device debuted in the UK in November, following the Spain launch the previous month.
Realme's latest flagship device, which features a 64MP quad camera with a 20x hybrid zoom, has become one of the most competitive mid-range flagships on the market today since its launch.
It also features fast-charging capabilities, in line with a major focus of previous parent brand Oppo.
Lee thinks that the phone, which retails from €399, was the perfect type of competitive mid-range device to introduce to UK audiences as the brand begins to gain recognition.
"If you talk about the general performance of other mid-range phones on the market, I think ours stands out," he says. "It is very difficult to find a similar performing phone at this price."
Standout strategy
In the UK market, which is currently dominated by Apple and Samsung, Realme will need to ensure that it differentiates itself to stand out on the budget scene if it wants to capture market share.
GfK global director Imran Choudhary believes that Realme needs a clear differentiated strategy to forge its own space and identity as a challenger brand in the UK.
"Realme is currently ranging its devices with a high level of spec at mid-tier price points, which certainly gives it a fighting chance of succeeding," he says.
Choudhary expects that the company will seek to raise awareness through targeted brand activity and introducing new flagships in 2020, while it should also capitalise on its growing success through the aid of partnerships.
"Bringing its devices into the focus set of consumers is a key building block in becoming a household name and building brand value.
"We would also expect to see it broaden its distribution through partnerships with retailers."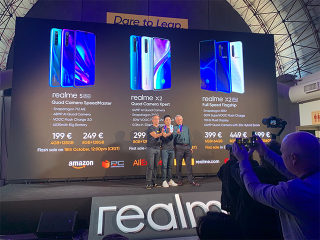 Readying for 5G 
Realme CEO and founder Sky Li announced earlier this month that all the new mobile phones it releases in China will now include 5G capability.
While the company will continue to release 4G phones to other markets around the world, this marks a major statement of intent for the young brand in terms of seeking to capitalise on China's early adoption of 5G.
And PP Foresight analyst Paolo Pescatore thinks Realme is taking an intelligent approach with its recent decision in China.
"If you look at how many devices already support 5G in China and the fact that many more will launch next year, it is sensible for the company to concentrate on its core market, as well as any others where it can steal market share from rivals," says Pescatore.
While Realme is unlikely to extend the policy of including 5G in all devices to the UK in the near term, Pescatore believes it is something the company may consider in the future.
"In the short term, this might represent a challenge, as users will consider purchasing a device supporting 5G," says Pescatore.
"It is going to be a big year for smartphone vendors, with the new iPhone expected to support 5G, although not everyone will want a 5G phone, depending on prices, coverage and so forth."
Pescatore expects subscriber adoption to pick up more from 2021 as networks become more pervasive.
New Release 
Realme has, meanwhile, teased the release of its first 5G-enabled smartphone, which will offer support to both stand-alone and nonstand- alone 5G.
Li said that Realme will be among the first handset manufacturers to roll out dual-mode 5G smartphones across all price ranges.
Realme has confirmed that the phone will be called the X50 and, while specific details about its launch are scarce, it is expected to be released in selected markets early next year.
uSwitch head of commercial for broadband and mobiles Ernest Doku thinks that despite 5G being in its early stages, Realme could learn from its competitors about how to attract attention to its 5G flagship when it launches.
"That technology today is still the preserve of early adopters, with the vast majority of devices available in the premium segment," says Doku.
"Delivering smartphones with broad appeal at an eye-catching price point could really drive some of that initial traction which proves so important."
Doku points out that similar types of mid-range devices such as Google's early Nexus ranges and the initial OnePlus devices launched in the first half of this decade proved incredibly popular and could work as Realme's template, since he believes that it also delivers
impressive specs at a low cost. Doku thinks that if Realme can replicate this in a world in which devices are becoming ever more costly, it could draw real interest to the brand and spur it into the future.
What is key for the company, according to Doku, is how it can stand out in a market saturated with similar-looking mid-range devices.
"Differentiation is more important than ever with few manufacturers – Chinese or otherwise – maintaining resonance in the eyes of consumers.
"That combination of spending to gain consideration from consumers and delivering a strong selection of devices is becoming increasingly important."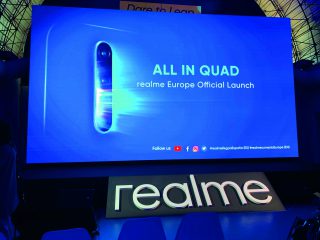 What's Next?
Realme has established its main European offices in Madrid and Lee thinks that Spain presents the perfect starting point for the company to build its profile in European markets.
As for what comes next for Realme, expansion in both Europe and Asia will surely be top of the agenda for the company going into 2020.
And Doku thinks that Europe presents opportunities for the Chinese vendor to do just that.
"In the rest of Europe, where price trumps brand, there's great opportunities for growth."
But, he says, the UK poses its own particular challenges. "In the UK, network adoption and ranging beyond high-street retailers are the key hurdles to clear for customer consideration."
Ultimately, Choudhary adds on the future prospects for Realme: "What will be key to its success is how it plans to broaden its distribution working with retailers and, ideally, networks while focusing on the right consumer segments to accelerate growth."