Firms' results contradict those of other leading analyst firmsGlobal smartphone sales to end users continued to decline in the third quarter of 2019, according to Gartner.
The analyst firm reported a contraction of 0.4 per cent year-on-year in the market. Shipments stood at 387.477 million, compared to 389.074 million the year before.
Samsung and Huawei were the top two vendors in the quarter, and the only two of the top five to record sales increases.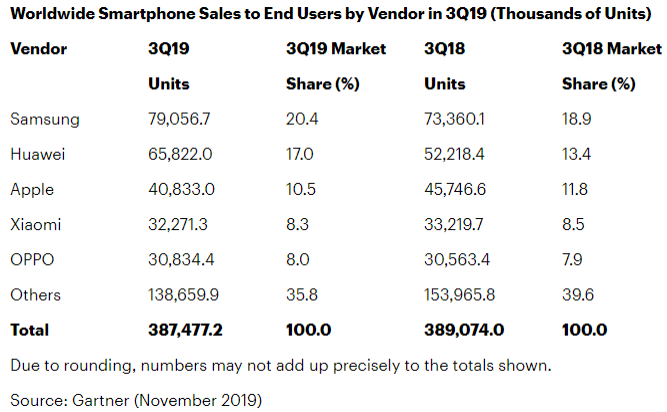 Apple saw the biggest decline in shipments, while the overall market saw increased consolidation around the top five vendors.
"For the majority of smartphone users, desire has shifted away from owning the least expensive smartphone. Today's smartphone user is opting for midtier smartphones over premium-tier ones because they offer better value for money," said Gartner senior research director Anshul Gupta. "In addition, while waiting for 5G network coverage to increase to more countries, smartphone users are delaying their purchase decisions until 2020."
Gupta added that Samsung cemented its place at the top of the charts with a strong revamp of its mid-tier range of devices.
Commenting on Apple's sales decline of 10.7 per cent, Gupta said: "Although Apple continued its sales promotions and discounts in various markets, this was not enough to stimulate demand globally," said Mr. Gupta. "In the Greater China market sales of iPhones continued to improve, however, it follows a double-digit decline recorded at the beginning of the year. The iPhone 11, 11 Pro and 11 Pro Max saw good initial adoption, which suggests that sales may be positive in the remaining quarter."
Gartner's research contradicts that made by Canalys, IDC and Counterpoint for the same quarter. The three analyst firms all reported varying increases in global smartphone shipments.