Samsung takes top spot as Xiaomi sees largest growth
Europe was the fastest growing region in the global smartphone market in Q3 2019, according to analyst firm Canalys.
The region saw an eight per cent year-on-year increase in shipments – outperforming the APAC region, which saw an increase of six per cent.
According to Canalys, the quarter was the European market's best third quarter in history. It attributed this success mainly to Samsung, who posted sales of 18.7 million, a year-on-year increase of 26 per cent. Samsung's market share for the quarter stood at 35.7 per cent.
Huawei, in the midst of its US trade tensions, saw shipments of 11.6 million, taking second place. This was an increase on 8.6 million in the second quarter, but slightly down on 11.7 million in Q3 2018.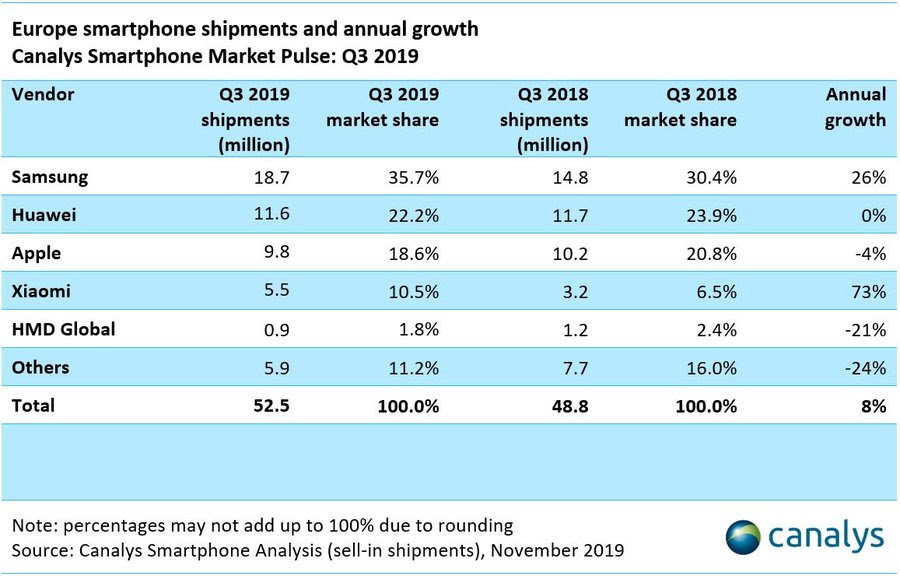 "Europe is in a favourable position and attracts the attention of many Chinese vendors given its channel balance. Operators and open channels form 47% and 50% respectively in terms of go-to-market. This has given the potential to scale and healthier margins with mid to high-end products. Another key incentive for Chinese vendors to up their game is the opportunity to take on a weakening Huawei." Said Canalys analyst Mo Jia.
"Despite shipments recovering in Q3 from a catastrophic Q2, Huawei is not yet walking away from its worst period. Its Chinese peers are rapidly building capabilities and game-plans for Europe. Xiaomi, for example, is accelerating its market entry and channel developments with operators and open channels. Following in their footsteps, other Chinese brands like Oppo, OnePlus, realme and Vivo are also expected to invest more in brand awareness and local sales force. European markets are expected to become very buoyant in 2020 given all these new entrants."
Apple took third place, with 9.8 million shipments and a 18.6 per cent market share, a four per cent decline in shipments year-on-year.
The vendor seeing the largest annual increases was Xiaomi, posting a 73 per cent year-on-year growth and shipping 5.5 million devices, taking a 10.5 per cent market share.
Canalys senior analyst Ben Stanton said that Brexit had had an impact on sales of premium devices, and that the fragmented nature of Europe's 5G rollouts will give challenger vendors greater opportunities to partner with operators.
In the UK, shipments of premium devices from Samsung and Apple accelerated before each Brexit deadline this year, in March and recently October, followed by a large dip, as distributors were forced to stockpile product and hedge against impending tariff risk. This short-term artificial boost distorts the market and the accompanying risk, costs and uncertainty, is a drain on the industry," he said.
"Yet there are great opportunities in Europe as 5G networks roll out. Europe's operator landscape is fragmented compared with single large-population countries like the US or China, so network build-out will be slower. However, this fragmentation means smartphone vendors have a far broader range of potential partners and, in some markets, relatively new brands like Xiaomi and Oppo have been ranged by operators at an unprecedented pace. Operators will continue to make bold ranging decisions as the 5G battle shifts to the mid-range next year."