Relay UK is available from today
BT has today launched an app that helps people with hearing and speech difficulties communicate over the phone.
Relay UK is available from today and comes amidst research that suggested only one in 20 of those who are deaf or have hearing issues can complete tasks over the phone.
The research revealed that approximately 8.4 million Brits with hearing difficulties ask friends or family members for help making basic phone calls.
The poll which was commissioned by BT in partnership with the UK Council on Deafness showed that despite the rise in digital technologies, phone calls remain an essential form of communication for 80 per cent of the deaf community, with 46 per cent calling businesses at least once a week.
However, for many, the calling experience for everyday tasks such as booking appointments (90 per cent), paying bills (53 per cent) or purchasing products and services (53 per cent), is poor, with certain services (such as healthcare and banking) inaccessible for a quarter of the deaf community.
Relay UK is an Ofcom regulated service that translates text to speech and vice versa with the help of a specially trained Relat Assistant based in one of BT's contact centers around the country.
The new app offers Improved customer experience and new functionality according to the telecoms giant.
The technology enables users to make calls based on their own accessibility needs and allows users to connect a call by selecting one of three options: type & read, speak & read, or type & hear.
The development of Relay UK has been led by BT on behalf of stakeholders across the deaf community, such as Action on Hearing Loss, UK Council on Deafness, National Deaf Children's Society and Hearing Link.
BT Ventures managing director Katherine Ainley said: "How we use technology to connect with each other has changed rapidly in recent decades, and this simple service transforms the calling experience for the estimated 12 million deaf people in the UK."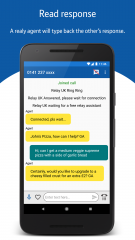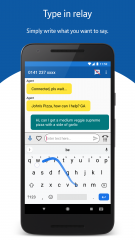 The launch of Relay follows in the footsteps of the MVNO Audacious, which launched earlier this year.
Audacious optimises its users' experience based on a medically certified hearing test they carry out on its website to deliver them an optimal listening experience. CEO Rob Shardlow said that it was targeting 600,000 customers in the next five years.