Refurbished player Phoenix Cellular is looking to go after larger accounts and multifaceted relationships with customers, after setting out a long-term strategy. We visited the firm in Crewe to find out more
It's been more than three years since Mobile News last ventured up to Crewe to visit Phoenix Cellular, and the company still claims to be Europe's top distributor of refurbished mobile phones.
The customer focus is on businesses rather than going direct to consumers, including retailers, distributors, wholesalers, insurance companies and operators.
A lot has changed since our last visit, with the company netting a Queen's Award for Enterprise in 2020, and appearing in editions of the Sunday Times Fast Track 100 and International Track 200. 
Phoenix Cellular also appointed Nigel Whitehead as director of business development last June, bringing with him more than 20 years of experience in the mobile industry.
Whitehead said that meeting owners Marc Walters, Paul Walters and Andrew Dulla in 2021 had made him realise how brilliant an opportunity there was in the in-demand refurbished market, and he was really impressed with the business. 
"It's been a tough time for everybody with everything going on in the world, but I think the refurbished sector presents a tremendous growth opportunity", said Whitehead. 
"The unique thing about Phoenix is that we do everything in-house, so all of our processes – from purchasing to upgrading, polishing, repairing, retesting and dispatching – are done here in Crewe."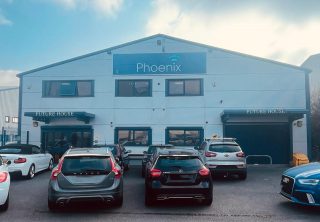 Trusted partners
Products are generally sourced by Dulla from trusted partners and auctions in the US and Europe.
During busy periods, 30,000 products a month can arrive at Phoenix, where they are all cosmetically checked and initially graded.
Then any necessary repairs and polishing are carried out before devices are sold on to customers. 
"There is no difference between our best A-grade and worst C-grade functionality-wise – it is purely cosmetic," said Whitehead.
"They all come with a 13-month guarantee, which is more than what Apple offers on new devices!"
Once these devices have been assessed and graded, they will be packaged and sent out to customers. 
"We can be quite aggressive with our customer service, as within five working days, we can either fix or replace devices," Whitehead explained.
"We get the phone, we diagnose and test it, we repair it, and we then put it through our polishing facility and regrade it. 
"It gets a new 13-month guarantee and all the tests a new phone would have. "If we can't fix it, we will replace it with the equivalent phone, if not better. So if someone has an iPhone 8 and we can't fix it or don't have either of those devices, we can offer an SE 2020, for example, instead."
Whitehead estimates that 95 per cent of Phoenix's stock comprises Apple devices, due to the high demand from the consumer side and also the strong resale value of iPhones.
"If it is still in a good state, you could sell an iPhone that is five years old for £200," he said.
"Price can be determined by how old or new the device is, but generally you look at what the price was when it was first launched and you take off 40 to 50 per cent."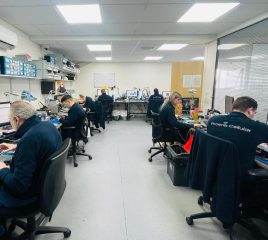 Quality check
All devices that come through the facility are put through a comprehensive 36-point quality check using mobile diagnostics service Phonecheck.
In the extensive device test, a team member checks for any faults on features including the screen, buttons, speakers, cameras, mics, battery and face ID, with any issues identified and resolved. 
"We've got a record of every phone that goes through here, because six months down the line, if one of our customers says 'there is a serious fault with this phone – was it tested?', we can show them a certificate that confirms everything has been tested and in order when sold," said Whitehead. 
If any component fails or for faulty devices, Phoenix carries out repairs either with parts from the original equipment manufacturer or with high-quality parts from a third-party.
"Most customers are OK with a third-party battery or camera because that's just as good as the OEM's nowadays and a lot cheaper, but some customers insist on it being all OEM," Whitehead said.
Polishing up well
Polishing is one of the last phases of the process, with the polishing centre located around the corner from the main facility able to process 3,000 devices a day to remove scratches from screens, backglass and bezels.
"If you can feel a scratch with your nail, then it probably won't come out through polishing," said Whitehead.
"If it's been in your pocket and your keys have scratched it, it can look bad, but with one polish it can look brand new."
"After a device has been polished, it comes back for a regrade, reclean and retest, and is hand-finished ready for sale."
When devices are polished, they go through a process that uses carpet, rollers, an air compressor and a water-powder mix.
Silver handsets are an exception to this, as they have shiny bezels that are more delicate and are thus polished by hand.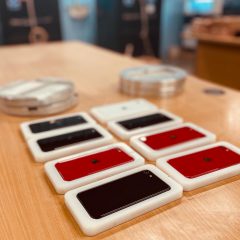 Circular economy
The repair and refurbishment process is all part of the circular economy, aimed at extending the life of a product for as long as possible.
Whitehead believes that more businesses in the mobile industry can contribute to this economy.
"I think a new iPhone on average produces 80kg of CO2 in its lifetime, whereas a refurbished device, after being manufactured and shipped, produces about 13kg of CO2," he said.
"So buying a refurbished device is 500 per cent more CO2-efficient than buying a new device."
He also says that consumers are seeking to help the environment more by purchasing refurbished devices that are also cost-effective.
Dulla added that the high cost of new devices is an obstacle to accessibility. "Apple is such a premium brand that it has been a barrier to certain demographics like students," he said.
"If you're comparing an iPhone now to one from four years ago, yes, there has been innovation and the introduction of 5G – but on the whole, the handset does the same thing.
"With refurbished phones, you're helping the environment, they're more accessible and you're saving money."
The refurbished market is set to get even bigger, with Whitehead saying that 12 per cent annual growth is forecast over the next four years.
Dulla believes that growth could also be seen in other types of product. "Macbooks are starting to make an appearance, Apple Watches, iPads… all these high-tech products are coming through the circular-economy process because we as humans have been too wasteful, and the younger generations are now likely to do something about it," he said. 
Hurdles
Despite success as a top distributor of used mobile phones, Phoenix, like many other companies in the mobile space, has also faced challenges.
The company is planning to move to 30,000-square-foot purpose-built premises close to its current facility in the summer, but this has been delayed due to issues caused by the pandemic. 
"We couldn't begin building during that time, and before COVID we struggled with Brexit, as importing materials was difficult and prices shot through the roof," said Whitehead.
"It almost becomes survival of the fittest in these types of industry. You need to be good at what you do, and have a good reputation and enough scale to trade through it.
"Unfortunately, some of the smaller guys haven't got that scale or expertise to get through it."
Brexit and COVID have also contributed to turnover plateauing and levelling off at Phoenix, but Dulla says the company has been devising a long-term strategy to get it on track. 
"We're going after larger accounts to deliver to a market that is relatively untouched," he said.
"We saw an opportunity to work with bigger businesses, so we've taken a year to reset and reinvent ourselves, bring in new types of manufacturers, polishing and everything else, ready to go out and service tier-one accounts with a scalable proposition. 
"Anybody can buy 50 phones, but we want to give somebody 10,000 to 20,000 phones for Black Friday – that's where you need a company of Phoenix's scale and infrastructure to be able to deliver that." 
Scaling up
For the long term, Dulla says Phoenix wants to consolidate its position in the market, continue delivering quality products, and provide a great opportunity for large customers that deal with consumers in the insurance, network and retail spaces.
"We want to offer out more services and stock, and be a partner where we have a multi-level relationship," said Dulla.
"We are not just selling them phones – it's the after sales service, it's taking care of any stock problems they may have and using our infrastructure.
"We are trying to get a multifaceted relationship with as many of these top customers as we can to make us stand out as an important partner to them."
He believes that Phoenix can add value in supplying services to key partners, and get them into a space that is viable with a great revenue stream.
Both Dulla and Whitehead say that now is also the perfect time to get ahead in the refurbished market, as supply issues worldwide have meant there is a lack of new stock. 
"The chipset shortages, mainly across that £100-to-£250 device range, particularly in Android manufacturers, means that every operator and retailer has felt the pain of that because they simply can't source enough stock," said Whitehead.
"And if they can't get new stock, what's your next-best option? People are looking at refurbished phones because they've got their own customer-acquisition targets and revenue targets, so this is where we can help.
"Tell us the price points you're missing, tell us the volumes you need, and we can put together a product and a proposition that can fill that gap. That's been really successful for us over the past six months or so."