Ookla data shows that smaller providers are sometimes the fastest across certain areas in the UK
Fibre alternative networks (AltNets) are playing a key role in the UK's gigabit future as data from Ookla reveals that AltNets had the top speeds in London, Glasgow, Liverpool and Manchester. 
Seven large internet service providers (ISPs) dominate the UK's fixed broadband market, but now dozens of AltNets are emerging due to public funding which allows them to expand to rural areas. 
CityFibre was identified as the largest alternative fibre network provider as it recently secured a £4.9 billion debt package that will fund a network covering eight million homes by 2025.
Other key points
The data found that during H1 2022, the median broadband download speed was 61.69 Mbps, with Northern Ireland ranked first in the UK with median download speeds of 65.21 Mbps.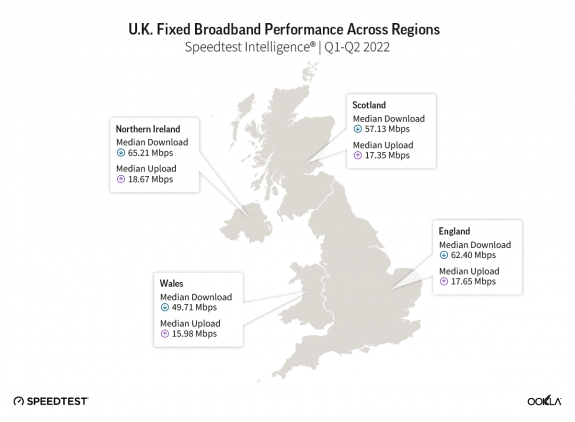 England followed with 62.40 Mbps, then Scotland with 57.13 Mbps and Wales with 49.71 Mbps. 
Virgin Media O2 was named the UK's fastest broadband provider with a median download speed of 116.44 Mbps during Q1-Q2 2022 and was the clear speed leader across 71 per cent of 146 British counties that Ookla looked at.
BT came second with top speeds reaching 10pc of counties, while Vodafone came third by reaching five counties.