GlobalIT consultancy Accenture has invested £130 million in a minority stake of a joint venture with Vodafone to implement AI-driven technology in Vodafone's Intelligent Services (VOIS).
VOIS is Vodafone's Group's partner for talent, technology and transformation, with a portfolio of services across. It provides support to Vodafone's local markets across Egypt, India, and Europe. Services include application development, testing, operations, analytics, and cyber security Accenture and Vodafone have worked together for around 20 years.
The partnership's main goal is to improve efficiencies and increase customer service. The formalities are expected to be completed by next Spring.
Julie Sweet, Chair and CEO of Accenture (main pic) said
"We are excited to take our partnership to a new level with this ground-breaking joint venture that will help power Vodafone's reinvention and create significant value for their operating companies, partner markets, and employees."
Vodafone Group CEO Margherita Della Valle, said the partnership "is a significant step forward for Vodafone as we streamline our operations to better serve our customers and promote growth".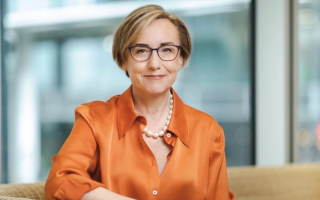 "Our collaboration with Accenture opens up new possibilities for our company and our employees. We're excited about the potential of our new commercial shared services organisation, which will not only benefit Vodafone but also our telecom industry partners."

Accenture works with businesses and governments to develop digital tech. It employs around 733,000 people in more than 120 countries.