A few months since high-street stores reopened, Mobile News visited outlets of the UK's four mobile operators to find out how they're getting on and what methods they're using to keep customers safe
For obvious reasons, it's been a while since Mobile News has run its regular Mystery Shopper feature. However, this issue we managed to pay a visit to four operator stores to see what measures they have put in place and how they have responded since reopening in light of the coronavirus pandemic.
O2
An O2 shop was the first of three operator stores that Mobile News visited on Oxford Street.
On arrival, there was a host at the door to greet the customer, find out about their needs and help them book an appointment – similar to the set-up at the other operators' stores.
Customers looking to book are then entered into the O2 system via a tablet. If the store is busy, they are told to wait for a text telling them to head back when it's time for them to be served.
"As we finish serving customers, we'll look at our list and press 'next' to indicate we're done," explained Matthew Lockwood, the operator's regional leader for London. "This generates a text for the next customer to say 'O2 are ready, please visit the store'."
He added that O2 had not put queue markings outside because it didn't want to encourage people to wait in groups. "The digital system has been designed to make people feel relaxed, especially as they won't need to wait around," said Lockwood.
Meanwhile, he said, customers are allowed to touch the phones on display and receive demos of the devices, although these are thoroughly wiped down after each use.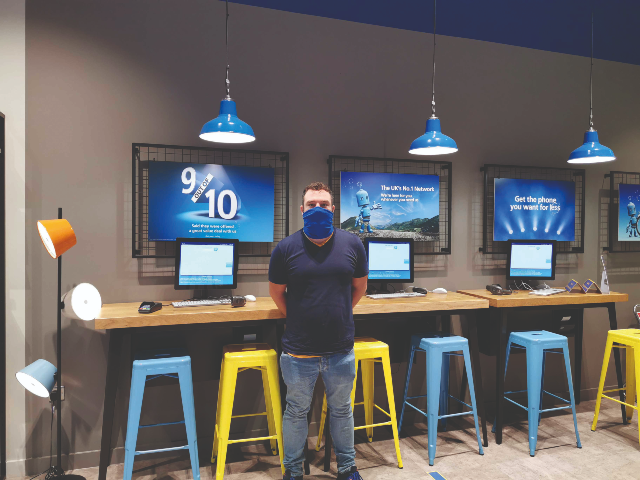 One at a time
Like Vodafone and EE, O2 has been operating a one-customer-per- colleague rule since reopening in mid-June, with no browsing customers.
All staff members wear mandatory face coverings in the store, with customers expected to do the same. Visors are also available as optional PPE for colleagues to wear, said Lockwood.
In the store are markings reminding people to keep two metres apart, with arrows pointing customers around the store.
Hand sanitiser is also found throughout the store for customers and staff to use after touching surfaces.
Ahead of the return to store, Lockwood revealed that O2 employees nationwide were regularly kept up to date with the latest business strategy.
"Throughout all of this pandemic we have received regular updates from our CEO Mark Evans and director Gareth Turpin. There were regular live conference calls on how we were going to work around this. It gave us a lot of confidence."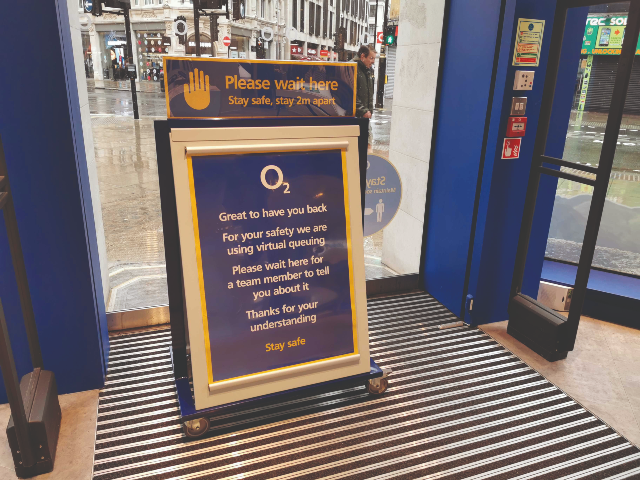 Good response
Lockwood welcomes the new measures and said that customers have responded well to the changes.
"My experience with how customers have responded is that it's been overwhelmingly positive," he said.
"Customers are respectful of the situation and adhering to the rules. It's about making it clear what their experience is going to be like and explain clearly what we can and can't do."
Lockwood added that some locations had actually seen a better performance year-on-year because customers want to come back out onto the high street.
"Shops being open is so important, as that means we have a face-to-face experience. Also, not everyone wants to do everything online," he said.
In addition, the operator has given staff more specific roles during their shifts. Lockwood said, for example, that some of the larger O2 stores – such as the Oxford Street branch – have 'runners' responsible for going to the stock room to collect phones and SIM cards.
Although footfall at the store is down compared with normal, Lockwood isn't concerned and sees more opportunities rather than challenges from the pandemic.
"We're seeing a lot more customers coming into the store with purchasing in mind, as we're not getting browsing customers just coming in and wandering out," he said.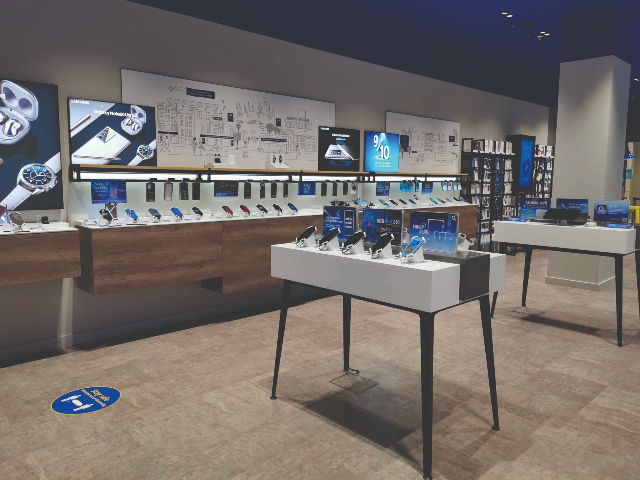 Store trends
Lockwood also referred to opportunities suggested by the trends he's noticed among customers since the lockdown, with tablets a popular choice for parents.
"We're getting people coming in to get upgrades or more data – as they're now using more at home – and parents coming in to buy tablets for their children," he said.
Lockwood noted that wearables are a draw as well. "The Apple Watch launch has been positive for us, with a lot of interest in it," he said. "People are now looking for that additional fitness product or tablets, plus we've seen a desire for data."