HMD Global provides most frequent updates and sterner build quality tests than other top OEMs
Nokia phones have come top of the Counterpoint Research 2020 Trust Rankings across the pillars of software, security updates, build quality, and devices recommended for enterprises.
The analyst firm's latest rankings found that the HMD Global-licensed phones received the most frequent security updates, had the most devices in its portfolio upgraded to Android 10, underwent tougher build quality tests than the industry average across several categories, and had the highest share of Android Enterprise Recommended devices in its portfolio.
HMD Global's devices were followed in the rankings by OnePlus and Samsung.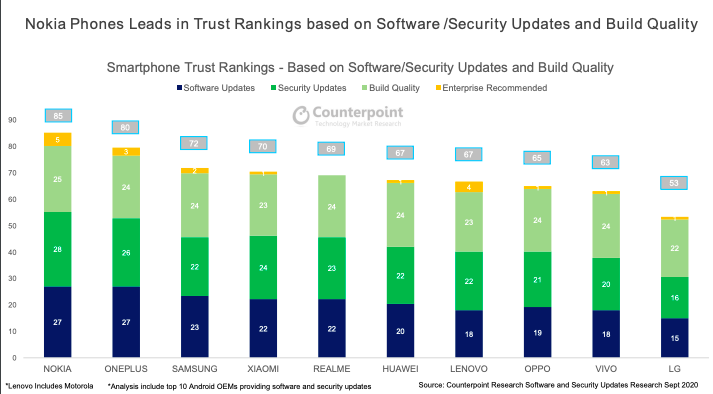 Earlier this month, HMD Global announced that it had successfully rolled out Android 10 to all of its Android 10-capable smartphones, and had also released its 1,000th security update in the last three years.
"With smartphones being devices that are always-on and connected, they are more vulnerable to cyberattacks which are growing both in frequency and severity," said Counterpoint research director Peter Richardson.
"The performance of Nokia phones continues to be a competitive advantage over the rest of the smartphone brands in the Android ecosystem. 98 per cent of Android smartphone brands still offer inconsistent software and security updates or none at all. OnePlus also did well by providing faster software updates to all its devices currently selling in the market followed by Samsung and realme."
Counterpoint global content manager Ritesh Bendre added: "Surprisingly, there are top 10 smartphone manufacturers that don't have any clear strategy to inform customers whether their devices are eligible for security and software updates."
"We think this issue will become increasingly important as consumers keep their smartphones for longer and rely on them more. Nokia and OnePlus devices have done well here."
Meanwhile, associate director Tarun Pathak commented that build quality would take on more significance as device replacement cycles continue to grow longer.
"Nokia phones will last the test of time, which is increasingly important at a time when global device replacement cycles are getting longer, now approaching 30 months," he said.