With Brightstar rebranding as Likewize this August, Mobile News travelled up to the firm's European HQ in Crewe to find out how this fits into its transformation from a distributor to a more service-based model
It's been just over two years since Mobile News last headed up to Crewe to visit Brightstar – in which time there's been the small matter of a global pandemic, Brexit fallout and component shortages, among other things.
And not only that, but the name Brightstar is no more after the company rebranded as Likewize this August.
With the firm undergoing changes, Mobile News made the trek from London up to the new premises of its European HQ in Crewe to get some insight into the new direction – meeting with EMEA executive vice president Gerry O'Keeffe and EMEA head of marketing Simon Alcock.
The Likewize rebranding represents a transformation, with the firm looking to shake off its image as a traditional distributor after ending that side of its business, explained O'Keeffe, who rejoined the company over a year ago from Exertis.
"What we are now is protect, support, repair and renew: these are the fundamentals to our business," he said.
"We're focused on making sure our customers are as connected as possible, with any pain associated from theft, lost or damaged phones taken away."
'Painless'
Whereas under the Brightstar brand, the firm acted as a traditional distributor that focused on shifting handsets and holding stock in its warehouses, Likewize is more focused on services. As its new tag line suggests, the company's mission is to make "every tech problem painless".
The services it offers include insurance, warranty, repairs, trade-ins, recycling and premium tech support.
The transition to this strategy hasn't happened overnight, however, with Alcock explaining that it has been on the cards for the last two years.
"With the rebranding, there was a lot of legacy with Brightstar as a company in the past and what we were known for doing," said Alcock.
"However, there was a perception that was lagging the reality of what we do now. It's also about simplifying what we do, as in the past we've been known as being a distribution company, but the reality is that we haven't been for some years."
In its previous guise, Likewize distributed handsets with vendors including Samsung, Nokia and HTC, plus many more.
O'Keeffe talked of how the slow transition over time into a services-led business had been driven by Likewize CEO Rod Millar, since his return to the business in June 2019 from US operator Sprint (now T-Mobile).
"Rod was very clear when he became CEO that the old way of tying capital into stock sitting in a warehouse, with ever-decreasing margins, had no real value- added potential," said O'Keeffe.
"We instead wanted to focus on delivering something innovative to the market, and this is where the focus has shifted to."
At the time of the rebrand, Millar said: "We have continually expanded our capabilities to solve the evolving problems of the technology industry. Over the past decade, we have undergone a fundamental transformation journey, from a distributor to a tech protection and support company."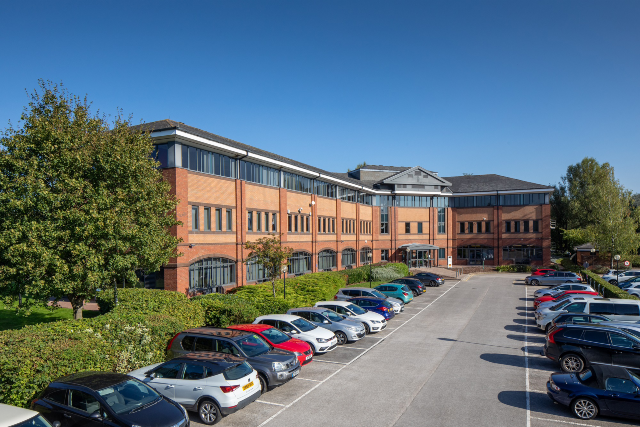 New location
One noticeable difference – and a sizeable one – since our last visit to Crewe is that the company has moved to a new location in the town.
This comes as part of a £50 million investment in the UK business, with Likewize's new UK HQ made up of two buildings at its state-of-the-art advanced fulfilment centre.
To help deal with its growing suite of services, the firm also opened a customer contact centre in Crewe this February that houses up to 120 agents.
"We're really lucky we've got a long history in Crewe, and the people who have worked here have been stalwarts of the business," said O'Keeffe.
"It was time for us to reinvest in them, as well as facilities and the workplace from which they would continue to thrive and deliver exceptional customer service.
"This business has a strength and depth that comes from a workforce among whom many have brought years of service to the company."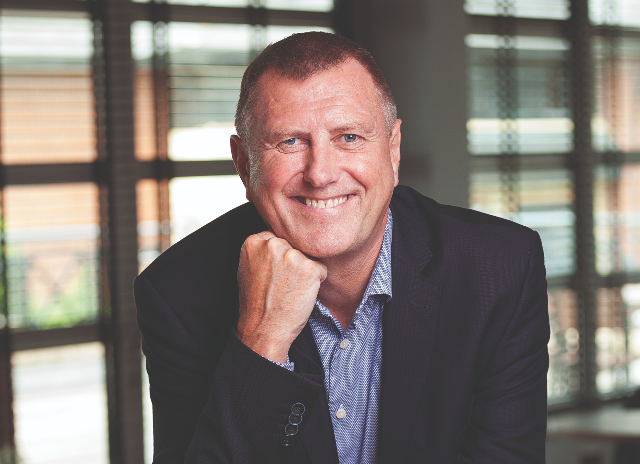 Focus areas
Homing in on the specifics of its service slant, Likewize is focusing on offerings such as repair service WeFix and customer service management provider LucidCX, businesses that it acquired last year and this year respectively.
But despite its shift away from traditional distribution, the focus on serving the telcos remains as strong as ever, says O'Keeffe.
Brightstar was this global distribution business, but now our customer concentration is very focused, in the sense that we're serving the telcos, MVNO market, financial institutions and solutions they put to the market.
"We're also serving the likes of Sky with its MVNO, and also offering tech support around the work Sky does with connected homes."
Another example of Likewize working with MVNOs is its support for Virgin Media's Trade Up & Trade In scheme, which offers Virgin's mobile customers the opportunity to change to a newer handset whenever they want and use their existing device's value to offset the remaining months of their contract.
Other Likewize customers include the likes of Barclays, as well as retailers such as Amazon, Walmart and Tesco.
WeFix success
Among its focus areas, one of the most successful services that Likewize offers is WeFix.
Although Likewize purchased a majority share in the firm just as the pandemic was entering full flow last April, O'Keeffe insists that COVID-19 had no influence behind the decision to invest in the service.
"Everything to do with WeFix, including the acquisition, predated the pandemic," he said. "It just so happened that as we concluded the takeover, the pandemic hit. This whole service is driven by the customer experience factor and the convenience it brings."
The Samsung-accredited 'we come to you' service requires customers to book and include details of what needs fixing, with WeFix offering repairs for Samsung and Apple smartphones and tablets.
A technician will then prepare for the job by picking up parts beforehand and then go to the customer's location to carry out the job. Most repairs are conducted within an hour, while WeFix also offers same-day repairs where it can if that's not possible.
O'Keeffe said the service now covers around 95 per cent of the UK, with the fleet of vehicles set to grow further.
"The fleet has grown to over 100, with a further 25 vehicles scheduled for the first half of 2022. From a coverage perspective, we're at 95 per cent of the population and aim to get repairs done within two days."
Technicians do around 5.5 repairs a day, while the whole business repairs more than 500 a day nationwide, according to O'Keeffe. The service even extends to the weekend.
Following its success in the UK, the service has also gone live in Canada and Australia, with plans to add the US also in the pipeline.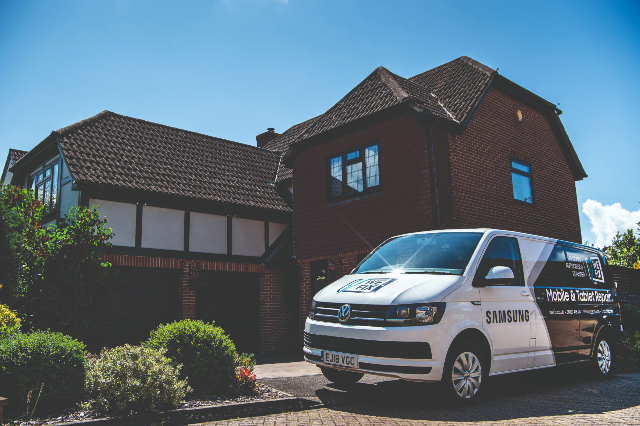 Pandemic Brexit
Like most businesses, Likewize has had to grapple with several challenges during the pandemic.
These have included shortages of parts and products, with some added complications created by Brexit.
But O'Keeffe said the parts challenge seems to have eased up for now.
"There were some issues with parts, which we faced for a few months around the July to September period this year, but thankfully we seem to have gotten past this.
"We're always very attuned to our supply chain, and how and where these products come through."
O'Keeffe acknowledged that Brexit has caused some headaches, mainly citing the additional paperwork required, but is positive that Likewize has things covered.
"Brexit had some impacts in terms of there being less appreciation of the amount of recommerced product sold into Europe," he said.
"This was made more challenging by changes in paperwork and duties, but it was short term." In anticipation of Brexit, Likewize opened facilities in the Czech Republic to help support its customers across Europe.
"We invested millions of pounds in a facility in the Czech Republic to ensure we were able to serve our customers in Europe seamlessly, without disruption. Likewise, that was to ensure we were able to deliver premium service to Apple across all of Europe."
'Unfinished business'
As for O'Keeffe, it had been just over 15 months since he returned to Likewize when I met him, but he joked that some colleagues came up to him and said it felt about three years.
When we spoke to him last year, he told us he had "unfinished business" with the company he had first joined in 1996.
In his first year back, the company has undergone a rebranding and transformation, while also moving to a new UK HQ.
"It's been a great first year back, a fast one!" said O'Keeffe. "It's been really rewarding because of the speed of change to move into these new facilities and the Likewize name rebrand, plus gaining Barclays and taking on other customers.
"I've also had the pleasure of reconnecting with people that I worked with many years ago." Despite many people across the country working from home for the best part of the last 18 months, this has been a rarity for O'Keeffe during his time at Likewize.
"I've been in the offices or warehouse about 97 per cent of the time," he said. "When you have warehouses and call centres, these places need people in them day in, day out. And when you've got a workforce that is on-site, it's incumbent for me to be here with them."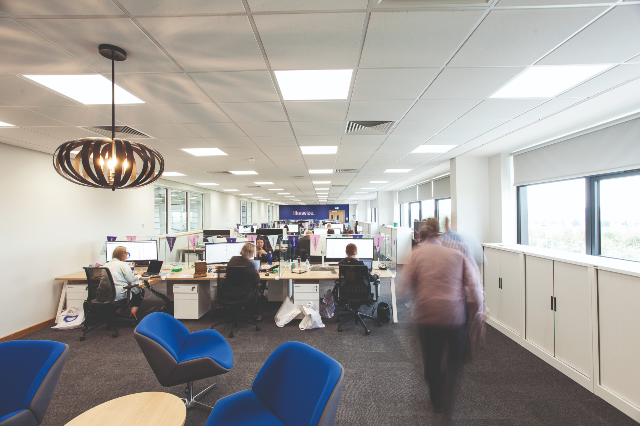 Back in the office
The company's aim now as things ramp back up to pre-pandemic levels is to continue its transformation and increase awareness of its services approach.
It also plans to remain acquisitive, while building on strong existing relationships with Apple and Samsung.
Key to all this has been meeting with clients again, with Alcock saying that Likewize has hosted a number of meetings with partners including Giffgaff and Virgin Media O2 at its new HQ.
"It almost feels like we've become a new company since coming to our new HQ and undergoing the rebrand. We've also had some of our customers come here and visit us."
Most of the UK team is back in the office, with the exception of a few who remain working from home.
And O'Keeffe couldn't be happier to have people back in. "We have a blend of young people who work for us that were really missing the lack of social interaction during the pandemic," he said.
"Engagement in meetings and discussions on how we can improve things is much easier face-to-face than it ever is on a Teams call."