Junior iPhone gets top tier power and sub-£500 price
The third iteration of the iPhone SE wraps the 5G experience and premium power phone in an iPhone 6 case to deliver the performance of the iPhone 13 at a remarkable price point starting at £419
The SE is available in three colours – Black, White and Product Red in three memory configurations of 64GB (£419), 128GB (£469) and 256GB (£569).
The original iPhone SE launched in 2016 and was upgraded in January 2020 with an iPhone 11-equivalent chip, It now has the A15 Bionic, 5G, better battery life, improved durability, and a new camera system with advanced features like Smart HDR 4, Photographic Styles, and Deep Fusion.
At first glance, the new SE looks identical to the previous models with a 4.7 inch LCD display, the same thick bezels and Touch ID instead of face-recognition security.
"Familiarity and functionality are the watchwords. The new SE has also stuck with a single camera lens although its camera capabilities have been improved. When many premium models have four lenses this may be where users really see the difference. Users who want an economic option while staying loyal to iOS will find the SE hard to resist". said mobiles expert Catherine Hiley at Uswitch.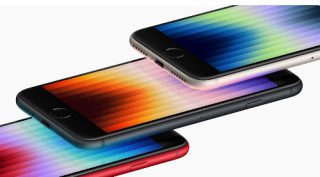 Analyst Ben Wood of CCS Insight added:
"A key driver for Apple in releasing the iPhone SE is the need to add 5G capability to Apple's entry level phone. Support for 5G is imperative for operators in Apple's most successful markets, such as the US where carriers will have pushed for this.
"The iPhone SE provides the most affordable iPhone in Apple's line-up. It is perfect for consumers who are not interested in the bells and whistles on more expensive iPhones but love Apple's user experience and apps.
"Apple's decision to uses its A15 Bionic chipset in the iPhone SE contrasts the approach taken by rival smartphone makers who tend to use less powerful chipsets in cheaper devices. However, at $429, the iPhone SE is a long way from the sub $200 5G Android smartphones currently offered by several Chinese manufacturers. Apple's entry-level iPhone would be considered a flagship product by many rival manufacturers.
"Apple is in the enviable position that even the lowest-cost iPhone is powerful enough to support numerous software updates. This sustains Apple's grip on the market as users hold onto their devices for longer or being trade them in with a healthy residual value to upgrade to a new iPhone.
"Apple's ability to offer devices with a longer life span, and in some cases with multiple owners over a lifetime, makes its devices more sustainable than those that become obsolete after as little as two years when software and security updates end.
"The decision to keep Touch ID rather than implementing Face ID is interesting. It's unclear whether this is down to cost or that Apple's research shows more conservative iPhone owners prefer to unlock the phone with their fingerprint. That said, it also offers a very tangible point of differentiation from Apple's more premium iPhone models and is easier to use in a world where mask-wearing has been the norm.
"When the iPhone SE 2020 was announced at the height of the pandemic it was the perfect product at that time. Consumers were uncertain about the outlook and an affordable iPhone was ideally placed to take advantage of that. In 2022 things have improved but the iPhone SE franchise still fills an important role as an affordable iPhone for consumers still cautious about splashing out on a top-of-the-line iPhone or who just don't feel the need to spend more than is necessary.