O2 the only MNO to not yet launch 5G in the UK
More than a quarter of UK mobile users will have a 5G subscription by 2024, according to data and analytics company GlobalData.
Research from the firm predicts that 5G will reach over 26 per cent of mobile subscriptions in the UK by 2024.
The increase in demand for 5G has paved the way for mobile networks such as EE, Vodafone and Three UK to introduce 5G strategies.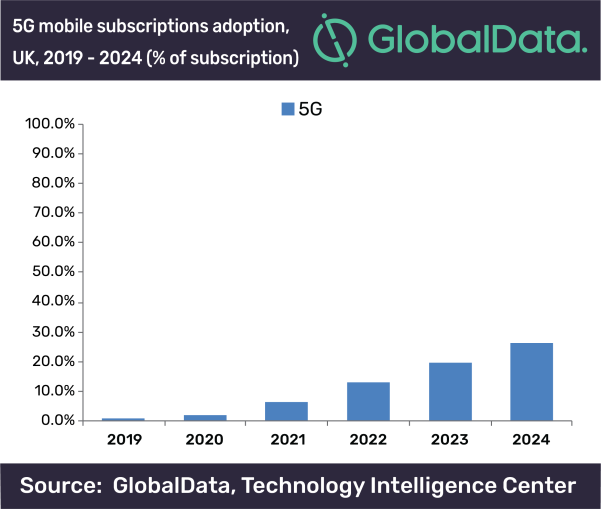 Three UK's 5G strategy primarily focuses on the 'Plug and Play' 5G home broadband which would offer consumers higher speeds at a lower cost with no waiting time for the installation. Customers looking to implement 5G into their homes can pay £35 per-month on a yearly plan without an upfront cost and same-day delivery.
Conversely, both EE and Vodafone are focusing on the growing 5G smartphone market.
EE were the first UK network to launch 5G and their strategy involves offering 5G on SIM-only plans with unlimited data for £44. This includes the 'Swappable Benefits' which allow customers to choose from various options including free roaming to particular countries, unlimited data for video, music, gaming and/or unlimited access to media content such as Amazon Prime and BT Sport.
Vodafone have since followed suit and implemented their own 5G bundles at no extra cost for mobile consumers. The network offers varying maximum download speeds that range from 2Mbps to unhindered speeds that can reach up to 1Gbps. The price of the SIM-only 12-month contract plans depend on the speed and vary from £23 to £30 per-month.
GlobalData technology analyst Lorenzo Solazzo commented: "While GlobalData expects increasing competition in the UK, telcos appear to have shaped their 5G strategies to target different costumer segments. EE is focusing on relatively higher-end packages, while Vodafone has to offer 5G based on a range of speeds tailored to customer requirements and Three is currently challenging the fixed broadband market. However, the market landscape may change when O2, the second-largest mobile operator, will join the market in October 2019."