The Doncaster-based company, which has been gaining traction since it was founded in 2015, runs a service that it says has succeeded in keeping return rates low as it bids for further growth and expansion
There are many big players in the ever-growing UK second-hand market, with WJD Repairs one that has been gaining traction in the past half-decade.
As a repairer, retailer and wholesaler of used and refurbished smartphones, the Doncaster-based business was founded in 2015.
It mainly deals with Apple and Samsung smartphones, and offers next-day delivery to customers in the UK and Europe.
Its customer base spans from the small to the large, with the company initially starting out with consumers on eBay and Amazon before growing into high-street retailers, repair shops and wholesalers.
First Steps
WJD Repairs director and owner William Dalingwater first ventured into the repair industry 15 years ago by buying, fixing and reselling games consoles on eBay, before moving onto mobile phone repairs and creating the company.
He hired sales manager Shane Matthews in 2019 to help grow the B2B side of the business, and the company now has 16 members of staff and a larger office for the sales team, stock and repairs.
"On the operational side, we come in, sort out deliveries and stock, test the stock, check any faults, clean the phones and send them to repairs if needed, retest the phones and send them to finished goods, where they will be packed and sent to customers," says Dalingwater.
"From the admin side, we've got a team looking after eBay stocks, Amazon and B2B."
If a phone cannot be repaired, WJD saves the parts by stripping them down and using them to repair other phones in a bid to limit waste.
"The refurbished industry is huge now," says Matthews. "Companies like Tesco, EE and Three are now offering 'good as new' products, which have made the industry grow, and more people are becoming eco-conscious."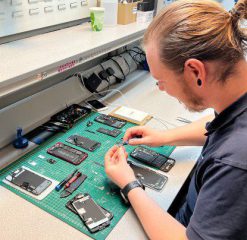 Revenue
Despite challenges caused by Brexit, chipset shortages, and COVID, WJD Repairs saw revenue of £21 million between June 2020 and May 2021, which Matthews says is his biggest achievement.
"We had to adapt and change the customer base, as it was heavily reliant on the European side of things and all of a sudden it stopped with Brexit," he says.
"Luckily, we did a good six months' worth of work in preparation for that, whereas a lot of companies in this industry didn't.
"Then, of course, COVID hit, but we had some of our best periods and had such a good customer mix, as we had the option to sell to wholesalers that were sub-trading."
Dalingwater and Matthews also say the company made it through the pandemic effectively by taking extra precautions.
"We utilised the space, spread everyone out and staggered working hours, and we didn't have a single person off with COVID until December 2021," said Dalingwater.
"We did everything at the right time," adds Matthews. "Forget two metres, it was more like four or five!"
Low Return Rate
On the back of its success in retail and B2B, with strong revenue throughout 2020, WJD Repairs is also aiming to become a supplier of choice in the UK and Europe.
"We're working with marketing people to get the message out there – and from supplying the phones to testing the phones, we make sure we get as few returns as possible," says Dalingwater.
"Currently, we are running at about three per cent maximum return rate. Even if we do get returns that come back from customers, there are options such as repairing these phones or crediting the customer immediately."
Matthews explains that this low level of returns is something that means the company stands out from others in the industry.
"That low return rate is something I haven't seen before," he says. "We've seen return rates from various channels that are 10, 15, 20, 25 per cent– or even more sometimes– and I think three per cent is a great figure in any industry. That is something I am really proud of."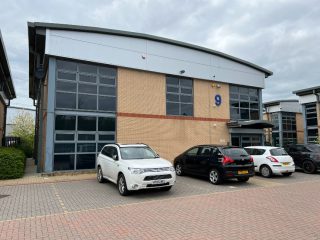 Growing the team
In the short term, Dalingwater and Matthews are looking to expand the sales team to help increase revenue and profit.
In the longer term, meanwhile, Matthews believes the company could start looking into products that complement mobile phones.
"Obviously, phones have been hugely successful for us, but of course there are other things that come with it," he says. "That might be something we do in the future, but certainly we will be adding more things onto the business in the next year or two.
"You can never say never to anything – and if there are other opportunities to do other things that complement what we do, then we will listen and see what happens."
Dalingwater agrees with Matthews, also hinting at what could be in store for WJD Repairs in the future.
"Without going into too much detail, we are looking into international expansion, so this would be operations abroad and stuff like that," he says. "It's all very exciting."