At a symposium this month, the Chinese vendor outlined its focus on continuing to boost security
Huawei held its first ever Trust in Tech Symposium as it sent a defiant message that it can be trusted following a turbulent last 12 months.
At the end of a year that has seen the vendor caught up in a trade war between the US and China, the event focused on trust in its security practices.
Held at The Savoy in London on December 3, Huawei officials addressed the challenges faced, but were also resolute on the vendor's plans for the future.
Speakers included CTO of Huawei Carrier Business Group Paul Scanlan and Huawei cybersecurity officer Jeremy Thompson, plus a number of guest panellists including academics and analysts.
At the event, Scanlan insisted that the recent challenges faced by the vendor won't stop it from boldly forging ahead.
"I think 2019 is going to go down in the business' history as something rather special because this year we will make 20 per cent extra revenue and around eight per cent profit, despite a very persistent attack on our integrity," he said.
Despite the recent events, Huawei had shipped more than 200 million smartphones this year by October, with its third quarter revenue rising 27 per cent year-on-year.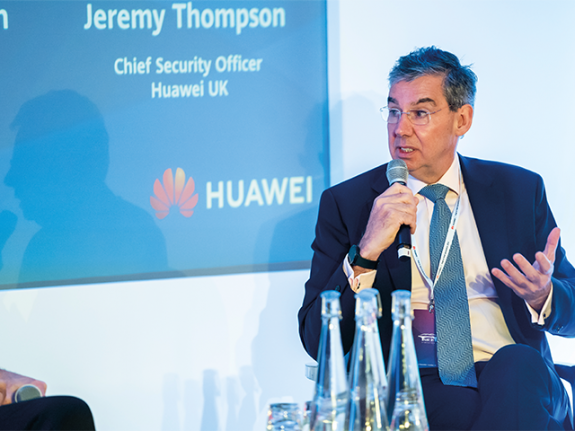 Geopolitics
Author and tech analyst Marsha Collier referenced the challenge posed by the trade war between the US and China in the opening talk, saying "geopolitics is holding us back".
Thompson agreed that the situation has been unhelpful. "A large part of my job has been explaining the geopolitical aspects of the situation around 5G," he said.
"It's really unhelpful and doesn't let us talk about the real issues. By blurring trade wars and technology wars, there's a lot of noise created that can be better used elsewhere." Thompson suggests that Huawei surging ahead in 5G has created even more tension – making the vendor, in a way, a victim of its own success amid the technological struggle for supremacy between nations.
"Personally, I think America has called 5G wrong and has underinvested. Others have invested and are ahead," he said.
"There are two ways of winning a race: either you run faster and invest more, or you try and trip up competitors."
But, said Thompson, although some are making things tougher by deploying the latter tactic, "we are battling through it".
While Huawei operates in more than 170 countries and has over 250 million consumer customers, the constant uncertainty over its level of access to the US has been tough.
The importance of this market and European ones such as the UK was reiterated by Scanlan, who cited the admiration that Huawei founder Ren Zhengfei had for the US and the likes of Apple and Amazon.
"Europe and the US are so important to Huawei, because it's about being part of the global supply chain and feeling including in this," he said.
Improving security
While Huawei has continuously refuted any allegations relating to the risk of its network infrastructure being used for espionage, the vendor emphasised that it is ensuring it continues to enhance security.
Thompson said, for instance, that Huawei is investing heavily in developing its software engineering to cater for this.
"As networks develop, Huawei has become more software-orientated," he said. "We need, along with the rest of the industry, to substantially mature our ability to write code and our own software – so we have invested $2 billion to improve this."
Closer to home, Thompson says Huawei's UK cybersecurity assessment centre illustrates how the company is prioritising trustworthy and secure networks.
"Huawei has a cybersecurity assessment centre in Banbury," he said. "That gives the UK government assurance there are no backdoors in our network and they can support Huawei in the development of future security technology."
5G safety
At the Symposium, Scanlan also led a presentation on 5G in which he highlighted the reasons for the technology to be considered trustworthy and secure.
For a start, he was quick to – as he put it – "debunk the myth" that 5G creates harmful electromagnetic fields.
He cited information from the World Health Organisation that FM radio and TV sets actually emit more radiation than cellular base stations, which most people have used for years without reported harm.
Scanlan added that 5G can be better encrypted and produces less carbon than 4G, while it will increase the level of trust in digital systems and spur economic growth by transforming industries.
He and Huawei believe that four key steps are ultimately needed for generating trust in 5G: education, collaboration, incentivisation and a change in mindset to do things differently. Part of this involves moulding regulation in a way that is conducive to the new technology.
"We need to talk about the facts and get the education out there with 5G," he said. "5G cannot be done without collaboration, otherwise it won't work – so there is a need for a different type of regulatory framework."