5G users will account for almost 30pc of mobile subscriptions globally by then, predicts the vendor
5G subscriptions are set to number more than 2.6 billion by the end of 2025, according to the worldwide November 2019 edition of the Ericsson Mobility Report.
The latest version of the vendor's twiceyearly report makes a series of bold predictions about the future of the telecoms industry as 5G services start to take hold, with offerings being launched by operators around the world.
Ericsson forecasts that users of the new technology will account for 29 per cent of mobile subscriptions globally in 2025, with 5G by then covering up to 65 per cent of the world's population and handling 45 per cent of mobile traffic.
LTE Peak
LTE is expected to remain the mostused mobile access technology by that date, after peaking in 2022 at around 5.4 billion subscriptions. After that, it will then begin to decline as people substitute it for 5G, reaching 4.8 billion subscriptions by 2025.
At the vendor's industry analyst forum on November 28, Ericsson vice president and corporate officer Mikael Bäck said: "Device prices and availability will be less of an obstacle to early uptake of 5G than it was for 4G."
Ericsson predicts that most 5G subscriptions will come from China, where early engagement with the new technology will pave the way for others to follow suit.
Ericsson expects 5G device volumes to soar to 160 million units next year, having already grown faster than LTE during each network's initial rollout period.
The company predicts that there will be 13 million 5G subscriptions globally by the end of this year.
In the UK, operators O2, EE, Vodafone and Three launched commercial 5G services this year, introducing the technology to core audiences in the country as they look to follow the lead of nations such as South Korea with their own 5G offerings.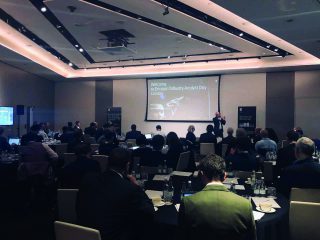 5G Plans
As for Ericsson, the vendor's immediate future will be about continuing to solidify its position as a key player in the new 5G environment.
The company prides itself on being first with 5G commercial networks on four continents.
The vendor currently has 77 commercial 5G agreements or contracts with operators across the world, of which 20 are live networks.
At Ericsson's analyst day, senior vice president Stella Medlicott highlighted that the company made a series of changes in 2017 to ensure a successful future, investing heavily in research and development to ensure it puts itself in a strong position both technologically and financially.
"We began to focus heavily on R&D, which is now 24 per cent of our workforce," she said. Medlicott added that this has put Ericsson in a strong 5G position going into 2020, which promises to be a big year for the company with the technology.
Patrik Cerwall, Ericsson's head of strategic marketing and executive editor of the Mobility Report, told Mobile News how 5G is picking up in general. "Compared to our last report in June, this one confirms the momentum of 5G across all continents, and we aim to be at the epicentre of its development," he said.
Of the ethos behind the report, he  added: "It's important to explain the status of the mobile industry by putting all of this data together.
"The Ericsson Mobility Report aims to educate people and make them aware of what is happening in the telecoms industry."
Huawei Impact 
With operators continuing to focus heavily on 5G services, Medlicott was, meanwhile, asked at the event how Huawei's security problems would impact on the overall vendor market.
"It's a challenge for the whole industry as it creates uncertainty, slows things down and impedes decisions," she responded, adding that there had been no uptick in Ericsson's business from the regulatory restrictions on Huawei.
But Ericsson certainly does not expect all this to stop it from expanding its portfolio as it looks to continue working with operators on delivering 5G in a wide variety of locations in 2020.
With this focus in mind, the vendor will hope to continue positioning itself at the forefront of 5G in the future.
Video to drive rise in mobile traffic in coming years
Ericsson's latest Mobility report from November forecasts that mobile traffic will rise 27 per cent annually between 2019 and 2025.
Most of this, it says, will come from video traffic, which is projected to increase 30 per cent annually over the next six years.
This growth will be spearheaded by the rise in embedded video content in online applications and video-on-demand streaming services, as well as the evolution towards higher screen resolutions on smart devices.
All these trends are being influenced by the rising penetration of videocapable smart devices.
Ericsson predicts, meanwhile, that social network traffic will grow 20 per cent annually over the next six years, but that its overall share of traffic will decline from 10 per cent in 2019 to around 8 per cent in 2025 because of the substantial growth in video content.
The report goes on to predict that immersive media will become more prevalent among streamers, contributing significantly to mobile data growth, while 5G networks will make it possible for users to stream VR and AR content – which could consume as much as 12GB per hour.