PSA invested in Replace Base due to its marketing, customer feedback, and that the two companies can complement each other
Replace Base has received its first ever investment from 2PG investments, the owners of PSA Parts group of companies.
PSA parts has been in the spare parts distribution industry for the IT market for over 20 years and is now branching out into the mobile market- with Replace Base being a great investment choice for its ongoing acquisition strategy.
The investment was mentioned around 18 months ago, with both companies keen to start working together- but it officially went live in October this year. 
PSA can support customers of all sizes, and Replace Base will benefit from its network of logistics centres in the UK, EU, US, and Australia- with the ability to ship up to 5000 orders for the next working day.
In terms of the benefits of the investment, CEO of PSA James McBrien believes it can create a new range of customers and ideas.
He said: "For us, it's about expanding our market in terms of products and going into mobile phone spares. What we have gained from Steve's knowledge at Replace Base is that he's a fantastic marketer and visionary of new products, so he brings that to the business and it helps broaden our customers."
Steve Garner, Managing director of Replace Base, added: "PSA are much more experienced and a much more corporate, polished business than Replace Base and they can guide us into really legitimising the market.
"We can work directly with original equipment manufacturers (OEM's) so PSA gives us that opportunity and the skills that we are missing as the systems PSA have are incredible and the guys know logistics inside out. It's going to give us a massive opportunity to improve what we do without losing who we are."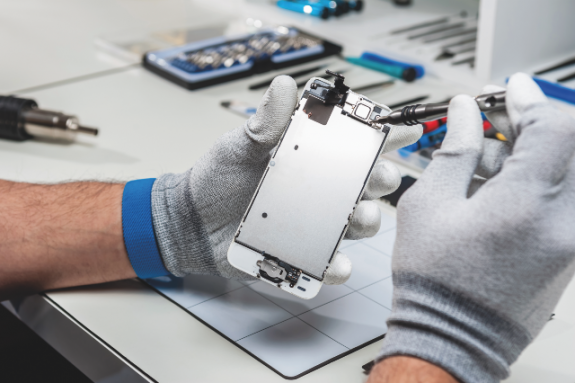 Long term goals
As the investment develops further, both companies have plans to expand, and Garner said he is currently working with Oppo to distribute its legitimate parts.
He said the UK is missing direct supply, but this is present in Europe.
"There's no distribution for a lot of OEM's in the UK and it's hurting a lot of the industry as they have to get parts out of Europe post Brexit. So there's a lot of opportunity there for us to bring some of that distribution.
"Where Replace Base was too small and not polished enough before, this opportunity means we are the perfect logistics partner for OEM's and for people in this industry. So that's where I see Replace Base growing in the UK. We are moving into Europe early next year which is really exciting because we lost a lot of European trade due to Brexit- so that'll be nice to get back into Europe with PSA's logistics out there."
Nik Hilliard, PSA's commercial director added: "We want to build the biggest and best distribution business within the mobile technology arena, and we are on the trajectory to do that over the next few years, bringing in the experience from all the different parts of the businesses as we grow that group."
Next year will see a number of exciting announcements from Replace Base regarding new technologies, new brands and new OEM partnerships.