New security systems and mobile device handling stations
Eurostar Global Electronics new 43,000 sq ft distribution and logistics centre is to get a refit that will see it upgraded with state-of-art security systems and specialist mobile device handling facilities. The project, which will be carried out by Carson Powell Construction, started this week and will take four months to complete.
Eurostar Global managing director Peter Carnall at Eurostar Global said:
"Since we concluded the deal for our new distribution and logistics centre with St Modwen last year, there has been a significant design process that, due to the impact of COVID-19 on the construction sector, has extended the time taken to find the right company to complete the warehouse fit-out. It has also been important to select a partner with the right approach and skill set, to undertake this key project that will critically support the future growth of the business."
Sales and purchasing director Brett Watmough added: "Our new facility will support the development of new opportunities and relationships with vendors, retailers and resellers, all of which will continue to be supported by our outstanding account management team. We can't wait to get into the new building as it will be a fantastic new working environment, that represents a springboard to the next phase of growth".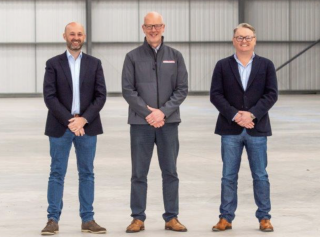 Eurostar Global Electronics has taken out a 10-year lease on the facility which is in the Ceramic Valley Enterprise Zone.