UK could produce around 55,000 tonnes of e-waste garbage by 2030
The UK generates the second highest amount of e-waste per capita in the world after Norway, the UK will overtake Norway by next year to become the world's biggest contributor. according to an analysis by the price comparison site Uswitch
The study analysed data from the Global E-waste monitor 2020 to reveal the countries that generate the most e-waste. IT and telecoms e-waste almost doubled in the UK between 2008 (19,053 tonnes) to 2022 (37,631 tonnes estimated).
"If the current trend continues, the UK will be producing just under 55,000 tonnes of e-waste by 2030. It is estimated that each smartphone produces 93kg of CO2 and around 40 per cent of the UK's e-waste is illegally exported to be disposed of in other countries" says Uswitch
Mobile phones fall under the category of "IT and telecoms", alongside items such as laptops, tablet computers and fax machines.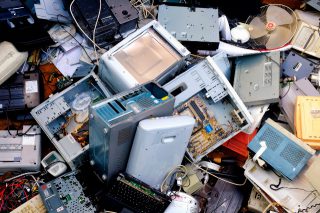 Uswitch's analysis says that 36,681 tonnes of household waste electrical and electronic equipment were generated from these devices in 2021 which is 15 per cent more than in 2020., The amount of electronic waste dropped drastically following the coronavirus pandemic but there are signs that e-waste has started to rise once again.
Since records began in 2008, the amount of IT and telecoms waste electrical and electronic equipment has steadily grown. In 2008 there were 19,053 tonnes, which rose to 52,008 tonnes in 2016 (a 173 per cent increase).
"In total, IT and telecoms e-waste has increased by just under double (98%) between 2008 to 2022. If it were to follow this trend in future, we could be generating just under 55,000 tonnes by 2030. This means that the number of toxic materials being released into the atmosphere via e-waste would be at an all-time high. Not only this, but it also means that we would be throwing away vast amounts of precious metals such as gold, silver, copper, platinum and aluminium" said Uswitch report editor Ray Ali.