Despite facing challenges such as postal strikes and diminishing consumer confidence, Music Magpie's trading performance showed a 42 per cent increase compared to the same period in 2022. Store sales accounted for 79 per cent of total sales, up from 72 per cent in the previous fiscal year.
The gross profit in the consumer technology division rose by 13.5 per cent to £10.9 million, contributing 59 per cent  to the company's total gross profit. However, first-half revenue decreased by £9.4 million, reaching £61.9 million compared to £71.3 million during the same period last year. Higher-margin sales in the Consumer Technology division generated revenue of £41.1 million, while disc media and book revenue amounted to £20.9 million, down from £46.0 million and £25.3 million respectively in 2022.
The gross margin saw a 3.1 per cent  improvement, reaching 29.7 per cent, which can be attributed to direct product sourcing from consumers, increased sales through the musicMagpie store, and growing rental subscriptions. The number of active rental subscriptions rose by 15,000 to 39,000 compared to May 2022, with 2,200 devices currently being rented to businesses.
Music Magpie's SMARTDrop Kiosks, located in 290 Asda stores, have processed approximately 50,000 used phones, resulting in over £15 million paid out to customers. This information was disclosed in the company's interim results for the six-month period ending in May of this year.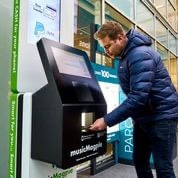 MusicMagpiece CEO, Steve Oliver (main pic) commented;
"After a challenging first quarter, I am pleased with the performance of the business during Q2 and the momentum that has been carried over into H2, which is traditionally the seasonally more important half for musicMagpie. By focusing on 'buying and selling for more margin', which includes sourcing more products directly from consumers and increasing the proportion of sales made through the musicMagpie store, we have delivered a strong improvement in Consumer Technology gross profit.
"Looking ahead, we have a clear plan for our rental business and for our enhanced Buy Now Pay Later offering, which should drive sales and make our offering even more attractive to consumers looking to save cash.
"Despite the tough consumer environment, we expect consumers to increasingly look to the refurbished tech market and are confident that the business has the right strategy in place for future profit growth"