Around 21 per cent of UK adults only access the internet with a smartphone and 1.5 million UK households now access the internet at home via a mobile, not a broadband connection.
So says a report into digital exclusion a by Mobile UK, the industry body for the UK's Mobile Network Operators.
The report called From Exclusion to Inclusion – How mobile connectivity can further narrow the digital divide' emphasises the growing importance of mobile connectivity and the need for better Government policy.
Statistics in the report show that six per cent of households have no access to the internet while4.2 million adults have either never used the internet or have not used it in the past three months.
"Six per cent of households have no access to the internet"
"Evidence shows that mobile connectivity is directly linked to better life outcomes. People digitally excluded are, however, at risk of experience less effective healthcare, educational barriers, greater living expenses and lower earnings" it states.
Two-thirds of the population now have 5G in their area and the Government's recent Wireless Infrastructure Strategy sets out a target for standalone 5G coverage in all populated areas by 2030. In addition, the Shared Rural Network is working towards extending 4G coverage to 95 per cent of the UK landmass by the end of 2025.
The report finds that digital exclusion cannot be addressed solely with better network provision and says there are varied factors which contribute to limited access, to the internet, a lack of skills and low confidence in accessing and safely using online services.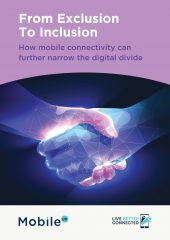 The report makes several recommendations for action to redress the balance. These include creating a new digital inclusion strategy and enabling investment to ensure connectivity is kept affordable but acknowledges the investment capability of mobile operators is challenged by declining average revenue per user.
Mobile UK's investigation calls for the Government to implement a framework to narrow the investment gap, incentivise activity and ensure a positive landscape for improving mobile infrastructure. Mobile UK wants to see accessible and mobile-friendly websites as standard as 71 per cent of smartphone users say it is more difficult to complete a form on a phone than a laptop.