Vodafone processed around 169 terabytes of data were consumed by the 200,000 Glastonbury Festival crowd last weekend using nine masts. This is double the amount of data used in 2022.,
Vodafone also handed out 2,500 SIMS to festiva-goers, emergency services, bar operators, charities and Glastonbury's core operations and accessibility teams.
At least 450 gigabytes of data were uploaded during Elton John's Sunday headline performance on the Pyramid Stage. Over tive-day event, Vodafone revealed that 20 terabytes of videos and photos were uploaded by the Pyramid crowd/
The Vodafone Glastonbury app was downloaded 208,000 times and more than 130,729 people used the 'My Line-Up' feature.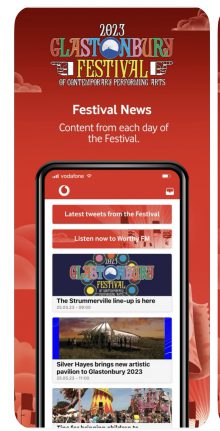 The Battery Exchange scheme saw 10,500 charging packs sold with Vodafone donating a pre-loaded SIM card to local charities in Somerset for every pack purchased,
"Our network team boosted the network to its highest-ever capacity in our first year as Official Connectivity Partner. We can't wait to bring even bigger and better things to Glastonbury next year" said Vodafone's UK Chief Commercial Officer Max Taylor (below)