Samsung and Huawei suffered the most out of the vendors for Q1
Global smartphone shipments have fallen dramatically during a coronavirus-hit first quarter of 2020 according to two analyst firms.
Canalys estimates the smartphone market dropped 13 per cent during the first quarter of 2020 with 272 million shipments, while IDC said 11.7 per cent (275.8 million) shipments.
In fact IDC has said that the quarter provided the worst annual year-over-year decline ever as the lockdown has halted production and limited freedom of movement globally.
Last year in the first quarter the total number of shipments were 312.3 million according to IDC.
China oversaw the largest regional decline with shipments falling 20.3 per cent year on year.
The US and Western European markets slumped by 16.1 per cent and 18.3 per cent respectively, said IDC.
Supply issues
IDC research director Nabila Popal commented: "What started as primarily a supply-side problem initially limited to China has grown into a global economic crisis with the demand-side impact starting to show by the end of the quarter.
"While the supply chain in China started to recover at end of the quarter, as IDC expected, major economies around the world went into complete lockdown causing consumer demand to flatline. Consumers get increasingly cautious about their spending in such uncertain times and it is hard to think smartphone purchases won't suffer as a result.
While Canalys senior analyst Ben Stanton said that the demand for new devices has been "crushed" due to the pandemic.
"Demand for new devices has been crushed. In February, when the coronavirus was centered on China, vendors were mainly concerned about how to build enough smartphones to meet global demand.
"But in March, the situation flipped on its head. Smartphone manufacturing has now recovered, but as half the world entered lockdown, sales plummeted."
Vendors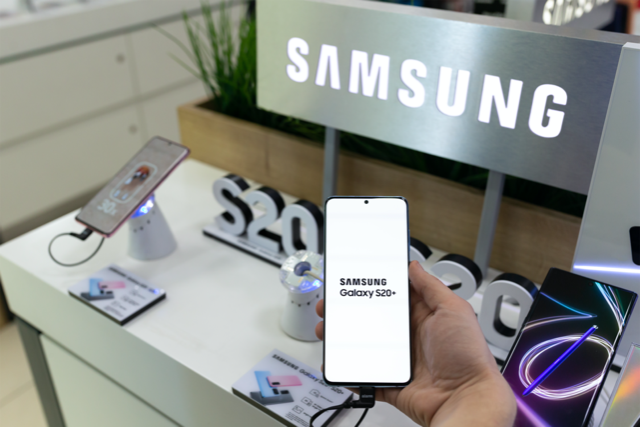 There are no changes in the top three for market share with Samsung, Huawei and Apple leading the way.
IDC has Samsung top with 21.1 per cent share, followed by Huawei on 17.8pc and Apple (13.3pc)
However Samsung and Huawei both felt the full impact of the coronavirus during the first quarter.
Samsung recorded a drop of 18.9pc year-on-year with Huawei 17.8pc down, revealed IDC.
IDC said Samsung's shipped 58.3 million smartphones in the first quarter, compared to 71.9 million last year, while Huawei shipped 49 million units compared to 59.1 million last year.
Apple shipments were only down 0.4 per cent due to the continued success of the iPhone 11 series.
The Cupertino-based vendor shipped 36.7 million units for the quarter.
Despite the uncertainty Xiaomi actually grew its market share in the quarter with IDC estimating by 6.1 per cent and Canalys nine per cent. This took Xiaomi past 10pc market share for the first time.
vivo returned to the top five with growth of seven per cent and nine per cent share.