Huawei unveiled a series of products at its recent UK event, as it looks wider amid smartphone struggles
Huawei's shift in strategy away from mobile was no more evident than at its most recent UK event at The Standard Hotel on June 2.
There, the company unveiled a series of IoT products including the Huawei Watch 3, Watch 3 Pro, FreeBuds 4, MateView and MateView GT.
The event adhered to strict COVID-19 government guidelines as journalists were shown the new products for the first time.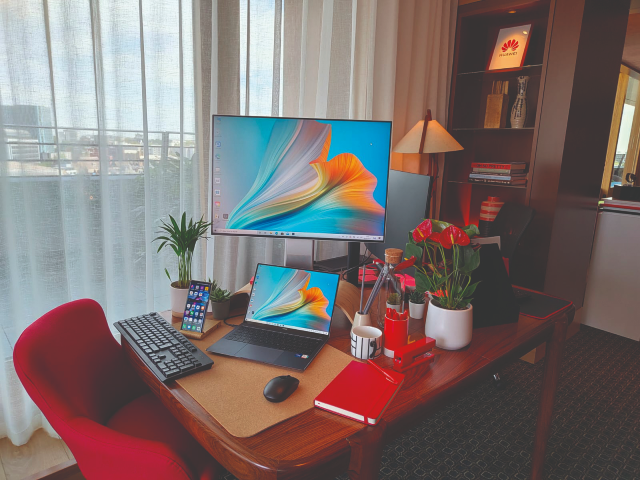 This is a stark contrast to the Chinese vendor's last in-person drive-through event last October, at which it proudly showed off the flagship Mate 40 Pro, touting it as the best new flagship on the market. At its latest event, though, the lack of information on a new smartphone paints an unclear picture of its future in the mobile industry.
As well as being banned from using Google services on its new devices, Huawei's dwindling fortunes in mobile come as a result of economic sanctions from the US, which have hampered the Chinese firm's ability to design and manufacture smartphones.
Alongside this, in November 2020 the UK announced a ban on Huawei 5G equipment – set to begin this September.
Recent findings by Gartner have shown this has had a profound impact on Huawei's worldwide smartphone sales.
The Chinese vendor was outpaced by its domestic rivals Xiaomi, Vivo and Oppo in worldwide smartphone shipments for the first quarter of 2021. This marks a significant change from two years ago, when Huawei was primed to challenge market leaders Samsung and Apple.
Despite this, Huawei did not launch a new smartphone at the event, with its next device – the P50 – not yet having a planned release date.
IDC research manager Marta Pinto says this is down to the "known difficulties of the brand to source critical components", particularly after the struggles it has faced from the US.
But she says that despite this, Huawei has reaffirmed its commitment to a wider array of devices that the company has been working on improving for some time.
"Smartphones will likely be just a part of the full device portfolio," says Pinto. "To deliver the smartphone upgrades, the brand will have to work around the supply chain constraints and sourcing issues, and that can be the tricky part."
She points out that Huawei's 1+8+N multi-device and service strategy was already announced before the sanctions were put in place, so the commitment is not just to smartphones.
The strategy aims to provide audiences with an interconnected ecosystem of devices to help them stay connected at all times. The '1' represents smartphones, the '8' refers to connected IoT devices such as the one announced at the event, and the 'N'relates to third-party devices that connect using Huawei Share or Huawei HiLink.
HARMONY V2
Alongside the unveiling of a larger product portfolio, Huawei launched the second version of its Harmony operating system, which will support almost 100 devices and interconnected capabilities for various IoT products.
"The user experience of HarmonyOS has surpassed the experience of the Android era," said Richard Yu, CEO of Huawei's consumer unit. "We solved issues such as the slowing down and lagging of devices over time in the Android era."
According to Huawei, HarmonyOS 2 runs more smoothly than the last generation of EMUI, and will first launch on its IoT devices before being gradually rolled out on smartphones.
Only devices that meet strict security requirements can access data corresponding to their security level, making sure that users can make use of multidevice collaboration features with "true peace of mind".
Huawei says that HarmonyOS apps undergo rigorous testing throughout development, release, installation and use to ensure they deliver a secure experience in a clean ecosystem, adding that battery life and device speed are improved through the platform.
Reacting to security concerns that have hampered Huawei in recent years, Yu says the vendor is committed to protecting user privacy and security.
When multi-device collaborative identity authentication is activated, users can only unlock their phones with a combination of facial recognition on their smartphone and a special check that ensures a user's watch is the one that is connected to the phone.
The HarmonyOS platform comes at a critical time for Huawei as it continues to lose ground in the mobile industry, having lost access to Google services two years ago.
"The OS is the new competitor for Android and iOS, the other two main operating systems in the smartphone market," says Pinto.
Pinto adds that the Chinese firm can make gains from the operating system via two different streams – licensing the OS to other smartphone manufacturers, and building an ecosystem of devices that will help maintain user loyalty.
"When Huawei announced the new HarmonyOS strategy, it was clear that the code would be available to third-party players and across Huawei devices," she says.
However, she acknowledges that HarmonyOS will find it difficult to penetrate areas where Android and iOS are prevalent among users.
Yet the brand continues to ship devices with the platform as part of its portfolio and has actively been promoting its own search app, Petal Search, in a bid to sway consumers to the new system.
"Rolling out HarmonyOS to a large installed base shows that the brand is still committed to the category," she concludes.