Xiaomi only vendor to see growth as pandemic affects consumer spending
Global smartphone sales declined 20.2 per cent year-on-year in the first quarter of 2020, according to research firm Gartner.
All but one of the top five global manufacturers suffered a decline in shipments as consumer demand drastically decreased due to the Covid-19 pandemic.
Xiaomi was the only vendor to see growth, posting a 1.4 per cent increase in shipments and growing its market share from 7.3 per cent to 9.3 per cent, leapfrogging Oppo to become the fourth-biggest vendor. This growth was attributed to strong international sales of its Redmi devices and online channel focus.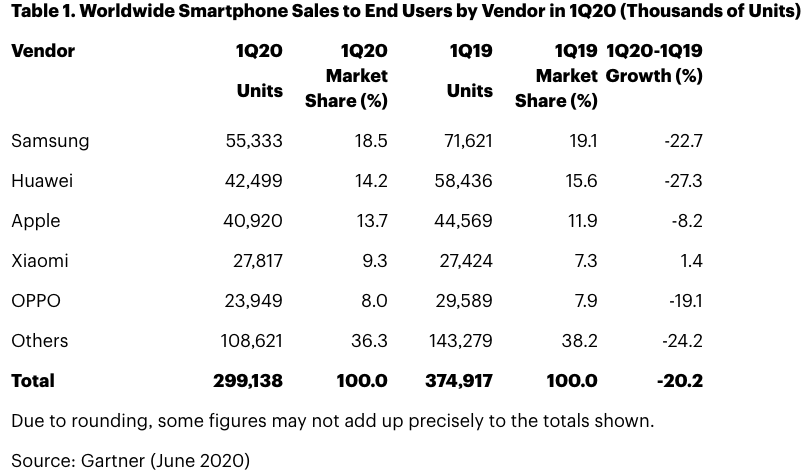 Samsung maintained its number one global market share position, with 18.5 per cent, but its sales declined 22.7 per cent. Gartner senior research analyst Anshul Gupta said that Samsung's limited Chinese presence prevented it from suffering a further downturn.
Huawei saw the worst performance, seeing a sales decline of 27.3 per cent, although it held onto the number two spot with 14.2 per cent, down from 15.6 per cent the previous year.
"Huawei will have a challenging year," said Gupta. "It has developed the Huawei Mobile Service ecosystem, but with the lack of popular Google Apps and Google Play Store, it is unlikely to attract new smartphone buyers in international markets."
Apple held onto third place with a sales decline of 8.2 per cent. Gartner research vice president Annette Zimmermann attributed this relatively small decline to a strong start to the year for Apple's iPhone 11 lineup and its strong online presence.
Oppo dropped below Xiaomi to fifth place with a 19.1 per cent sales decline, although its market share saw a minor increase at the expense of the other major manufacturers, growing from 7.9 per cent to 8 per cent.