Gap between Huawei and Samsung narrows while Apple stays flat
Worldwide smartphone sales in the second quarter of 2020 dipped 20.4 per cent annually, according to research from Gartner.
The analyst firm recorded total sales of 295 million units, as almost every manufacturer suffered a year-on-year sales decline.
Samsung remained the market share leader, but it experienced the largest sales decline, with sales of 54.8 million units down 27.1 per cent from the same quarter in 2019.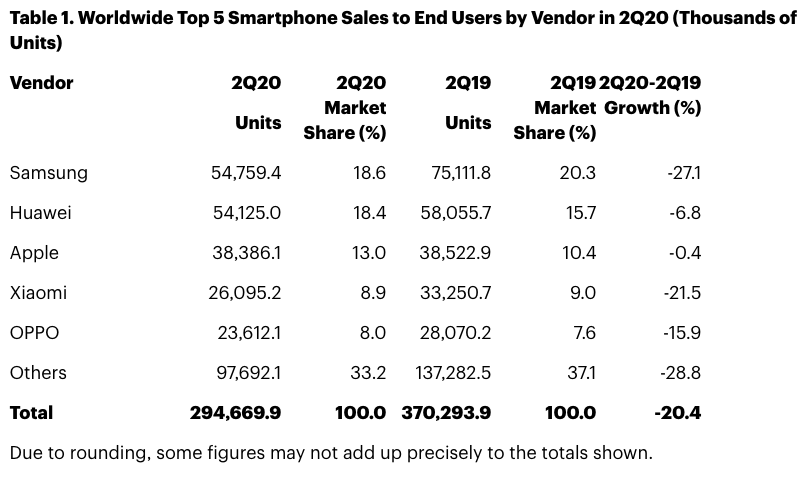 Its market share declined from 20.3 per cent to 18.6 per cent. Meanwhile, Huawei increased its market share from 15.7 per cent to 18.4 per cent. Despite an annual sales dip of 6.8 per cent, the Chinese vendor saw quarterly growth of 27.4 per cent.
"Huawei's performance in China helped it avoid a worse quarterly performance," said Gartner senior research director Anshul Gupta. "It extended its lead in China where it captured 42.6 per cent of China's smartphone market in the second quarter.
Recently, research firm Canalys declared that Huawei had in fact outsold Samsung in the quarter, giving it top spot in global smartphone market share for the first time.
"Huawei put in place an aggressive product introduction and sales promotion in China in particular and benefited from the strong support of communications services providers for its 5G smartphones."
Apple's year-on-year performance was nearly flat, with shipments of 38.4 million iPhones just a 0.4 per cent decline. Due to this hold, Apple was able to increase its market share from 10.4 per cent in 2019 to 13.0 per cent.
"Apple's iPhone sales fared better in the quarter than most smartphone vendors in the market and also grew sales quarter-over-quarter," said Gartner research vice president Annette Zimmermann. "The improved business environment in China helped Apple achieve growth in the country. In addition, the introduction of the new iPhone SE encouraged users of older phones to upgrade their smartphones."
Enterprise demand
Speaking further to Computer Weekly, Zimmermann said that smartphone demand from Gartner's enterprise clients had been quiet in the "past two to three months".
She added that Samsung and Apple stood to be the most relevant manufacturers in the European enterprise market with Huawei's decline in prominence.
Furthermore, Zimmermann said that 5G had become "irrelevant" to the enterprise as businesses were more concerned with cost saving.