Samsung holds top spot in Europe but mounting problems for Huawei sees the vendor lose six per cent market share YoY for Q2
The Covid-19 outbreak has caused the European smartphone market to take a 24 per cent hit for Q2 2020 according to Counterpoint Research.
This trend was reflected in the UK, with year-on-year figures down 26 per cent.
France (25pc,) Germany (25pc) and Russia (27pc) posted similar declines.
But Counterpoint Research VP for research Peter Richardson said this number was actually worse at the start of lockdown.
"The impact of COVID-19 gathered speed in Europe during April as it was the first full month of lockdowns across almost the entire region, causing a decline of around 45 per cent YoY and 30pc month on month.
"As the lockdowns started to lift across Europe in May, the sales rebounded (+33pc MoM). June was equally good, posting a further sequential increase of 34pc."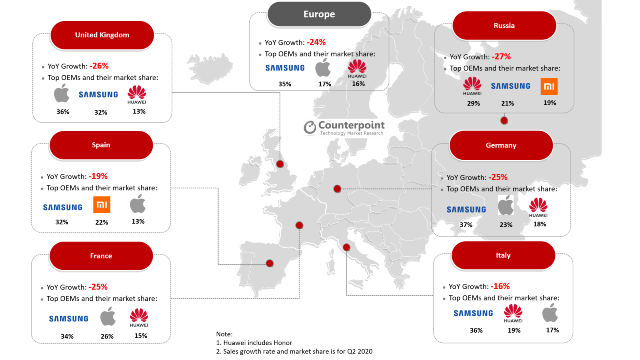 Chinese hold
Chinese brands account for 35 per cent of the overall European market, with Oppo and Xiaomi in particular growing in the region.
Xiaomi grew its share from six per cent up to 13pc, while Oppo went from one per cent to three YoY.
Huawei, however did take a hit. The Shenzhen-based manufacturer saw its share drop from 22pc to 16pc, with the current US sanctions on Huawei likely to have played a part in this performance.
Samsung and Apple with 35 and 17 per cent respectively, led the way in Europe for the vendors.
Counterpoint Research analyst Abhilash Kumar added: "Meanwhile, Huawei declined 46 per cent YoY amid US-China trade sanctions.
"Xiaomi and Oppo grew 64pc YoY and 52pc YoY even during the pandemic. With their attractive specs at affordable prices, they managed to woo some potential Huawei users to gain share at its expense."