5G vandalism seems to have calmed since a year ago, but conspiracy theorists remain alive and kicking
What causes the water in your brain to boil, sucks the oxygen from your blood, sends you mad and is a danger to all species on the planet? The latest COVID variant? Breakfast television? Monster mosquitoes? Nope. It is 5G.
Well, that's according to the many ecoactivists and conspiracy theorists who are still doing all they can to disrupt the rollout of 5G across the world. It is now a year since a spate of arson and vandal attacks were directed against 5G masts here and across the world as wild theories suggested COVID-19 was unleashed by the technology.
Among 13 attacks on phone masts in Merseyside at the time, Kirby man Michael Whitty was jailed in June for three years for setting fire to a Vodafone 5G equipment cabinet at the Knowsley Industrial Park, knocking the mast out of service for two weeks and causing £15,000 of damage.
Police found that Whitty had spent considerable time researching 5G and discussing it in online chat rooms. A string of previous offences, including assaulting a police officer and possession of a firearm, indicate, however, that he wasn't a run-of-the-mill peace-and-love activist.
Whitty's imprisonment seems to have curtailed the vandalism. But the 5G conspiracy theorists and activists are still very much alive and kicking inside the internet, and planning more civil disobedience and lobbying – albeit not burning stuff to the ground.
Perhaps no one explained to Whitty that the higher the radio frequency, the lower its ability to penetrate human skin, significantly lowering risks to the body's internal organs and brain.
The idea that 5G radiation interacts with COVID to kill you comes from a theory that the technology increases the permeability of cellular membranes. The argument claims that this allows some molecules to displace other molecules and soluble gases such as carbon dioxide.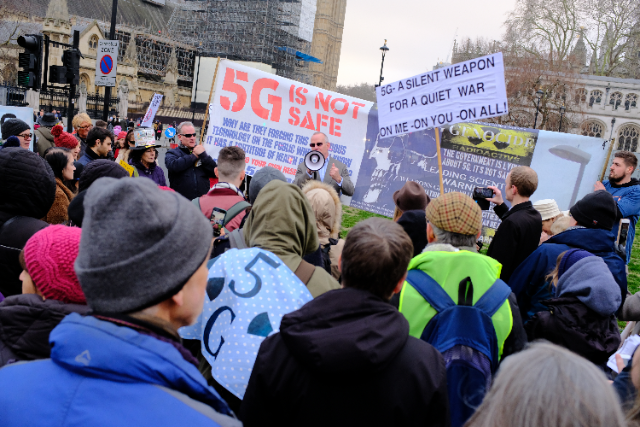 When couched in medical terms, this stuff is believable. For example, one peer-reviewed journal states: "Repeated Wi-Fi studies show that Wi-Fi causes oxidative stress, sperm/ testicular damage, neuropsychiatric effects including EEG changes, apoptosis, cellular DNA damage, endocrine changes, and calcium overload. Each of these effects is also caused by exposures to other microwave-frequency EMFs."
Another report blames 5G for a breakdown in peoples' sanity as follows: "We know that 5G radiation and its effects on the cells of the body can lead to symptoms of insanity, hallucinations and even powerful personality changes. "5G radiation causes 'neuropsychiatric' effects through a mechanism described as ion potentiation poisoning of brain cells.
"This results in behavioural changes and even personality changes among those who are routinely exposed, researchers found. In other words, 5G is a weapon system that doubles as a telecommunications infrastructure, but the real impact is to damage human brain function and destroy rationality, reason and civility, especially among those who live in high-population cities where 5G towers are becoming ubiquitous.
"That's why you may have noticed increased insanity and widespread mental derangement in those areas."
ACTIVIST SUCCESSES
This stuff was written by clever people. Not a convict who sets fire to equipment. The activists are not without their successes.
Two years ago, anti-5G activists in Belgium persuaded the government to halt a pilot project for the technology in Brussels over concerns that the new cellular standard could not meet the city's strict radiation rules.
Brussels has some of the strictest radiation regulations for telecoms equipment in the world, which curtailed the rollout of 4G as well.
Since then, the Belgian Institute of Postal and Telecommunications Services managed to get the authorities to relax radiation rules to support Orange Belgium's 5G rollout.
No doubt the BIPT persuaded the nervous government that the power output of a 5G phone was hundreds of times weaker than that of a microwave oven, and that 5G emits non-ionising radiation that cannot interfere with atoms and molecules in living tissue.
Perhaps the regulator also managed to persuade government functionaries that they are just as much risk on a sunny day from the sun's electromagnetic radiation and from the light bulbs in their homes.
In the UK, the Action Against 5G pressure group currently has a low profile. This anonymous group came to our notice last May when it raised enough funds to appoint top human rights barrister Michael Mansfield QC to represent its case to the government.
AA5G claims to represent "people in the United Kingdom because we have not been consulted, nor have we consented to the irradiation of our homes, our towns or our countryside. Our unified purpose is our support for this legal action to force the government to take notice that what is being done is wrong."
The group has been seeking judicial review of the government's 5G green light. And it is not to be underestimated if it does have Michael Mansfield QC batting for it.
APPEAL
One of the group's main information sources is 'The International Appeal To Stop 5G On Earth and In Space', which was set up in 2018 and currently has more than 307,000 signatories from 214 countries and territories.
The appeal reads: "If the telecommunications industry's plans for 5G come to fruition, no person, no animal, no bird, no insect and no plant on Earth will be able to avoid exposure, 24 hours a day, 365 days a year, to levels of RF radiation that are tens to hundreds of times greater than what exists today, without any possibility of escape anywhere on the planet.
"These 5G plans threaten to provoke serious, irreversible effects on humans and permanent damage to all of the Earth's ecosystems."
And the signatories are not your average New Age fruit loops and eco-nutters; people who have signed the appeal include scientists, engineers, doctors, pharmacists, biologists, psychologists and dentists.
They are appealing to the UN, WHO, Council of Europe and 'governments of all nations' to "call a halt to the deployment of the 5G (fifth generation) wireless network, including 5G from space satellites. 5G will massively increase exposure to radio frequency (RF) radiation on top of the 2G, 3G and 4G networks for telecommunications already in place.
RF radiation has been proven harmful for humans and the environment. The deployment of 5G constitutes an experiment on humanity and the environment that is defined as a crime under international law."
They claim that "5G will result in a massive increase in inescapable, involuntary exposure to wireless radiation", and that "each 5G base station will contain hundreds or thousands of antennas aiming multiple laser-like beams simultaneously at all cell phones and user devices in its service area".
A key demand is that antennas must be located far from where people live and work, and excluded from public rights of way. The appeal also calls for the exclusion of antennas from wilderness sanctuaries and their minimisation in remote areas.
Oddly, despite claiming 316,000 supports, the appeal's website lists no information about who founded or runs it. The only contact name is the Appeal Administrator, Arthur Firstenberg, of Santa Fe in New Mexico. He, we imagine, would be happy to receive your donation.
PRESSURE
These numerous pressure groups have had some impact. Ofcom's study into electromagnetic radiation stated that some spectrum users – that is, mobile networks – may not be fully aware of the guidelines of the International Commission for Non-Ionising Radiation Protection (ICNIRP), and might not be fully taking into account EMF emissions when installing, using or modifying radio equipment.
It also said some spectrum users might not have appropriate processes in place to "monitor EMF exposure levels and ensure compliance with the ICNIRP general public limits on an ongoing basis".
This month, Ofcom published its report 'Implementation of measures to require compliance with international guidelines for limiting exposure to electromagnetic fields (EMF)'.
This stated that Ofcom proposed to vary all existing licences in classes that authorise equipment to transmit at powers above 10 Watts EIRP (or 6.1 Watts ERP) to include a new
EMF licence condition to ensure compliance with international guidelines for limiting exposure to electromagnetic fields. Ofcom, which measures EMF levels, near base stations, says it can find no evidence that operators are using transmission levels higher than the recommended levels.
5G naysayers may have gleaned some satisfaction from the news that Nokia seems to be paying attention to environmental concerns.
The Finnish vendor says its AirScale 5G mMIMO Base Station will achieve an average reduction in power consumption of 50 per cent by 2023 due to improvements in software and hardware efficiencies.
Nokia maintains that 5G is actually greener than previous wireless technology, as it can handle more data bits per kilowatt of energy.
"Nokia is committed to contributing to solving the world's sustainability challenges and we do that by ensuring our technology is designed to be as energy efficient as possible," says
Ari Kynäslahti, head of technology and strategy at Nokia Mobile Networks. "Everything from our chipsets to our software and hardware is geared towards supporting this goal."
It does, however, seem that mobile networks have something of a pubic relations issue when it comes to getting the public onside, even though 5G radiation levels are within industry and government levels.
Many members of the public who responded to an Ofcom invitation to submit their thoughts on 5G suggested that an expansion of mobile networks was progressing with little or no public consultation.
Those respondents urged Ofcom to adopt a precautionary approach and insist on proof that there was no harm to the public rather than relying on a lack of evidence that harm existed. "There was wide opinion from these respondents that the roll-out of 5G networks should be halted until there had been full independent scientific studies to demonstrate the technology was safe," said Ofcom in its summary of consultation responses.
There was also criticism that the ICNIRP guidelines were dominated by telecommunications industry people, and that there were conflicts of interest.
Respondents, meanwhile, suggested that advice should be taken from medical experts, not engineers, and several contended that insurance companies would not accept claims for personal injury caused by EMF exposure.
They said this left individuals with no recourse to redress.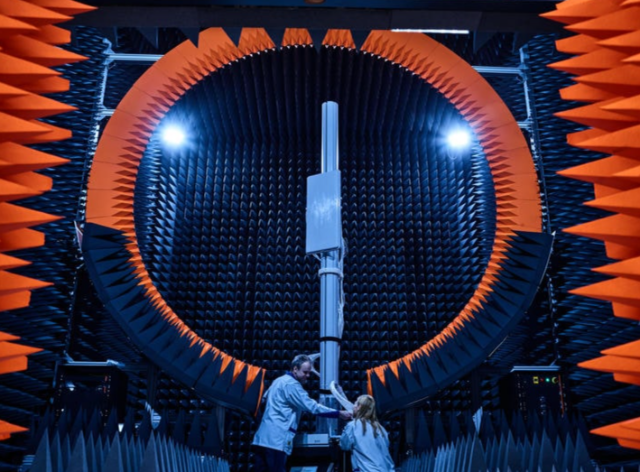 The operators and debunking 5G myth.
Vodafone has pointed out it does convey information on its website about the conspiracy theories.
In July 2019 Vodafone produced an article pointing out that 5G was safe and has also posted information explaining what protections are in place.
When using O2's website there was also a section that addressed 5G misinformation, with a direct link to MobileUK's 5G Check The Facts campaign. There is also similar information on EE's website too.