Chinese electronics giant to go all-out to make Huawei Cloud an enabler for global digital services
Huawei has overcome all its political challenges and obstructions and is "back to business as usual." and expects to round off 2022 with total revenue of £76.78 billion in line with forecasts.
In a New Year Message Rotating Chairman Eric Xu said the decline in the device business has been stopped.
"2023 will be the first year that we return to business as usual with external restrictions still in place. It will be a crucial year for us, so we need to drive progress actively,
"We achieved rapid growth in digital power and Huawei Cloud, and took the competitiveness of our intelligent automotive components to new heights. We've managed to keep our heads above the water because we fought together, united as one despite the adverse impacts of COVID-19 and external restrictions".
Xu said, "digitalisation and decarbonisation are the way forward, and where future opportunities lie".
"We need to double down on our commitment to building the foundations of the digital economy and to driving green and sustainable development of society at large.
Huawei's mission now, he said was to maintain heavy investment in research and development.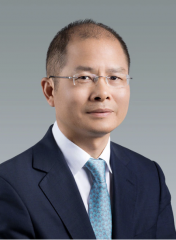 "External restrictions are a fact of life. It's more important than ever that we make Huawei synonymous with high quality in the ICT industry We need to enhance total quality management based on ISO 9000 standards, and implement a strategy-driven, all-hands, and full-process quality management system across our entire value chain.
"Huawei's strength lies in our diverse business portfolio and strong business resilience. We should leverage this to realise high-quality growth. We need to be proactive in unearthing digital opportunities in various industries to drive effective growth. Huawei Cloud needs to become the foundation of digital transformation for Huawei and vertical industries. We need to invest in strategic opportunities, make our products more competitive, and effectively manage supply uncertainties of bulk commodities
"In our device business, all domains need to put the product at the centre of everything they do commercialization of products to secure business success.
"For the past 10 years, we have ramped up investment in cloud computing, which has put Huawei Cloud in a better position to become the foundation and enabler of the digital world. Huawei will build industrial Internet platforms and cutting-edge solutions that help industries go digital, intelligent, and low-carbon. We will bring digital to every person, vehicle, home, and organization, putting our vision of an intelligent world within reach"