FAA assures passengers they are safe to fly, while Verizon agrees to limit 5G Towers near airports
Airline passengers are facing disruption after several airlines suspended US flights amid fears the new 5G C-Band networks from Verizon and AT&T could interfere with avionics, such as radio altimeters as Verizon and AT&T switch on their 5G C band towers.
There are fears the signals could affect avionics from planes at nearby airports.
The problem does not affect UK and European airports as 5G signals operate in a bandwidth that does not cross into aviation frequent
Verizon said "we have voluntarily decided to limit our 5G network around airports,"
The Federal Aviation Administration (FAA) rushed to assure the flying public they were not in danger.
However this assurance this did not stop many airlines such as British Airways. Emirates, Air India and All Nippon from cancelling flights to some US cities.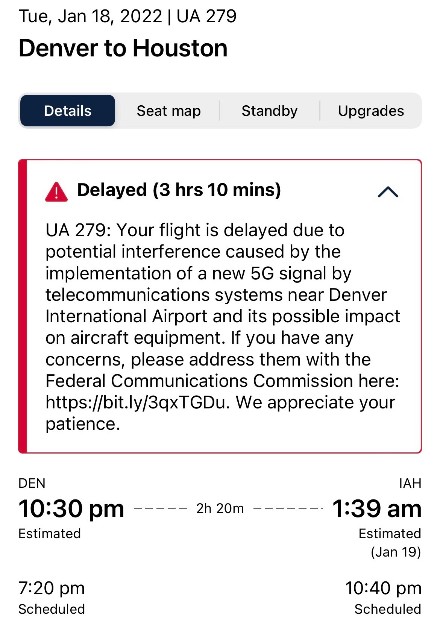 Cancellations 
BA cancelled flights from Heathrow to Boston, Chicago, Los Angeles, New York, and San Francisco.
In a statement BA said, "Safety is always our priority. We are monitoring the situation in the US closely and will continue to review our schedule in the next few hours. We're disappointed that some of our customers are facing potential disruption and will update them as soon as possible on any changes to their travel plans."
Emirates said: "Due to operational concerns associated with the planned deployment of 5G mobile network services in the US at certain airports, Emirates will be suspending flights to the following US destinations from 19 January 2022 until further notice Affected airports are Boston , Chicago, Dallas Fort Worth, Houston, Miami, Newark, Orlando, San Francisco and Seattle.
Japanese carriers All Nippon Airways and Japan Airlines also canceled some flights to and from the U.S. this week.
The FAA stated: "We recognise the economic importance of expanding 5G, and we appreciate the wireless companies working with us to protect the flying public and the country's supply chain. The complex U.S. airspace leads the world in safety because of our high standards for aviation, and we will maintain this commitment as wireless companies deploy 5G." said US. Transportation Secretary Pete Buttigieg.
"With safety as its core mission, the FAA will continue to ensure that the traveling public is safe as wireless companies deploy 5G. The FAA continues to work with the aviation industry and wireless companies to try to limit 5G-related flight delays and cancellations"