A few months since high-street stores reopened, Mobile News visited outlets of the UK's four mobile operators to find out how they're getting on and what methods they're using to keep customers safe
For obvious reasons, it's been a while since Mobile News has run its regular Mystery Shopper feature. However, this issue we managed to pay a visit to four operator stores to see what measures they have put in place and how they have responded since reopening in light of the coronavirus pandemic.
Vodafone 
We kicked off our round of the shops with a visit to Vodafone's Westfield branch in White City.
Senior store manager Vikas Chauhan and Vodafone regional manager for central London Emily Cahill outlined the company's response to the pandemic since reopening in mid-June.
The White City store – which is among Vodafone's larger branches – is in one of London's busiest shopping spaces, increasing the need for measures to keep the virus at bay.
A concierge was present at the entrance to greet customers, with the store keeping tabs on everyone that visited via an online booking system.
"We make sure the concierge is a senior member of management," Cahill said. "It's their job to allocate appointments for customers – and when doing so, it's all about managing expectations."
Inside the store, Vodafone has implemented a strict one-customer-per-colleague rule, with exceptions for anyone falling into the vulnerable category.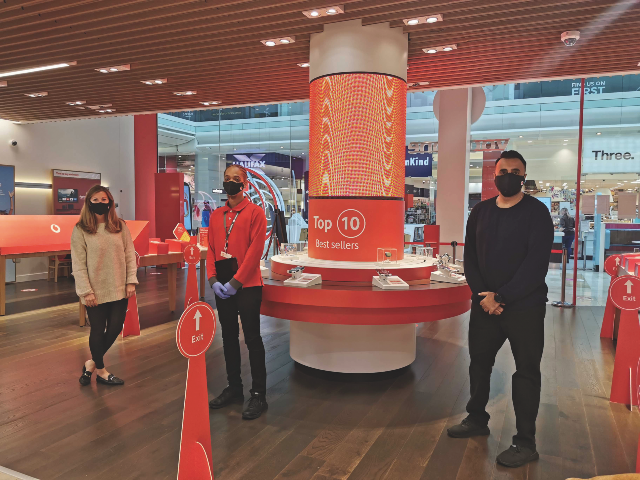 Masks and screens 
The store team has taken personal protective equipment (PPE) very seriously, with all of them donning Vodafone-branded face masks and screens in place between tills to keep customers and staff safe.
"It has been our mission to be the number- one safest operator on the high-street," said Cahill.
On top of this, hand sanitiser has been placed on all the tables, with the concierge reminding customers to use it before entering the store.
There are also markings on the floor to help ensure that customers can safely navigate their way around the store.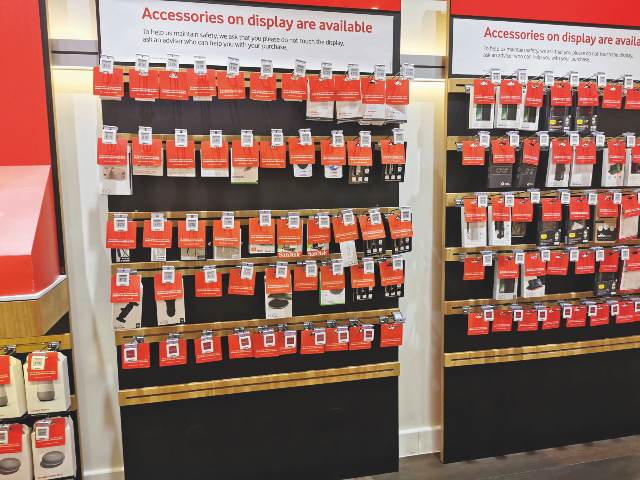 Booking system
Customers need to book first to arrange a session with one of the sales team before entering the store. They can do this by either texting a number shown on a poster in the window to enter a virtual queue or speak to the concierge to get added to the queue via their tablet.
"As soon as the customer has been added to the system, they receive a text message to confirm this," explained Chauhan.
When each customer leaves the store, a colleague cleans the workstation used for the session and the concierge presses 'next' on the system to refresh the queue. A text is then sent to the customer to tell them it is their turn to enter the store soon – giving them time to return if they have gone somewhere else.
Chauhan added: "We also get our colleagues to call those people that are next to let them know it's their turn, which gives a more personal touch. In addition, we can be flexible with the system and put back appointments if needed."
The operator also offers an online service to deal with tech-related queries.
Working from home
Not all Vodafone staff are yet back in store since lockdown in March, with those that fall into the vulnerable category able to work from home by instead helping customers online via the operator's webchat service.
In addition, Vodafone has implemented a rule that staff are not allowed to take public transport to get to the store. Those that can't make it in have again been allocated to remote working roles.
The operator is also limiting the number of colleagues working together at any given time, with those that can work in-store forming bubbles with other colleagues to work similar shift patterns.
Both staff members and customers are positive about the new in-store experience, said Cahill.
"I think customers have shown a lot of confidence with it, because they can see we're taking it seriously," she said. "They know that when they do get in, they'll get served straight away, whereas before they might come in and have to wait to be served. The safety measures in place will also be reassuring for them."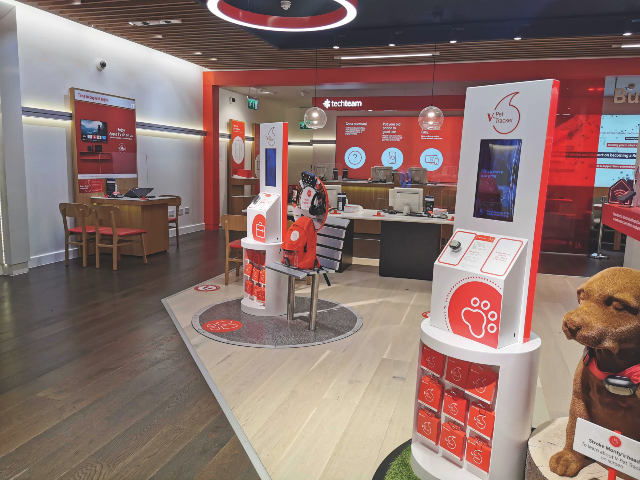 Connecting to MiFi
The store has noted a few trends in customer behaviour since the stores have reopened, with sales of home broadband and MiFi devices for creating wireless broadband hotspots on the up as people rely more on connectivity than ever.
Meanwhile, Cahill said that making the new in-store systems and set-up clear to customers has been key to giving them a positive experience.
"It's all about managing expectations," she said. "I think all of retail right now is facing longer queues – but as long as we try and manage these expectations, this will help us to keep our customers happy."
For now, most Vodafone stores are back open throughout normal working hours, other than those where fewer staff members are available.
Cahill added that she feels staff have been enthusiastic about having the chance to return. "I think in general our teams are happy to be back in the store, as the customer-facing role gives them a buzz," she said.