A few months since high-street stores reopened, Mobile News visited outlets of the UK's four mobile operators to find out how they're getting on and what methods they're using to keep customers safe
For obvious reasons, it's been a while since Mobile News has run its regular Mystery Shopper feature. However, this issue we managed to pay a visit to four operator stores to see what measures they have put in place and how they have responded since reopening in light of the coronavirus pandemic.
Three 
Last, but certainly not least, Three concluded Mobile News' jaunt to the high-street.
The store, like the others, reopened on June 15, as soon as it was safe for retail shops to reopen.
As with all the operators, there was a member of staff to greet customers on their arrival at the store.
However, the booking process is slightly different, with most things done verbally rather than details being entered into an electronic queuing system, explained store manager Andy Grey.
"We have a host at the front of the store who will greet customers walking up to the store," he said. "They will explain the rules and the track and trace procedure, and ask the customer what they're visiting for. We do all of this verbally in person."
Nonetheless, he said there is also an app that can be used to book customers in if the store is pushed to capacity – a process that Three uses in other stores too.
"We do also have an app where you can book in customers," said Gray. "If we're at maximum capacity, we can take their details. They can then go away locally and will get a message automatically to say they've got 10 minutes until it's their turn. But we only use this function if we're pushed to capacity."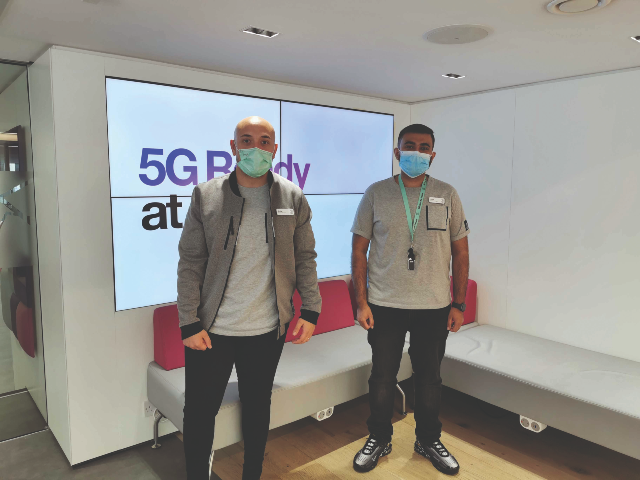 PPE and one-way system
PPE has also been a key factor in enabling the store to reopen and ensure that customers are safe, with face masks mandatory for both staff and customers inside the shop.
There is also a one-way system in the store indicated by clear markings on the floor. These signs include arrows to direct customers and reminders about maintaining social distancing.
Again, regular slots operate within the store to make sure the team keeps to a timed schedule for cleaning.
"There's also hand sanitiser and aerosols available for customers," added Gray. "We'll clean down areas where customers or staff have sat down to make sure it's safe for everyone."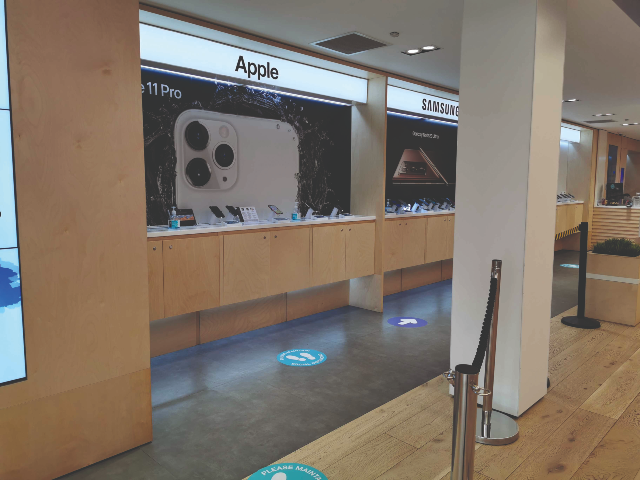 Staff return
Staff initially returned to the store on a part-time furlough basis before the whole team came back, explained Gray.
"Everyone in the team had a part to play," he said. "Then, within about two to three weeks of reopening, we had everyone back.
"We had a period in which some of our team were working from home, using a digital system called Three Store Now that allowed us to interact with our customers and service them as they stayed connected."
According to Gray, staff have taken well to the new measures since returning to work – something he puts down partly to the amount of PPE put in place, helping to give employees confidence. Prior to coming back to the store, all colleagues have been required to complete and pass an online module on returning to work safely.
Customers adhering 
Gray added that customers have been positive about the store's reopening.
"Customers have been amazing," he said. "There have been no challenges or pushback with anything, as they get the situation and understand what is going on.
"Everyone has adhered to social distancing and PPE use, and it's becoming the new normal for us and our customers."
Three store assistant manager Uzair Naqvi, added: "The customers have been cooperative with us during these challenging times. There's been a lot of confidence from both sides."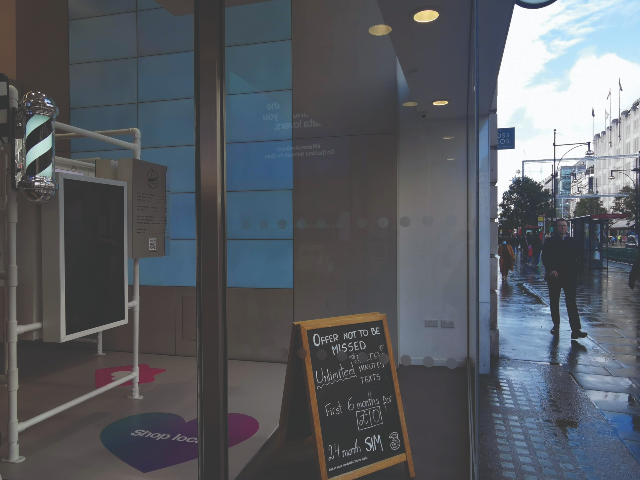 Local promotion
One aspect that is unique to Three's flagship Oxford Street store and may help firms during the pandemic is its focus on local businesses.
At the front of the store (pictured above) is an area of floor space that Three offers for free to local businesses to promote themselves.
At the time of our visit, these included local cafes, beauty salons and hairdressers.
The initiative, known as We Love Local, is something in which Gray and his team have been enthusiastic about participating.
"We Love Local is unique to this store and is something that is being considered for a wider rollout [to other Three branches]. It gives away some store space to other brands and promotes other local businesses. It's a great scheme to get behind," said Gray.