IT products and services distributor TD Synnex has promoted Simon Bennett, Senior Director of Enterprise Software and Cloud for the UK and Ireland to Managing Director of Advanced Solutions for the same region.
Matt Child, (main pic) the current head of Advanced Solutions, becomes Senior Vice President of Digital for Europe, taking over from Andy Gass who is retiring from the company after 30 years.
Said Child: " We've made significant progress in key technology areas for our partners during my tenure. Simon has played a valuable role in advancing the cloud and enterprise software business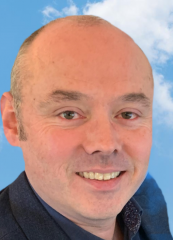 Bennett has been with the company since its 2009 acquisition of SDG, where he was Internal Sales and Operations Manager. He has been sales General Manager to Business Unit Director. Since 2019, he has been Senior Director of Enterprise Software and Cloud within the Advanced Solutions business unit.
Vendors he has worked with include Dell Technologies, IBM, Lenovo DCG, and Nutanix, VMware, Citrix, Veeam, Veritas, Open Text, Adobe Microsoft, AWS, Google, and Oracle.