Xiaomi's budget series boasts another strong entry – 4.25/5
Xiaomi's Redmi series has been an important part of the vendor's growth, with the mid-range series offering serious bang for buck over the years. The vendor recently celebrated selling 110 million Redmi Note phones overall, as well as 30 million of its Redmi Note 8 devices worldwide.
According to Strategy Analytics, the Redmi Note 8 was the fourth best-selling Android smartphone in Q1 of this year. Hot on the heels of this success is the Redmi Note 9 series, which promises a beefy battery, quad-camera setup, and large screen size.
Xiaomi hasn't quite had the success it wanted penetrating the UK market, but with consumers tightening their belts and Huawei taking a consumer confidence hit, this device is well-placed to make a strong impression (see the cheeky swipe it takes at its rival on the packaging below).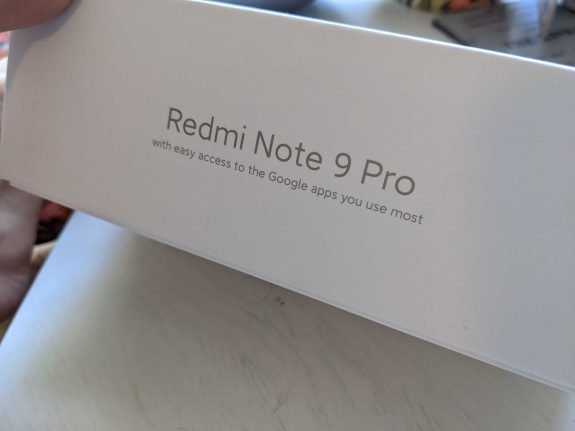 Hardware specs
OS: Android 10 (MIUI 11)
Processor: Qualcomm Snapdragon 720G
Screen: 6.67 inches
Resolution: 1080 x 2400 pixels
Memory: 6GB/8GB
Internal storage: 64GB/128GB
External storage: microSD up to 256GB
Water resistance: P2i coating
Rear camera: 64MP x 8MP x 5MP x 2MP
Front camera: 16MP
Video: 4K@30fps/1080p@60fps
Battery: 5,020mAh
Connectivity: Cat 6
Dimensions: 162.1 x 74.8 x 8.9 mm
Weight: 209g
Design
There's precious little wiggle room for a smartphone in this price bracket to innovate design-wise, but the symmetry of the Redmi Note 9 Pro helps distinguish it from the crowd.
The punch-hole front camera is directly in the middle of the top of the screen, as is the black square of the quad-camera on the back. It comes with a sizeable bump (what phone doesn't?) that the transparent case provided can nullify.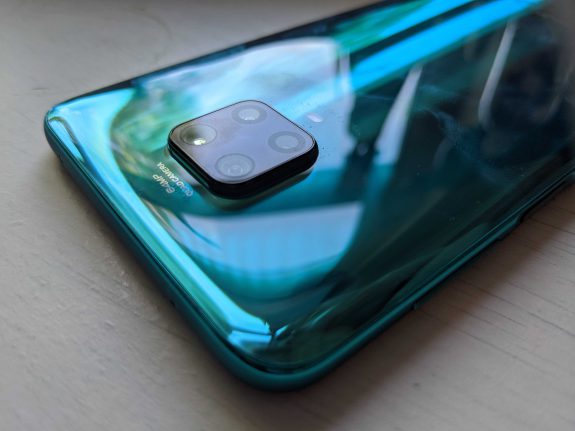 In terms of colour, there's none of the shifting patterns or kaleidoscopic shapes of recent competitors. You just get a fairly shiny version of one of the three colours on offer (glacier white, interstellar grey or tropical green) that's blurrily reflective.
While it's not a small device, it's slim and feels good to carry around, and the screen is pleasingly protected by Gorilla Glass 5. The plastic frame's matte finishing makes it feel solid to hold and also prevents smudging.
Volume rockers are up the right hand side, with the power key (that doubles as a pretty much perfect fingerprint scanner) just below them.
The bottom is comprised of the speaker on the right and headphone jack on the left. The front is almost all screen, with a slight chin at the bottom, and a black line at the top above the selfie camera. There's also a small grille at the top with a notification LED.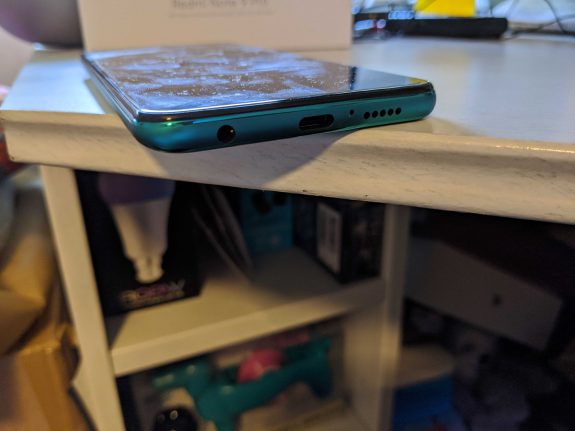 Storage and performance
As is fairly standard, the Redmi Note 9 Pro comes in 6GB RAM/64GB ROM and 8GB RAM/128GB ROM variants, the latter of which we reviewed. Of the 128GB, about 15GB was given over to the system, less than on its closest rival the Realme 6.
It comes pre-loaded with some decidedly old-fashioned looking games, as well as Facebook, eBay, Netflix, LinkedIn, a Microsoft-imitating Office app, and AliExpress – these can all be deleted if so desired.
There's nothing untoward about the phone's performance – aside from a 25-minute bootup sequence when it turned on for the first time – but there are the quirks of Xiaomi's spin on Android, MIUI.
For a start, it doesn't have an app drawer, which is a surprise. I'm not an app drawer user, but its absence does make looking for apps you don't use very often a little trickier.
Then there's the task switcher, which shows open apps in two columns, unlike other Android phones (and iPhones) which show apps in a row. It also gives you the option to run a security scan, delete excess memory bloat, or provide a more comprehensive memory clean that scrubs apps and photos. You can also view two apps in split-screen mode, if they support it.
There's also a security scanner that checks newly downloaded apps. This is a nice touch, but is perhaps a tad overbearing considering that 99 per cent of apps people download are the same as those everyone else downloads.
The sizeable 5,020mAh battery will comfortably get through a day, if not two, of normal use. There's only 30W charging available for the device – it added about 40 per cent in an hour, but that on its own will last a fair while on just everyday use.
In benchmarking terms, the Note 9 Pro is close to its Realme rivals, and when it came down to gaming on the CPU-intensive game Warface, there was no evident slowdown and no excessive battery consumption.
Key selling points
Quad-camera
Symmetrical, smooth design
Huge battery for price
Headphone jack
Lightning fast fingerprint unlock
Camera
The square quad-camera setup largely delivers results that are beyond satisfactory for the price. The 64MP main camera stores images as 16MP, but they look just as good as those taken on the manual 64MP setting, as well as less memory-intensive.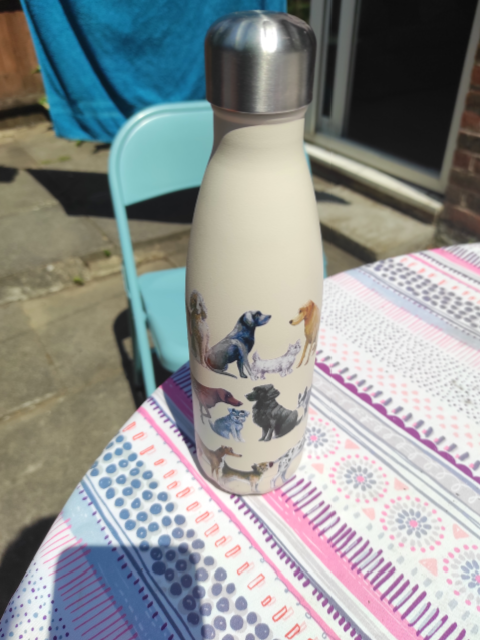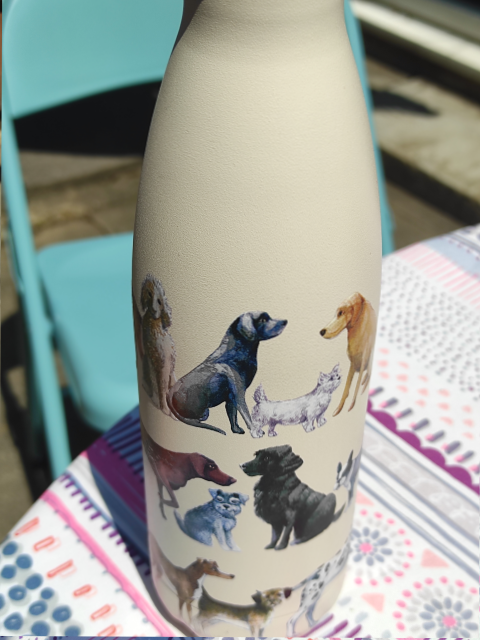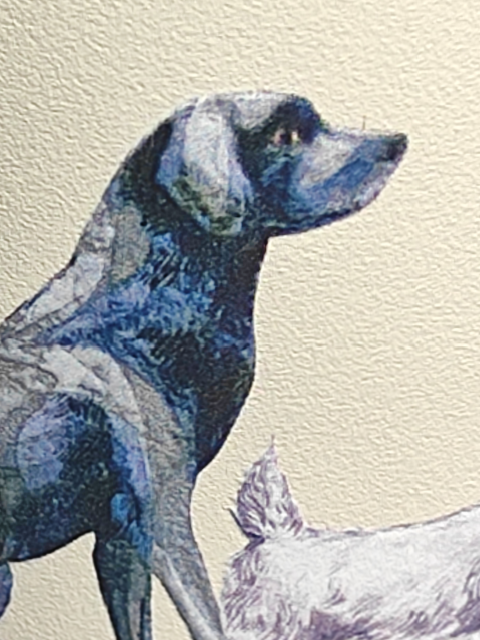 The macro setting is strangely hidden within the camera's menu, but it delivers great close-up shots.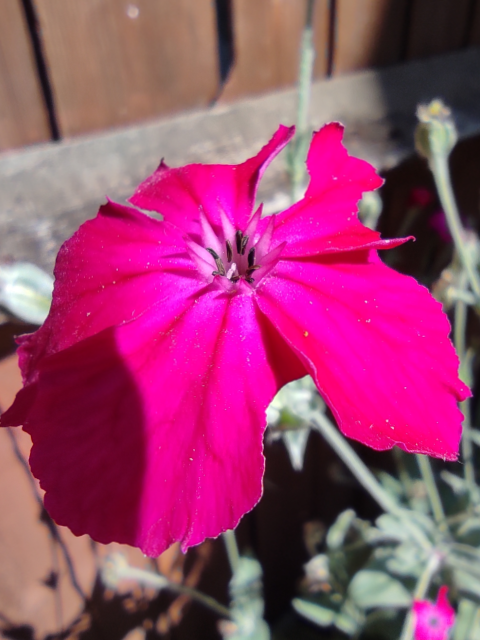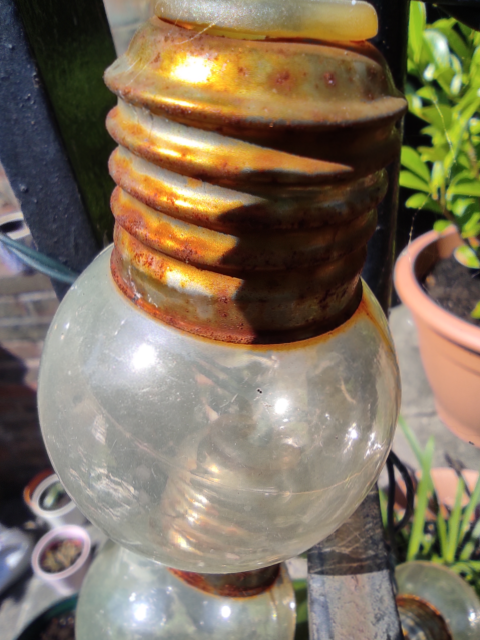 The selfie camera was a real delight, taking warm, focused images that didn't try to soften facial features or smudge them to achieve a beautifying effect.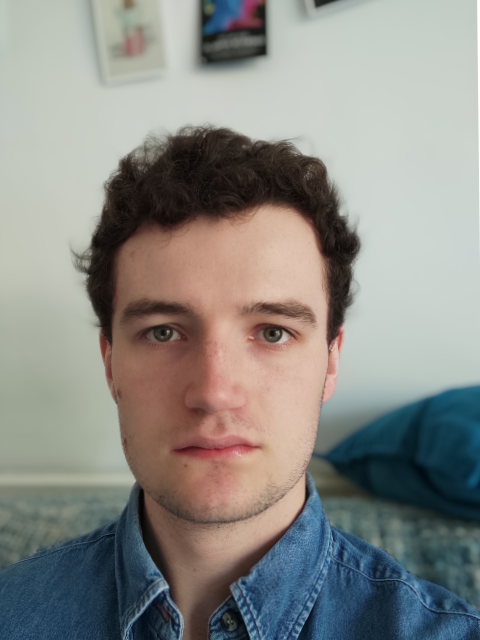 Everything in the camera's offering is superb for the price point. Night mode is noticeably worse the darker it gets, but beyond that there's a lot to enjoy.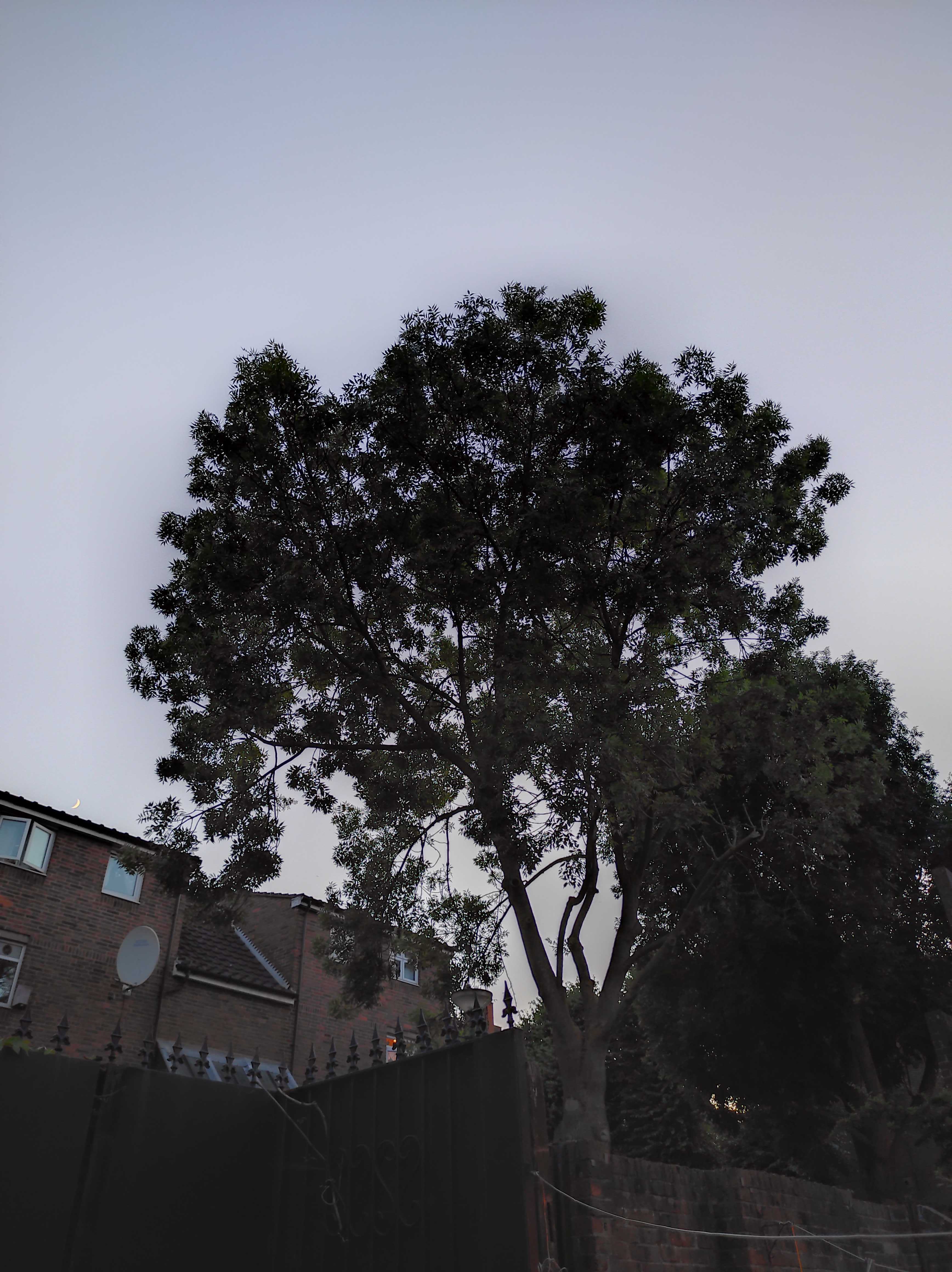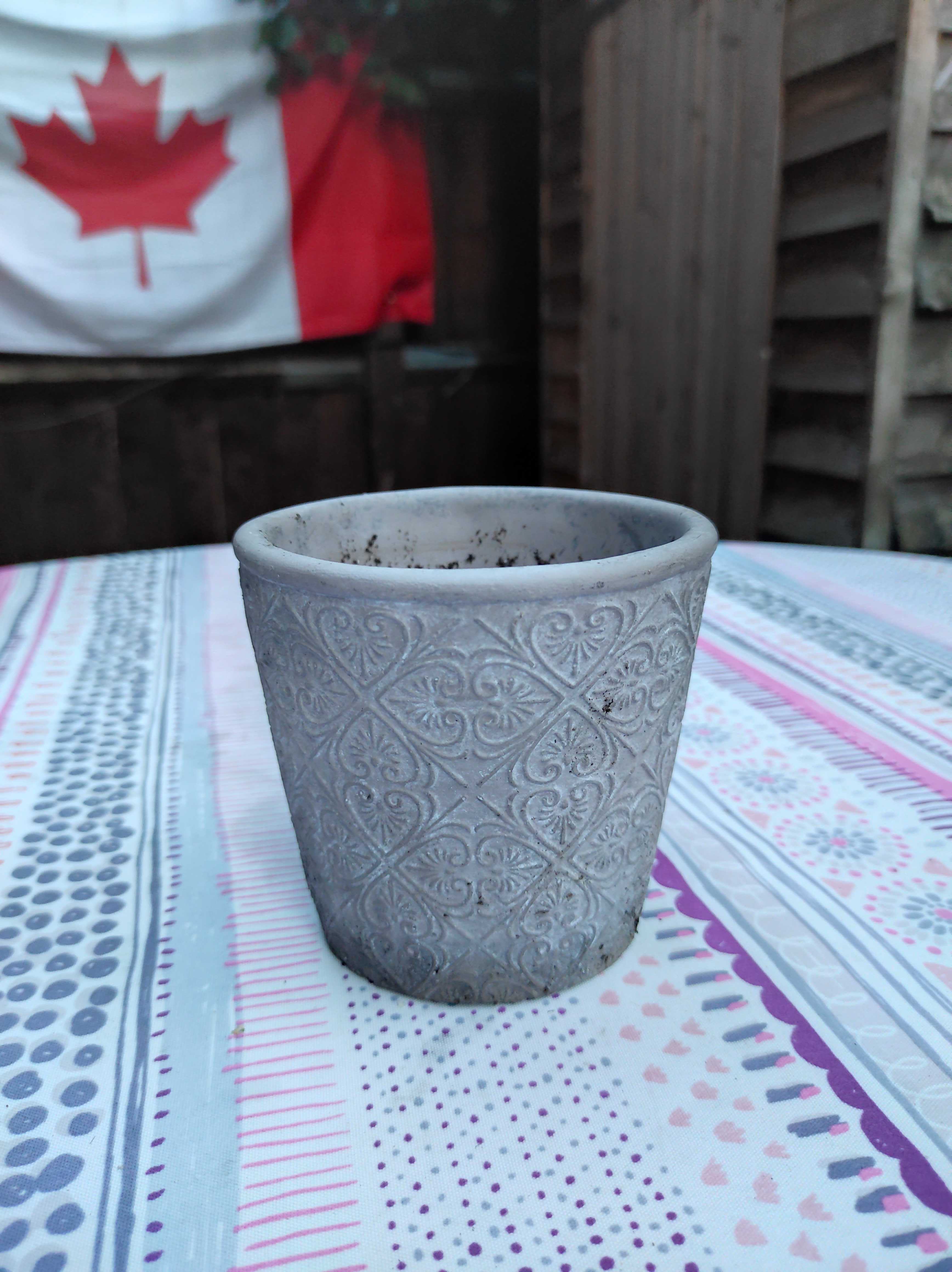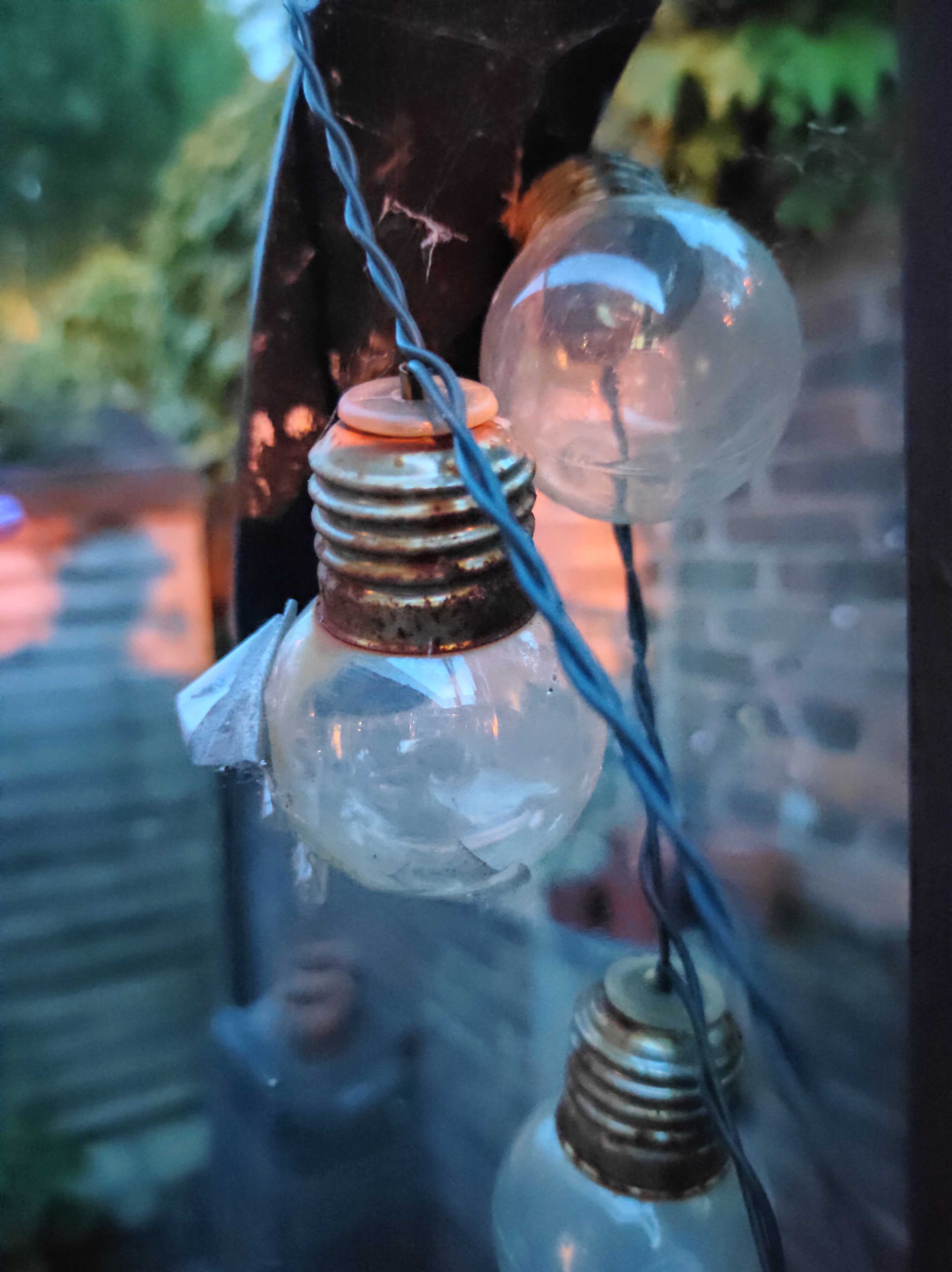 Additionally, on the video front, it's massively impressive to see a sub-£300 device offering 4K video, even at just 30fps.
Benchmarks
Geekbench: single-core – 557, multi-core – 1720
GFXBench – 635
3DMark – 2,420
At a glance
Speed – 4/5
Camera – 4/5
Battery – 5/5
Design – 5/5
Value – 4/5
Price – £249/£269
The verdict
The Redmi Note 9 Pro is a great device, and it would be a no-questions recommendation if it weren't for the recent arrival of the Realme 6 on the scene. That phone has a better screen refresh rate, although its battery is worse.
Huawei's P40 Lite also presents an appealing alternative, but the lack of Google Services will put off plenty of people. As it is, the Redmi Note 9 presents a strong offering that has the biggest battery, is probably the best-designed of the three, and benefits from the more established Xiaomi ecosystem.