HMD's XpressMusic update boasts formidable sound in a basic feature package – 3/5
Key Selling Points
Dual speakers
Pre-loaded Snake game
Digital detox device
Refreshed design
Long-lasting battery
While HMD continues to keep pace in the smartphone arena, with an increasingly competitive mid-range offering and an incoming 5G phone backed by the James Bond franchise, the Nokia licensee has never forgotten the brand's feature phone heyday.
HMD has offered us refreshes of the iconic 8110, 3310, and 2720 devices, and now it's launched an update of the XpressMusic brand. This is a straightforward candy bar phone with an audio experience twist, made for blasting out tunes at high quality… and not much else, it turns out.
Hardware specs
OS: Series 30+
Processor: Mediatek 6260A
Screen: 2.4 inches
Resolution: 240 x 320 pixels
RAM: 8MB
Internal storage: 16MB
External memory: microSD up to 32GB
Water/dust resistance: N/A
Rear camera: VGA (0.3MP)
Front camera: N/A
Video: Yes
Battery: 1,200mAh
Connectivity: GSM 900/1800, Bluetooth 3.0
Dimensions: 123.7 x 52.4 x 13.1 mm
Weight: 88g
Design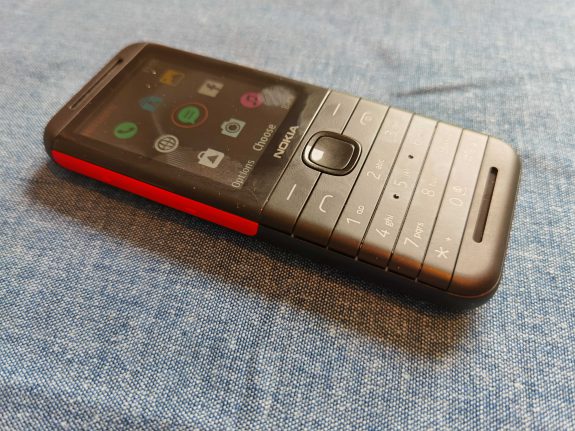 It's easy to forget just how simple and carefree it felt to carry around a feature phone back in the day, and these feelings certainly carry over to the 5310. It's sturdy, compact and yet feather-light, a world away from the glass and metal-clad giants of the phablet era.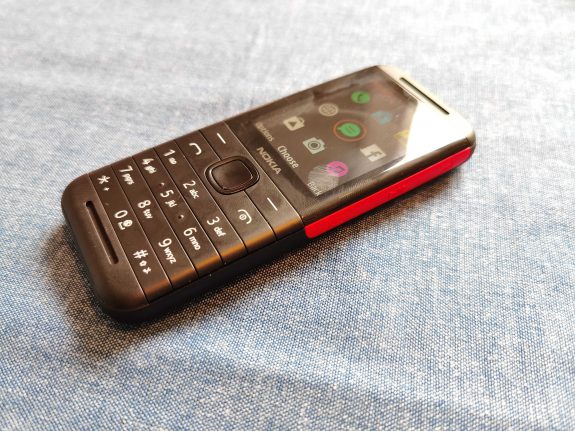 Coming in either black (the colour of my review device) or white (which I preferred the look of), the 5310 retains the red markings of the volume controls and the FM scrollers on the original XpressMusic. These are on the left and right hand sides of the device respectively. It's old-fashioned, sure, but it's sleek enough to tell that it's from this decade.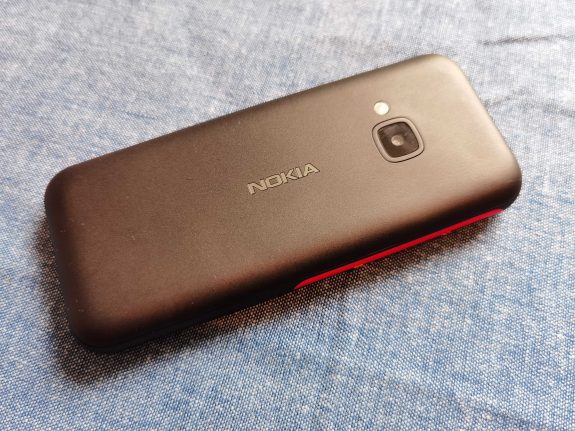 Storage and performance
Running on 8MB RAM, and with just 16MB internal storage, there's not much to shout about here, although the expandable microSD card is worth the investment if you want to load up your device with music.
In terms of usability, the phone navigates like any phone from around 15 years ago, with every functionality loaded onto one menu. While it's not powered by KaiOS, it does come with a pre-loaded Facebook app that accesses the social network through an Opera browser on the GSM 900/1800 bands. There's no WiFi, so you will need a SIM to get any sort of internet access.
Where the phone really shines is in its audio and battery life. It comes packed with dual front-facing speakers that are pretty-high quality. They delivered FM radio at DAB levels of fidelity, even at a pretty high volume, and without the need for a headset to act as an aerial.
This is where the 5310's built-in MP3 player comes in handy. When combined with a microSD card, that gives you a few thousand songs to listen to at great quality. In the age of streaming, a few thousand songs might sound paltry, but a stripped-down experience is exactly what this phone is offering.
The best part of this listening experience is how long it can go on for, with the 5310 providing days of consistent use before its removable 1,200mAh battery needs a charge. Luckily, with a battery size like that, it doesn't take long to get the phone up to full strength.
It would be nice for HMD to have given the 5310 the benefit of the KaiOS operating system, which puts 4G and WiFi connectivity in feature phones. It's crying out for the ability to use Spotify. HMD has loaded the OS onto some of its other feature refreshes such as the 8110, but strangely didn't think it necessary for the 5310.
In keeping with the phone's hearkening to a bygone era, it comes pre-loaded with a version of classic time-waster Snake, which is sure to bring a nostalgic grin to your face.
It's also worth mentioning that the 5310 is Dual-SIM capable, a nice touch for a feature phone.
Camera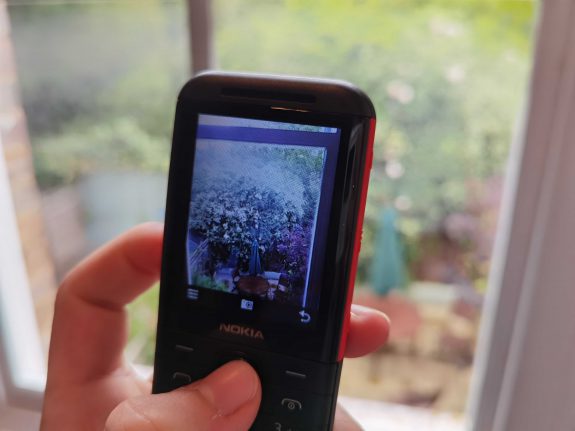 There's not much to say about the 5310's snapper. There's just not a lot of software or hardware powering it. The VGA camera (about 0.3MP) takes low-res pictures that we were all used to living with about 15 years ago. In fact, its resolution is even weaker than the 2MP that the original XpressMusic came with. The photos aren't terrible, just don't expect them to cope well with movement, drabness or darkness.
The video isn't any better, with crackly audio that does a disservice to its excellent speakers. However, it is fun going through the preset camera effects such as negative mode – surely smartphones can afford to get a bit zanier with their camera modes?
With just 16MB of internal storage, you're not going to want to use it much anyway unless you fork out for a MicroSD card – and then you're better off using that for music. Use the camera for some cherished family moments and not much else.
At a glance
Speed – 3/5
Camera – 2/5
Battery – 5/5
Design – 4/5
Value – 4/5
Price – £34.99
The verdict
If you're looking for a simple device to take your mind of the stresses of always being connected, the 5310 will sort you out.
While the emphasis on high-quality music playing would go great with Spotify through KaiOS, the phone still provides a great radio experience and, with microSD support, can house a decently sized catalogue of music. Everything else is as you'd expect for the price, and at just £35, it's a fine device if you want the most basic means of staying in touch with people.