Huawei's latest phone is arguably the best around, but limitations around Google hurts the overall appeal
It's that time of year again where Huawei brings out its flagship P series, and despite all that's going on around us, that hasn't stopped Huawei from launching the P40 series.
This year the series has three smartphones. There is the standard P40, the P40 Pro and also the P40 Pro+.
Luckily Mobile News has been able to get their hands on the P40 Pro model to test out.
It's worth noting a lot has changed in the last year for Huawei. The vendor has lost its access to Google services and so has gone alone with its own ever-developing OS.
And while this year's launch was carried out virtually – for reasons completely out of anyone's control –  the buzz around Huawei has changed a great deal.
So how does Huawei's 'Google-less' flagship smartphone stack up? Before we get into it, below is a list of the P40 Pro specs.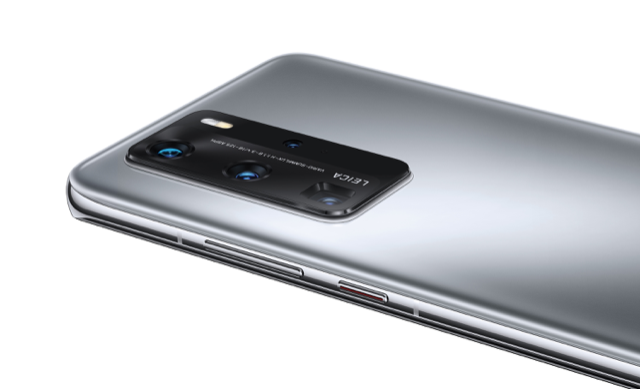 Specs
OS: EMUI 10.1 with Huawei Mobile Services
Processor: Kirin 990 5G
Screen: 6.58-inches
Resolution: 1,200 x 2,640 pixels
Memory: 8GB RAM
Internal storage: 128GB, 256GB or 512GB
External memory: Up to 256GB (uses shared SIM slot)
Rear camera: 50MP + 12MP + 40MP + XX
Front camera: 32MP
Video: 2,160p @30/60fps
Battery: 4,200mAh
Connectivity: WiFi, Bluetooth 5.1, GPS, NFC, Infrared and USB Type-C 3.1
Dimensions: 158.2 x 72.6 x 9mm
Weight: 209g
Unboxing and design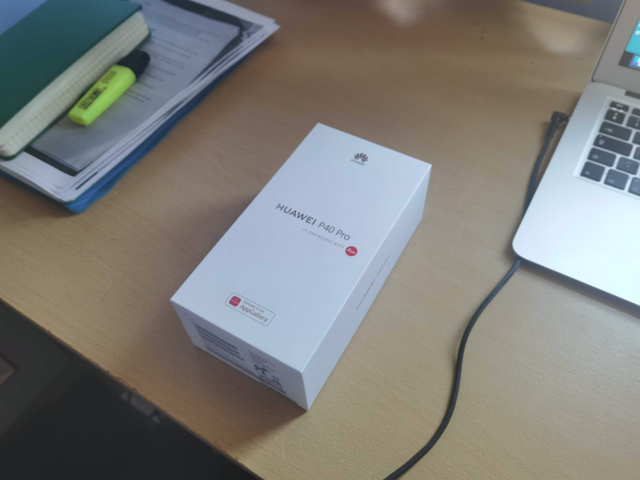 It's a case of the usual white boxing for the Huawei P40 Pro, but with a slightly different twist. This year it has a big 'Explore it on AppGallery' slogan on the front in red.
The relevance of this, is of course due to Huawei's strong focus on its own Huawei Mobile Services, following the Google disappointment.
Huawei has invested over a $1 billion in its AppGallery, while also investing and encouraging app developers to produce content for this store.
Inside the box there's the SIM key removal tall, plus some instructions for the setting up phase of the review. Plus there's also a clear phone case, a phone charger and some earphones with the dongle.
Setting up the phone was straight forward enough, so I won't focus on that too much. My main focus was instead around how a Huawei smartphone would perform without Google services.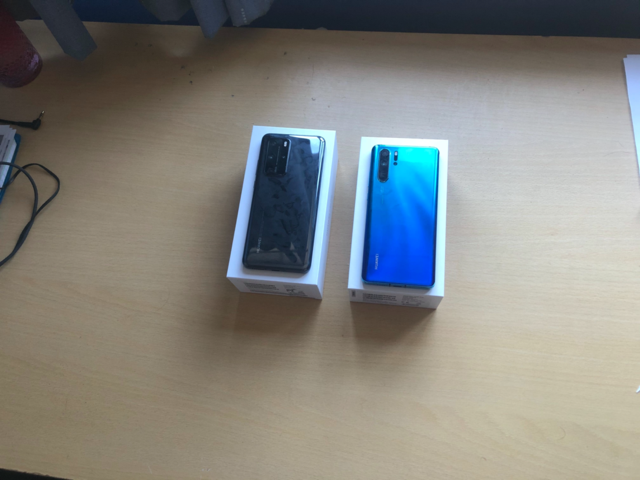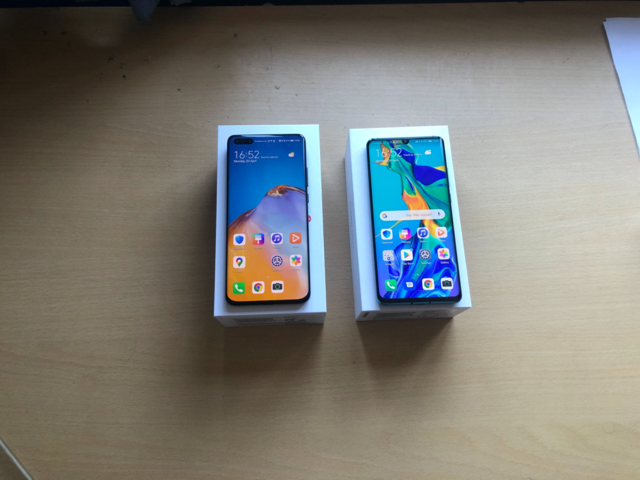 My first thoughts on the design of the phone is that Huawei has done a good job to keep it fairly similar to last years model.
There are two noticeable differences with regards to design. The 'dewdrop' notch on the P30 Pro has now moved towards a double punch-hole in the left corner of the P40 Pro.
While the P40 Pro maintains its tall elegant structure, on the rear there is also a big difference with the camera setup more prominent.
Camera
I remember being blown away by how incredible the P30 Pro's camera was last year and would regularly use that phone just for the camera alone.
What better way to measure the P40 Pro than to compare and contrast it against the P30 Pro?
Before going into that, it's worth noting that the P40 Pro has recently achieved the highest ever DxOMark, with a score of 128.
To test out the camera I went down to my nearest field and took photos, as seen below.
It's fair to say that Huawei has got the camera spot on yet again. Whether that is the zoom feature or the ultra wide lens, it just works brilliantly.
The P30 Pro was excellent for photography and the P40 Pro surpasses that, which was no surprise, given how high Huawei has raised the bar for smartphone photography.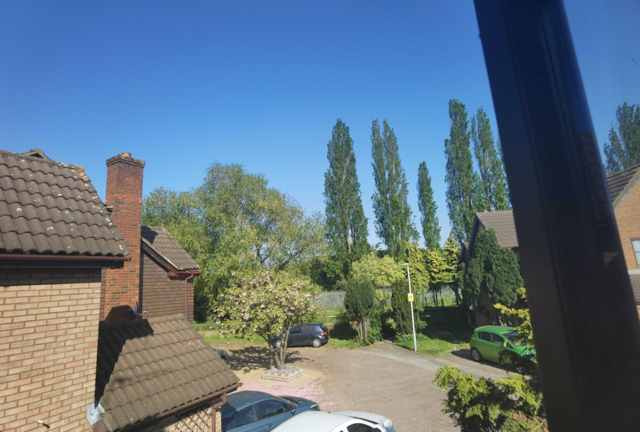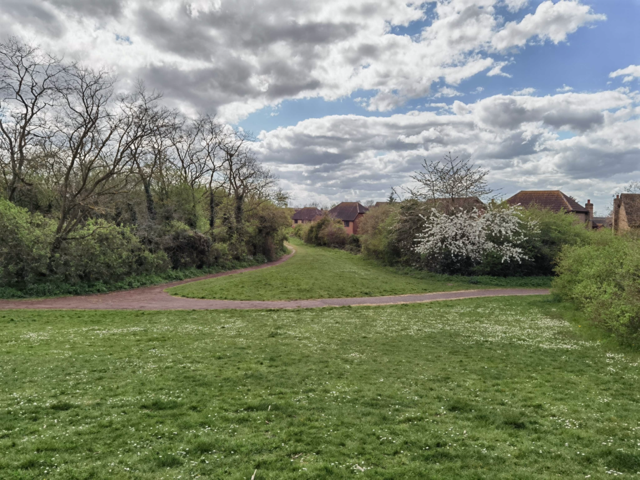 Performance and storage
As expected the P40 Pro delivers a seamless performance, thanks in part to its 8GB of RAM, and is helped with its 90Hz screen offering a slick experience.
One thing that doesn't hold Huawei back is that the vendor develops its own chipsets, and thanks to the Kirin 990 5G processor the phone was able to run very quickly.
While facial recognition worked remarkably quickly and effortlessly, as did the fingerprint sensor.
The battery was also solid from Huawei, with the P40 Pro improving its wireless charging capabilities once again.
I often found the wireless charging on the P30 Pro was pretty temperamental, but found the experience has been greatly improved this time around.
It's also worth noting that I was unable to explore the potential of this device when it came to 5G as the lockdown denied me the chance to roam around parts of the capital that are covered by the latest network generation.
Apps
Huawei's ban from Google however provided an issue when it came to make the most of certain apps.
Some apps such as Facebook, WhatsApp and Instagram are absent from the AppGallery.
For this reason alone, I think it will be a real task for Huawei to sell this series in the Western markets.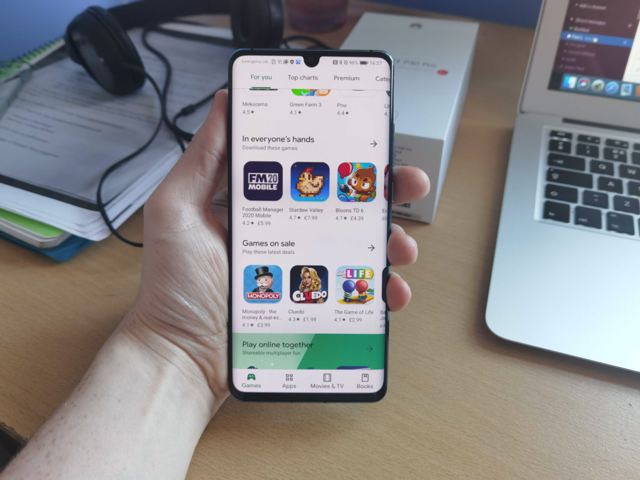 However to get around this Huawei has its own Phone Clone app, which allows users to simply copy apps and data from other devices.
This transferred over the apps from my P30 Pro easy enough.
I was able to get Facebook, Instagram and WhatsApp easily enough and even managed to get Google Chrome. It's just a bit of a shame you can't download any of these from Huawei's own AppGallery.
But that said once you're using the apps it feels very much just like an Android phone.
Verdict
Speed 5/5
Camera 5/5
Battery 5/5
Design 5/5
Value 3.5/5
Overall the P40 Pro is an excellent phone.
The camera is incredible and the general performance is brilliant, plus the P40 Pro just looks the part.
But, and it's a huge but, it is significantly handicapped without Google services and that ultimately makes the phone a hard sell to consumers.
It's a massive shame because this phone is brilliant (as I keep saying) and while Huawei has done a lot of work on its own AppGallery, consumers will want to have popular apps such as FaceBook, WhatsApp and Instagram at the ready, not to forget all the Google services.
Coupled with the uncertain times the world is facing right now, it's probably been the worst time to launch a smartphone.