At an event in Vienna, the Chinese firm outlined how it is forging towards the future after testing times
The recent past has been far from plain sailing for ZTE. Last year, the US banned companies in the country from selling parts to the Chinese vendor, with its equipment perceived to be a "national security threat" after it was alleged to have violated US sanctions.
At one point, the vendor even suspended trading in Hong Kong and Shenzhen as a result, along with paying a fine of more than $1 billion and $400 million for potential future breaches.
Although the ban has now been overturned, the situation meant a sudden "severe hit" for the vendor, according to ZTE president for global sales Xiao Ming, who addressed attendees last month at the company's Global Wireless User Congress and 5G Summit event in Vienna.
Nevertheless, the vendor believes it has now put these troubles behind it and has the chance to forge ahead by capitalising on the potential of 5G.
ZTE's event, its second 5G summit after one it held in Italy last year, drew around 500 people, mainly made up of the vendor's partners and a handful of members of the media.
The summit saw talks by representatives from operators including Hutchison 3G Austria, Orange Spain, China Telecom and Wind Tre. Other speakers included Qualcomm technical director for product marketing Marco Paoluzi and GSMA lead analyst Yiru Zhong.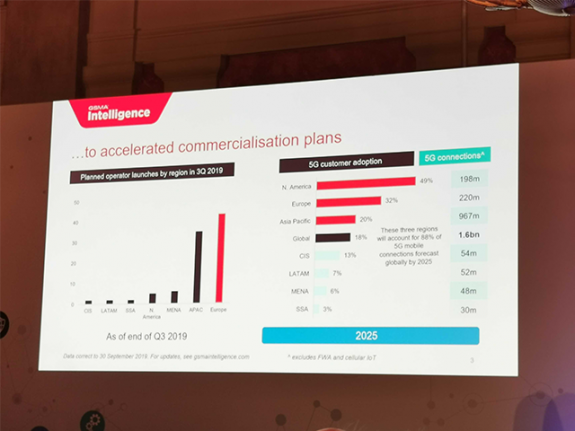 Innovation
Although last year was a challenging one for ZTE, the message at the summit was one of a determined player looking to be at the forefront of 5G innovation.
In his opening speech, Ming said that ZTE is much more advanced with the new technology than at a similar stage with previous generations.
"ZTE used to be a follower when it came to 2G, 3G and 4G, but with our heavy investment in 5G this has enabled us to compete in the segment," he said.
So far, the vendor has signed 25 commercial 5G contracts, partnered with over 60 operators worldwide on the technology and filed more than 3,500 5G-related patent applications.
Ming reflects that while the company's home market of China has a significant role itself to play in 5G, there's a huge opportunity for ZTE to reap the benefits of 5G in Europe.
Speaking to Mobile News, Ming said: "In Europe, there are many marginalised operators that don't just operate in Europe but worldwide, such as Vodafone, Orange, Telefonica and Hutchison. "These players are very influential, and we're going to need to focus on those to have success in other markets they are operating in."
Ming added: "I certainly believe Europe has realised how important 5G is for the digital economy and development. It's exciting and we really suggest that Europe begins to embrace the 5G era rather than be too conservative."
Changing the mould
While the outlook appears more positive for ZTE this year, the company also addressed the elephant in the room with respect to last year's issues.
These came after the company got caught up in a dispute with the White House, over allegations that it had broken sanctions on selling equipment that included US components to Iran and North Korea.
ZTE has made big strides to overcome the resulting challenges it subsequently faced, said Ming. "We believe we have gradually changed the mould of the company," he said. "We have a new management team which is now younger and more international, and a strong compliance system in place." Ming added that ZTE's more "transparent" approach is setting the company on course to achieve bumper revenue growth this year.
In the first half of 2019, the vendor posted revenues of CNY44.6 billion (£5 billion), a figure that was actually up 13.1 per cent year- on-year despite the obstacles faced.
5G outlook
An improving outlook for 5G seems to suggest significant potential for ZTE and other vendors to capitalise on 5G in the coming years. Such is the drive towards the technology among operators worldwide that the GSM Association has had to rethink its analysis on how many connections there will be, according to GSMA lead analyst Yiru Zhong.
In 2018, the association forecast that there would be 1.2 billion 5G connections globally by 2025, but this has since risen to 1.6 billion – with Europe itself poised to invest more than $200 billion in building networks by then.
Zhong spoke, meanwhile, about the different approaches in certain markets towards 5G and pricing. She said, for instance, that South Korea has the "luxury" to charge considerably more for the service.
"Some countries can price a premium, such as South Korea, which has the luxury of charging 67 per cent for 5G over 4G. In the UK, this figure is 41 per cent.
"However, some countries in Europe such as Italy, Spain and Switzerland haven't charged any premium."
Investment climate
Ming believes that while Europe provides a big opportunity for ZTE's 5G business, it will also undoubtedly pose some challenges.
One of these could be a difficult "investment climate" that may not lend itself to aggressive deployment of the technology, said Ming.
"Currently, the investment climate is not in favour of aggressive 5G deployment worldwide simply because customers are hesitating in how much they want to spend on products and services, plus when they're going to invest in 5G."
Ming also thinks that geopolitical tensions in regions such as Europe could be a hurdle.
"There is a common concern on how to monetise 5G, and because of the geopolitical environment the market has also been more cautious, with operators seeking more clarity," he said.
Ming has a point, with countries such as South Korea and some other Asian markets moving faster with 5G. In the former, more than three million customers have already signed up to services based on the technology since its launch this April.
Similar aims
So with such regional differences in mind, will ZTE's approach in Europe vary from that in its home market of China?
Not substantially, said Ming. "There is no clear difference in strategy for ZTE in Europe to what we do in China," he said. "To have success, there needs to be a good product and service to drive competition, which applies to both regions."
ZTE global marketing SVP James Zhang believes the vendor's base in China gives it a strong platform to play a vital role in Europe.
"Our advantage is our leadership in 5G advancement, which has attracted the attention of many tier-one operators in Europe," he said. "The Chinese market is competitive and triggers us to improve. This will give us the best way of improving our customer experience."
Zhang added: "Transformation from 4G to 5G is much faster than from 3G to 4G, especially in Europe. ZTE can provide a major contribution to the 5G industry here."
Devices
ZTE doesn't, however, specialise only in infrastructure for 5G, but also manufactures its own smartphones.
Although the vendor is far from dominating global market share, it shipped just under four million units in the first half of this year, according to IDC statistics.
Last year, its market share was just 0.7 per cent worldwide, but this is part of the business that ZTE could look to grow in the coming years, said Ming – including a possible eye on a return to the UK.
"We are considering reinforcing our handset sales in the UK," he said. "When we were initially in this market, ZTE was strong in the B2B sector, but we need a strong comeback on the consumer side."
ZTE has commercially launched some devices in Germany, Finland and Austria in the past, with 5G potentially paving the way towards more markets, added Ming.
"We believe that with the technology beginning to take off, ZTE has a unique advantage with its [Axon 10 Pro] 5G phone, and I certainly think that with the right strategy, we should be able to come back to Europe strongly with this portfolio.
"We are now having closer relationships with service providers, which could help us compared to some of our competition. As long as we are following the right promotion models, we have a chance."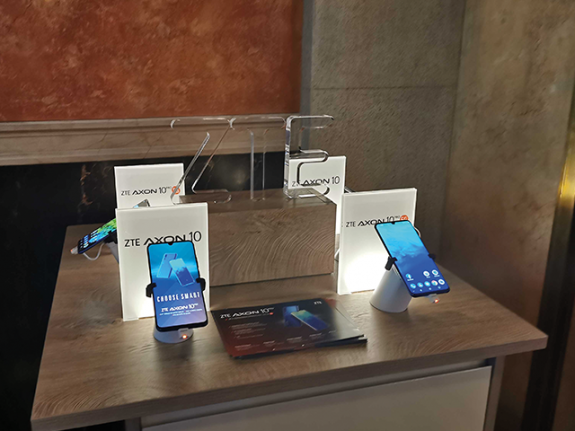 R&D & robot dogs
ZTE's strong intentions with 5G were evident in Vienna, with a number of innovations on show – such as a pet robotic dog that can respond to motion commands.
Priorities for ZTE include continuing to invest heavily in R&D in its bid to take a lead in the 5G arena.
"We used to invest around 10 per cent of our total global revenue in R&D, but in our first half report this year, the number is already close to 15 per cent," said Ming.
"We are increasing the percentage that we spend on our research as we aim to become the most competitive end-to-end 5G supplier."
While there may still be some apprehension over ZTE's services following the events of last year, Ming is adamant that the vendor has overcome the major hurdles and has the capacity to stand out from the crowd.
"We can provide a range of products, with handsets, radio equipment, transport and cloud-based solutions to name a few," he said. "Some of the other players won't have all of these, and this gives us a unique advantage. ZTE is focusing on an end-to-end portfolio that 5G needs to be a success."