BT Mobile, Virgin Mobile and O2 were the most complained-about mobile operators according to Ofcom's latest report about telecoms and pay-TV providers
A Virgin Media O2 spokesperson said:"Our number one priority is serving our customers. We're investing in every area of our business to create an excellent customer experience, with complaints down across the board in the final three months of last year.
"We know there is more we can do – and will do – to improve the service we offer, resolve issues quickly and efficiently, and make it easier for our customers to get help and support whenever they need it."
Sky generated the fewest broadband complaints, with EE and Sky continuing to be tied as the least complained-about landline providers.
The main reason customers complained to Ofcom about Virgin Media was about complaints handling while experiences of faults, service and provisioning were the main driver for BT.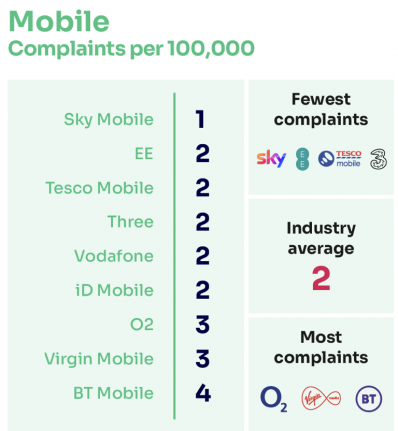 The number of complaints received about broadband services increased slightly, while complaints for landline, pay-monthly mobile and pay-TV services stayed the same as last year.
Last July EE had the fewest landline and broadband complaints with one per 100,000 and three per 100,000 respectively, meanwhile EE, Sky and Tesco Mobile all received the least amount of mobile complaints with just one each.