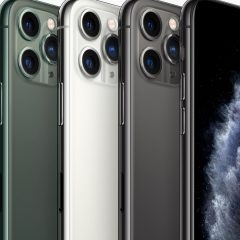 Less than 24 hours after Apple trumpeted its latest range of cameras (sorry … iPhone 11's) Xiaomi announced the Mi9T as "The Fastest Smartphone In Its Class". writes Ian White, Editorial Director of Mobile News
This has the latest Snapdragon processor, high-capacity battery 20MP pop-up selfie camera, bezel-less design, bi-directional cooling system. 30-minute fast charge, 6.39-inch screen, curved glass back, triple camera set-yp (normal, wide, telephoto), and 4K 60fps video. All for £399 – half the price of the base iPhone 11!
No-one noticed the new Xiaomi superphone. Meanwhile, two million people tuned into the Live Stream launch of the iPhone 11 and listened to the crowd whooping and cheering stuff that would have been the norm in 2019. I too tuned in. I really wanted Apple to take my money. My iPhone 7 Plus is nearly three years old. It's still a great performer. But it is looking a bit shabby around the edges. The thick black bezel, in a new age of infinity screens, is a bit clunky, and the charging cable wobbles in the Lightning port.
So, me and my credit card were on standby A trade-in allowance meant only £650 stood between me and a brand new 11.
It was all distinctly underwhelming.
£1,000 THRESHOLD
There is little point me venturing across the £1,000 threshold for the Pro. I don't need that level of camera versatility. And how good do you need a camera to be for Instagram duties? Improved battery performance is nice but nothing that can't be solved by carrying a power bank. When I analysed the 11's spec sheet, I wouldn't be seeing any discernible difference in my daily iPhone experience, apart from the slightly bigger 6.1 inches. Having a yellow or purple coloured phone is neither a deal-maker or breaker. It seemed all Apple was doing this year was launching three quality digital cameras with a phone function attached.
THEATRE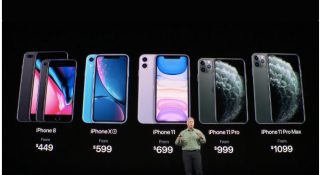 I wouldn't be surprised in somewhere in Apple's new flying saucer HQ a team was not wargaming hiving off the camera technology from the phone as a dedicated Apple camera and producing a much cheaper iPhone with a basic snapper. Although 5G is in its infancy the lack of 5G on the 11 is the deal-breaker. In a year's time, 5G will be viable. As I keep my iPhones for at least three years it would mean being stuck with previous-generation technology for two years. It's 99.9 per cent certain Apple will bring out its first 5G iPhone next September. At which point the 11 will be regarded as obsolete as 5G becomes the new paradigm. It will be a rerun of 4G making 3G-only devices virtually unsaleable, except in developing markets. Yet the Steve Jobs Theatre audience was going ga-ga over incremental features that usually make the tail-end of Samsung and Huawei new product announcements.
Where were the features and functions that have been routine on Chinese and Korean devices for a year or more – USB-C, reverse wireless charging and edge-to-edge displays let alone a phone that folds out to become a mini-tablet.
REAL-WORLD
In the real world players such as Samsung, Xiaomi, Oppo and Huawei are launching devices with photographic, display, AI and VR capabilities that leave the iPhone 11 looking increasingly out of date The Huawei Mate 30 Pro and Galaxy Note 10 are both 5G devices with near-pro quality cameras. Xiaomi is bringing out state-of-the-art tech at around half the price of the iPhone.
Had Apple launched a 5G Folding iPhone, the internet probably would have collapsed under the weight of universal wonderment.
But when Samsung fixed and re-launched the 5G Galaxy Fold Phone the announcement was met with a tidal wave of near-apathy from the national press. Yet no sooner had the Steve Jobs Theatre emptied than the rumour mill kicked off its routine "what can we expect from the iPhone 12?" frenzy. This year no-one was predicting a 5G iPhone. But with the aforementioned Far East vendors (and Nokia) bringing out new 5G devices on almost a monthly basis it does seem that Apple is still imbued with a colossal arrogance towards the second Technical Industrial Revolution. Apple's attitude toward memory pricing still continues to be plain greedy. It is also illogical. The base price of RAM has dropped by over 50 per cent in the last couple of years. Yet Apple still charges around £100 for the step up from 128GB to 256GB.
MEMORY
The memory configurations are out of whack with the device's intended uses..For example, the iPhone 11 Pro is aimed at auteurs who want to shoot movies with this new iPhone. But the entry Pro model gets just 64GB.A serious movie maker won't be remaking Laurence of Arabia any time soon with 64GB (about 30 minutes of recording time). There's no 128GB version of the "Pro" videographers. So will have to cough up an extra £250 for the 256GB version and £350 for 512GB. Those who know about such things are also puzzled that a Pro specification iPhone is devoid of a USB-C connector for faster data transfer to and from laptops and desktop Macs for editing and post-production. For the base Pro to ship with 64GB and no USB-C is so odd it's funny.
No wonder nothing was mentioned about storage capacities. So – will I upgrade to the 11 from my 7 Plus? I can't see the point. Apple will be hoping a billion other iPhone users will disagree.