Trend to SIM-only contracts gathers pace says GfK.
Handset sale volumes are at an all-time low, and declining at 6.6 per cent year on year due to the cost of living crisis, says consumer goods data and intelligence provider GfK. The good news is many consumers still want the latest mobile phone. This has pushed sales on the premium and flagship sector explains GfK key account director for Telco Tech and Durables Lizzie Bailey.
"In Q3 of this year, more than a quarter of handsets purchased were worth £800 or more with is price band therefore growing considerably by 30.9 per cent year-on-year. With premium devices becoming ever more expensive, these consumers are still purchasing devices and are driving up the revenue in the market.
"From a value perspective the market remains in growth of 1.8 per cent Q3 22 compared with Q3 21. Most commonly these have traditionally been purchased on a long-term contract. While this is still the most common way of purchasing a handset, it is in decline, shrinking 8.6 per cent n volume terms in Q3 this year."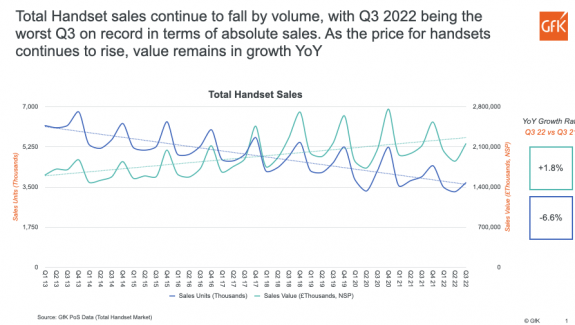 "Consumers are becoming more aware that they can decouple their handset and tariff purchase. They are leaning more towards either purchasing their handset outright or on a separate handset financing Sim-free contract. SIM Free suffered in 2022 but has returned to volume growth of 4.4 per cent in Q3."
Contract Sales
GfK says that, volume terms, handset sales are muted. Contract has been declining for much of the last 12 months, and Sim Free is only just returning to growth within the last quarter after a poorer performance in the first half of 2022 following years of buoyancy.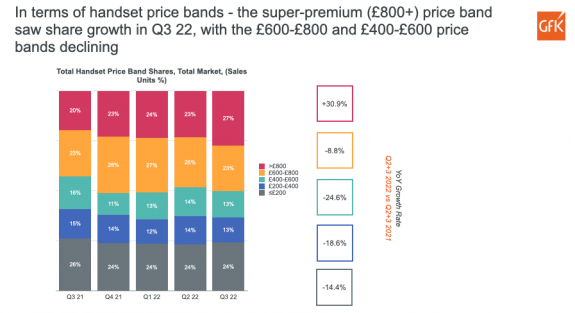 "A more resilient segment of the market is Contract SIMO, when they have decided to hold on to their handset. This is becoming increasingly commonplace as handsets become more expensive and consumers look to maximise their investment before upgrading", says Lizzie Bailey.
"Contract SIMO New and Contract SIMO upgrade have seen year-on-year growth of 6.2 per cent and 2.1 per cent in Q3 2022, albeit this is down on the larger volumes seen in the first half of 2022. Contract SIMO New has been at record high levels throughout 2022, while Contract SIMO Upgrade has recently dropped off after a strong few months from March to June."
Data Source: GfK Market Intelligence Data: Sales Tracking. Country: GBProduct Group: Smart-Mobile Phones; Mobile Tariffs. Period: Q1 13 – Q3 22. Market: GfK Panel Market (80% Coverage)