Worrying about whether you can afford to use a phone while away is 'bonkers' writes Virgin Media O2 COO Gareth Turpin
A year and a half ago Virgin Media O2 proudly became the odd one out by not following the other major mobile networks in reintroducing EU roaming fees
All O2 and Virgin Mobile customers travelling to Europe have continued, and will continue, to roam like home regardless of weather rules and laws have changed post-Brexit.
In the current economic climate and with summer holiday season upon us, many families will be flocking to popular European destinations for a well-earned break.  Worrying about whether you can afford to use a phone while away is bonkers, and our research has shown that a quarter of Brits don't realise they may need to pay additional mobile charges while roaming in Europe. To ease some of this pain, last year we helped save our customers an estimated £3 million per week in EU roaming charges.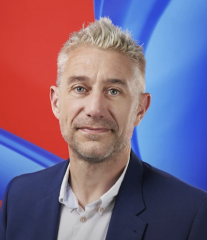 Yesterday, Ofcom proposed new rules to ensure any applicable roaming charges are made clear to consumers when they head abroad. We believe that it's important for consumers to have clear and transparent information about roaming and will continue to send alerts to our customers when they first touchdown in another country, at multiple points when they near their airtime limit and again when they reach it.  
Some commentators have pointed out that we have a data 'fair usage' cap on roaming. We do, and we've never hidden this. This is the case with all operators, and it's designed to stop abuse of roaming by a tiny minority who might be living abroad for an extended period. The key difference with Virgin Media O2 is that any of our customers visiting Europe won't be charged a thing up to their standard UK data limit, or the 25GB cap if their data plan is higher than that – no other mobile network can say the same.
Now I realise this is an industry full of jargon, so understandably some people will worry about hitting that 25GB limit. Let me break it down. This is a hefty amount of data. It's equivalent to 595 hours of WhatsApp voice calls, streaming more than 6,000 songs or using Google Maps while driving for 208 days straight.
I know a mobile phone is an essential item when at home or abroad, but the reality is 99 per cent of people will never get close to that 25GB limit. And for those that do, they will receive a clear message before they get to that point outlining their options and any charges that could apply.
Beyond Europe, we have O2 Travel Inclusive Zone included at no extra cost in all Plus Plans and Volt bundles which allows millions of our customers to enjoy unlimited data, texts and calls in 27 international destinations as well as in Europe. A full list of international destinations can be found here. For those without this included in their plan, we offer an O2 Travel Bolt On for £6 a day, providing unlimited services in 63 destinations across the globe. The countries included are listed here.