At its recent predictions event, the analyst firm talked 5G, 'tech nationalism' and sustainability
US-China trade tensions, 'tech nationalism'  and the increasing importance of sustainability were among the key talking points at this year's CCS Insight Predictions event.
The analyst firm has released a total of 90 predictions on technology in the coming decade, about 40 of which it discussed at the event at London's Institute of Engineering and Technology on October 3 (see the bottom of this article for some of our favourite picks). They covered topics such as IoT, smart cities, smart homes, the growing role of technology in education, healthcare and the workplace, and the potential shifts in direction of major players such as Huawei, Samsung, Google and Amazon.
5G Moves
With 5G now a commercial reality in every economic region on the planet, there was some reflection at the event on how far it has come a year since the first 5G network launched.
There was a key update to CCS Insight's prediction last year that China's 5G deployment in 2019 would accelerate as it sought to gain an edge in reaction to trade disputes with the US; now, according to vice president of research for the Americas Geoff Blaber, the two are locked in a "technological arms race".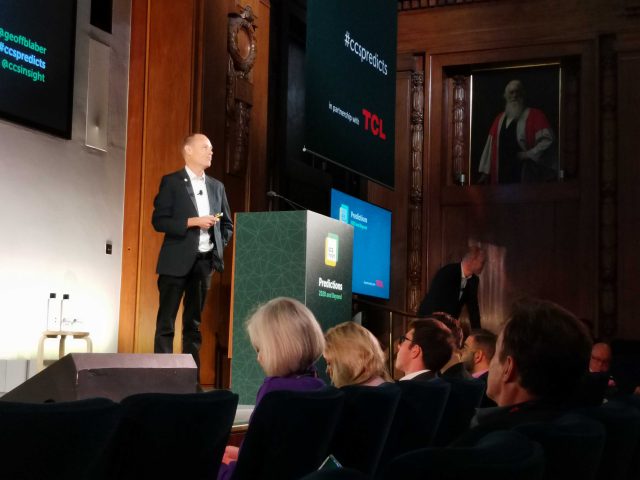 "AI, 5G, IoT and cloud are the keys to long-term competitiveness and prosperity for any big economy – the stakes are extremely high," he said. Blaber added that by the end of 2020, China will account for at least half the world's live 5G base stations, with 150,000 scheduled to be built there by the end of this year.
To put this in perspective, said Blaber, "the average UK operator has just under 20,000 4G base stations. When China flips the switch on 5G, it will be on a scale we've never seen before in mobile infrastructure".
The trade dispute and addition of Huawei to the Entity List in the US, limiting the services it can offer in the country, will have profound knock-on implications for companies trying to succeed in China after Huawei launched its new HarmonyOS.
The operating system is tipped to take off in Huawei's home country – thus giving the company and the Chinese government a major reason to make HarmonyOS-compatible services mandatory for companies outside China looking to sell into the country.
"The US needs to be careful," said Blaber. "Banning Huawei could have significant unintended consequences."
'Techlash'
Chief of research Ben Wood said last year's prediction by CCS Insight that getting the materials and land permissions for 5G would prove more of a challenge than getting the  technology right was "prescient", but that operators faced the added issue of a rising 'techlash' – or opposition to 5G technology on the grounds of poorly founded environmental and health concerns.
"If you're worried about this, go home and unplug that WiFi router that's in your house, because that's similar to what we're playing with," he said.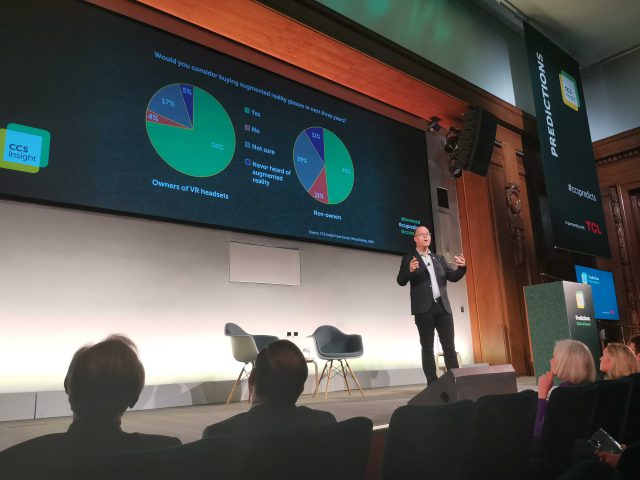 "If you are genuinely concerned about this, it's not just a problem for the mobile phone industry," Wood added, saying it gets targeted unfairly on the grounds of environmental activism and that millimetre-wave spectrum is also found in airport body scanners.
Talking of the practical reality of hooking up to a 5G network, Wood said the average connection speed would be between 200 and 400Mbps.
He added that his 2017 prediction on high-density public events being among the first to see 5G deployments in 2019 had come true, with EE installing a temporary network at Glastonbury music festival where around 1TB of data was used.
Ultimately, says Wood, the 5G experience comprises three key pillars – namely speed, capacity and latency.
Smart glasses
When discussing new mobile form factors, Wood reiterated last year's prediction by CCS that foldable devices would remain niche until 2022, but inserted smart glasses into the discussion.
Citing the results of a 2019 survey it carried out in which 74 per cent of VR headset owners and 49 per cent of non-owners would consider buying augmented-reality glasses over the next three years, Wood predicted that Samsung would launch its own brand in 2022 – tentatively naming them Galaxy Glasses. He anticipates that Apple will follow suit in 2023, floating VisionOS as a possible name for its own brand.
Looking even further ahead, Wood talked about the potential of brain-machine interfacing, using the power of the brain as a processor. "The brain is capable of computing
data at 1TB per second," he said. "That's the equivalent of watching 40 HD movies simultaneously, and it's capable of doing that using only 12W of power. It's no surprise that people are constantly researching how we can interface with the brain."
As examples of companies working in this area, he cited Facebook-owned CTRL-Labs and Elon Musk's Neuralink, and predicted that brain computing interfaces will evolve beyond medical applications into commercial offerings by 2027.
5G Progress
Director of consumer and connectivity Kester Mann talked of the progress the industry has made since Verizon launched the world's first 5G commercial network in four US towns and cities with no supporting smartphones and non-standardised equipment in October 2018.
"I think it's fair to say the industry has moved on significantly since that fledgling first launch," he said, referring to the 40 commercial networks now live across 22 countries.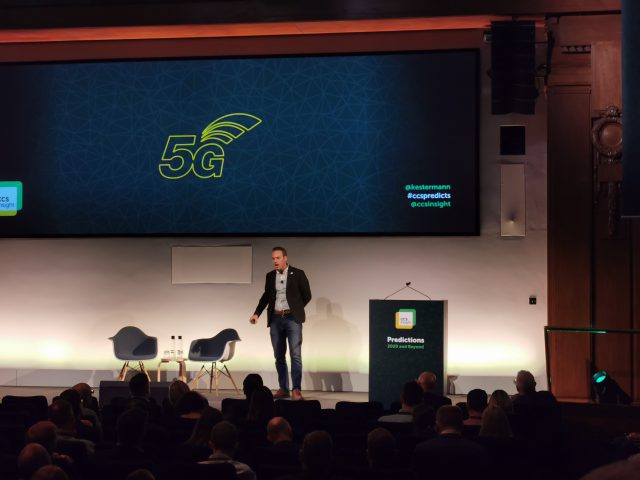 South Korea in particular has been impressing with its 5G rollout, said Mann, with operator SK Telecom passing the million-user milestone in 140 days – twice as fast as with 4G.
"5G doesn't appear to be the disparate and fragmented technology that earlier mobile generations have been," he said. "Pretty much every world region now has a commercial 5G network."
The device ecosystem is also developing in tandem with the networks, with more than 100 5G-friendly devices from 20 manufacturers available across the world.
Mann added challenger brands such as Xiaomi and Oppo have a window of opportunity to make their mark in new markets, with Apple not due to launch a 5G device for another year.
Meanwhile, Mann predicted that most operators will move to speed-based pricing by 2021 as data use grows across the world, echoing fixed-line broadband. By then, he also forecasts that at least 10 mobile operators worldwide will offer price plans guaranteeing low latency, particularly in light of the recent deals operators have been striking with gaming companies – such as Vodafone with cloud gaming service Hatch, T-Mobile with Microsoft and Deutsche Telekom with Pokémon Go developer Niantic.
Mann further predicted that by 2022, 5G infrastructure would be deployed in a leading European city by a non-operator entity, such as a city administration, and that operators would welcome the reduced costs of a third-party rollout.
He also asserted that with increased availability, 5G use cases would become more viable for businesses, leading to Amazon buying 5G mobile spectrum for use in at least one market by 2021 – not to offer a commercial network service, but to support its warehouse and delivery operations.
"The consumer market may be the first to adopt 5G, but we've always believed that the greatest impact will be on the business sector," said Mann. "5G isn't just the next generation of mobile, but a cog in the wheel of technologies."
Sustainability
Other salient topics included sustainability and the environmental impact of the mobile industry, matters touched on by vice president of forecasting Marina Koytcheva. She predicted that a major European operator will adopt an AI-based environmentally friendly approach to powering its infrastructure by 2021, spurred by the increasing energy consumption brought on by 5G.
"5G base stations are significantly more power-hungry than 4G stations because of their massive antenna arrays. That means operators will start using significantly more energy over the next few years.
"We believe that mobile operators should look take a proactive approach rather than wait until bad publicity about 5G and energy consumption appears."
Tech Nationalism
Koytcheva also talked about how 'tech nationalism', in which countries spar to protect and promote their own brands above others, would cause shifts in market share that would isolate certain vendors from particular territories.
"We spoke last year about rising tension between China and US; this year we saw a number of companies getting caught in between these two: Huawei, but also Google, Arm and Qualcomm," she said.
"Tencent and Alibaba saw their investment in the US virtually stop,  and Apple saw its share price yo-yo every time the president mentioned tariffs – so tech nationalism is already hurting the tech industry."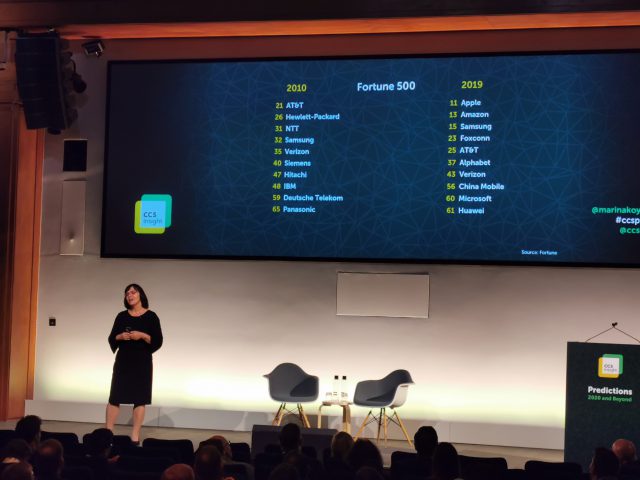 Koytcheva added that the rift between China and the US would affect consumer opinions of products made by companies from the two countries. "In the context of publicly fought trade wars, people take a side and may choose to boycott a brand just because of its origin," she said.
Koytcheva predicts that this tech nationalism will continue to the extent that by 2022, no mobile vendor will be able to claim that it is truly global, with Huawei struggling to retain European market share without Google support, and Apple and Samsung coming under pressure in China.
Next Generation
While 5G is only just picking up speed, Koytcheva also made some predictions about the following generation of mobile technology.
Though her assertion that the first commercial 6G networks would launch before the end of the 2020s was not particularly surprising given the usual gap between releases of previous mobile generations, she added that tech nationalism could distinguish its launch from those of its predecessors.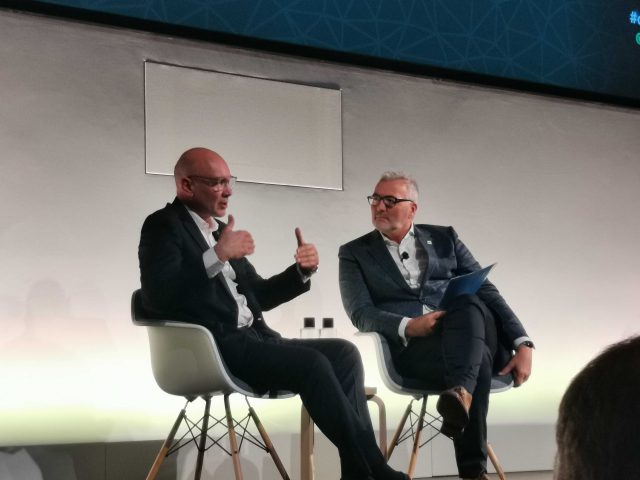 "In the context of tech nationalism, 6G may not be built on global standards," she said. "It could be that some big countries look to build their own homegrown 6G standards to gain a competitive advantage."
Ultimately, said Koytcheva, it was in the hands of many attendees at the event to decide whether the future had a positive or negative outlook.
"The companies in this room had a combined turnover last year of $2.4 trillion," she said. "If you were a country, you could have a seat at the G7 summit if you wanted it. If you don't like some of these trends, then you will change them, disrupt some and make new ones.
"Our job is to stick our antennas up and look for signals so that we can predict the changes that you guys will bring to the industry and the world."
Top CCS Insight predictions for 2020-2030
2020
– By the end of 2020, China will account for at least half of the world's live base stations.
– From 2020, Wi-Fi becomes an important element in 5G tariffs as operators struggle to meet performance expectations.
– Oversupply of 5G smartphones in 2020 sees prices plummet.
– Domestic brands account for 95 per cent of all smart products sold in China in 2020.
– In 2020, Oppo overtakes Huawei as the biggest Chinese smartphone brand.
2021
– A European network operator adopts an AI-based environmentally friendly approach to powering its infrastructure by 2021.
– By 2021, Amazon buys 5G mobile spectrum for its own use in at least one market.
– Most 5G operators move to speedbased pricing by 2021, echoing fixed-line broadband.
2022
– Samsung launches Galaxy glasses in 2022. Apple will launch its own AR glasses in 2023, with the possible software name of VisionOS.
– 5G infrastructure in a leading European is deployed by an entity other than operators.
– Google's Pixel smartphones secure five per cent of new sales in Western Europe.
– By the end of 2022, no mobile phone company can claim it is truly global.
2023
– A leading mobile operator moves device and subscription sales fully online by 2023.
2025
– By 2025, one in 50 affluent households has a domestic robot for chores, security and companionship.
2030
– By 2030, the first commercial 6G networks will have launched,
– By 2030, there is a permanent communication station on the moon.
– By this time, high-speed satellites offer a competitive alternative to 5G networks.
– By 2030, 50 of the most congested cities in Europe, Asia and the Americas deploy smart traffic systems.