Service launches two months after initially announced launch date
Sky Mobile has launched 5G, becoming the second UK MVNO to do so after BT Mobile.
The service will initially be available in 20 towns and cities including London, Edinburgh, Belfast and Leeds, with plans to roll out to 50 cities by summer this year.
Sky has three phones at launch, with more to be announced later in the year. They are the Samsung Galaxy S10 5G, the Samsung Galaxy Note 10+ 5G, and the Samsung Galaxy A90 5G. Sky Watch enables streaming of TV and films through apps without using data.
The full list of tariffs is below: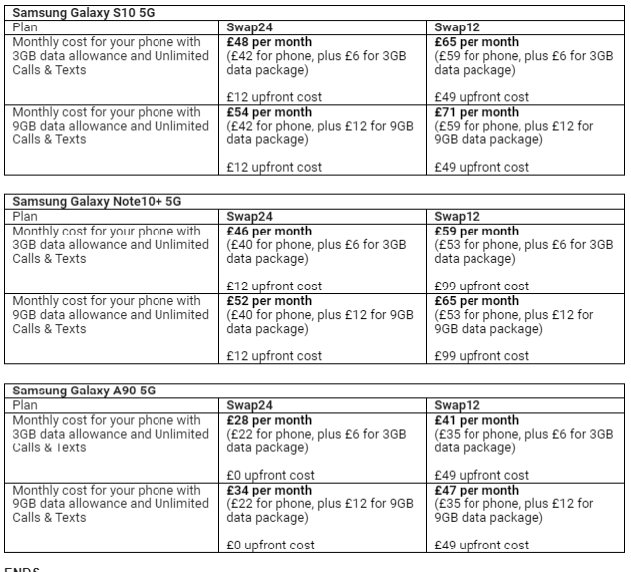 Sky had originally announced that it would launch the service in November, just a month after its network provider O2. However, it delayed this launch.
Commenting on the delay, a Sky spokesperson said: "We wanted to bring all the benefits of 5G to Sky Mobile customers as early as possible, but we also wanted to take the time needed to make sure that we had the right phones, coverage and network performance to make it a great service before launching."
In the time since the delay, a change of leadership has occurred at Sky Mobile, with previous managing director Sophia Ahmad leaving the MVNO in November to work for Comcast in the US.
Ahmad was replaced by Paul Sweeney, who was previously the chief marketing officer at Now TV.
PP Foresight analyst Paolo Pescatore said: "This latest move reinforces the UK's position as one of the most competitive markets in the world. 5G represents a significant opportunity for Sky to steal market share. Unlimited streaming of all Sky apps is a great feature that strongly resonates with its customers.
"However, consumer demand for 5G is unproven and the business model is unclear. Making it available for free to Sky VIP is shrewd, helping increase loyalty among its base. While it feels like a retention play, mobile offers Sky plentiful opportunities for growth. In the future, expect to see Sky work more closely with its network partner O2 given the growing importance of connectivity combined with content."