Which of Google's new lineup actually offers the best value?
Google's approach to its Pixel devices has always been a bit puzzling. You can't accuse it of not taking its phones seriously; it markets them fairly heavily, ensures that they have strong operator partnerships when they launch (at least in the few countries it does launch them), and you don't buy a big chunk of HTC's mobile division, as Google did, if you don't intend to do something with it.
While the Pixels have repeatedly offered smooth software experiences (as to be expected from the very creator of Android), critics have often found fault with their hardware or design. Most recently, the Pixel 4 seemed like Google's attempt to deliver the exact disappointment its fans were most concerned about.
At a launch price of £669, the device came with 64GB storage, a quick-to-drain 2,800mAh battery, an erratic new Motion Sense mode, facial unlock that worked when your eyes were closed, and a 90Hz display that initially didn't run at 90Hz all the time. Even its screen to bezel ratio was slightly smaller than that of the Samsung Galaxy S8, a phone two years its senior. Google had also ditched unlimited full-quality image backup on Google Photos, which made the 64GB storage baseline feel even more insulting.
It's evident from the changes Google has made to its Pixel launches this year that it has put some consideration into the types of devices it wants to make, but it's still a slightly odd lineup.
Its Pixel 4a shares more DNA with the 5 than the 4, and the 4a 5G isn't just a 5G version of the 4a, but more like a Pixel 5 Lite, as it shares the 5's exact chipset and camera setup, as well as being the biggest device of the bunch, while being made from the same material as the 4.
All in all, it's a device lineup that, while distinct, is much less clear-cut than the more defined 'good, better, best' approach that other vendors take, so I'm going to try to unpack it.
5 vs 4
This year, Google has repositioned its leading Pixel device. It's still a premium device, for sure, but it costs £599, coming in at £70 cheaper than the 4 at launch, and there's no XL version. Google has had to make some interesting changes here. It has to position the 5 as an improvement on the 4, but it can't just make the phone both better and cheaper, so there are some trade-offs.
The biggest indicator of this is that the 5 is only packing a Snapdragon 765. This is a downgrade on the Pixel 4, and in terms of raw performance it's well behind the likes of this year's Samsung Galaxy S20, Huawei's P40 Pro, and probably also the iPhone 12. However, it does come with 8GB RAM as opposed to the 4's 6GB, and with 128GB storage as standard, making Google's ongoing decision to deny its users unlimited original quality image storage a bit more forgivable.
Furthermore, Motion Sense is conspicuous in its absence. Getting rid of a built-in radar that didn't have any practical applications has probably made Google's decision to drive down pricing on the Pixel 5 much easier. It's probably hoping to regain some lost critical goodwill on this device before driving a much more focused Motion Sense experience on the Pixel 6 next year.
On the design front, the Pixel 5 is missing that glass back that was really very appealing on the 4, instead featuring a metal back with a matte finish that makes it feel like plastic. It feels a bit cheap, but A) that isn't the same as actually being cheap and B) it is grippy and very fingerprint resistant, especially in the Sorta Sage colour.
The 5 is more compact than the 4, but Google has ditched the bezels in favour of a punch-hole camera, so you're getting a 6-inch Gorilla Glass 6 screen instead of a 5.7-inch screen. There's still no option for a permanent 90Hz refresh rate, with the same "smooth display" setting that "raises the refresh rate for some content", but it seems to be on all the time.
Despite the Pixel 5's smaller size, Google has managed to fit in a 4,080mAh battery, which, due to the weaker processor, actually lasts a good amount of time. This battery confidently blows past anything Google has put in its phones before, and given the removal of Motion Sense and facial unlock sensors, hints at just how much they were holding back the previous Pixel iteration from getting the basics right.
The Pixel 5's camera drops the telephoto lens seen in the 4 and the zoom does suffer as a result, but Google has added a 16MP ultrawide lens, and it can shoot 4K video at 60fps with features such as cinematic pan that can truly capitalise on its inclusion.
Losing the bezels also means losing the tech housed within those bezels, which was mainly front camera tech that enabled facial unlock. The 5 swaps that out for a fingerprint sensor on the back instead, and I don't think people will mind, as the fingerprint sensor is very responsive and you're getting more screen.
The comparison between the Pixel 4 and the Pixel 5 is interesting because it's a rare case of a manufacturer removing features to make a device more attractive. Getting rid of facial unlock and Motion Sense has allowed Google to give the Pixel 5 more battery and storage, and make things like the lack of a telephoto lens and a permanent 90Hz display more forgiving at a cheaper price. Meanwhile, adding things like a telephoto lens and more screen estate only makes the phone more attractive.
In hardware terms, the Pixel 5 is blown out of the water by the OnePlus 8T and Samsung Galaxy S20 FE, which offer glitzier camera setups and superior chipsets at similar prices (the OnePlus 8T is even launching with Android 11). But compared to last year, it's far more competitive, and of course adds a 5G capability while still keeping its price down – although manufacturers are already finding this easier to do.
5 vs 4a vs 4a 5G
Perhaps the pandemic forced Google to adapt its release strategy, with the Pixel 4a coming 15 months after the Pixel 3a, and the Pixel 4a 5G actually coming after the Pixel 5.
It makes the naming of the devices look strange, because when placed side by side, they look like a device family. There's almost nothing to separate them at a glance, aside from size, the presence of a headphone jack on both 4a variants, and the 5's metal body compared to the 4a's polycarbonate housing.
Design
The regular 4a is comfortably the weakest of the three new devices, with a 3,140mAh battery, a Snapdragon 730G processor, and a camera missing an ultrawide lens, cinematic pan, and 4K video at 60fps. You can look at it in three different ways: as a sequel to the Pixel 3a; a cheaper cousin to the 4, with which it shares a number; or as a Lite version of the Pixel 5, which it preceded by less than two months and with which it shares an exterior design philosophy. Regardless, it's still a great device for the price.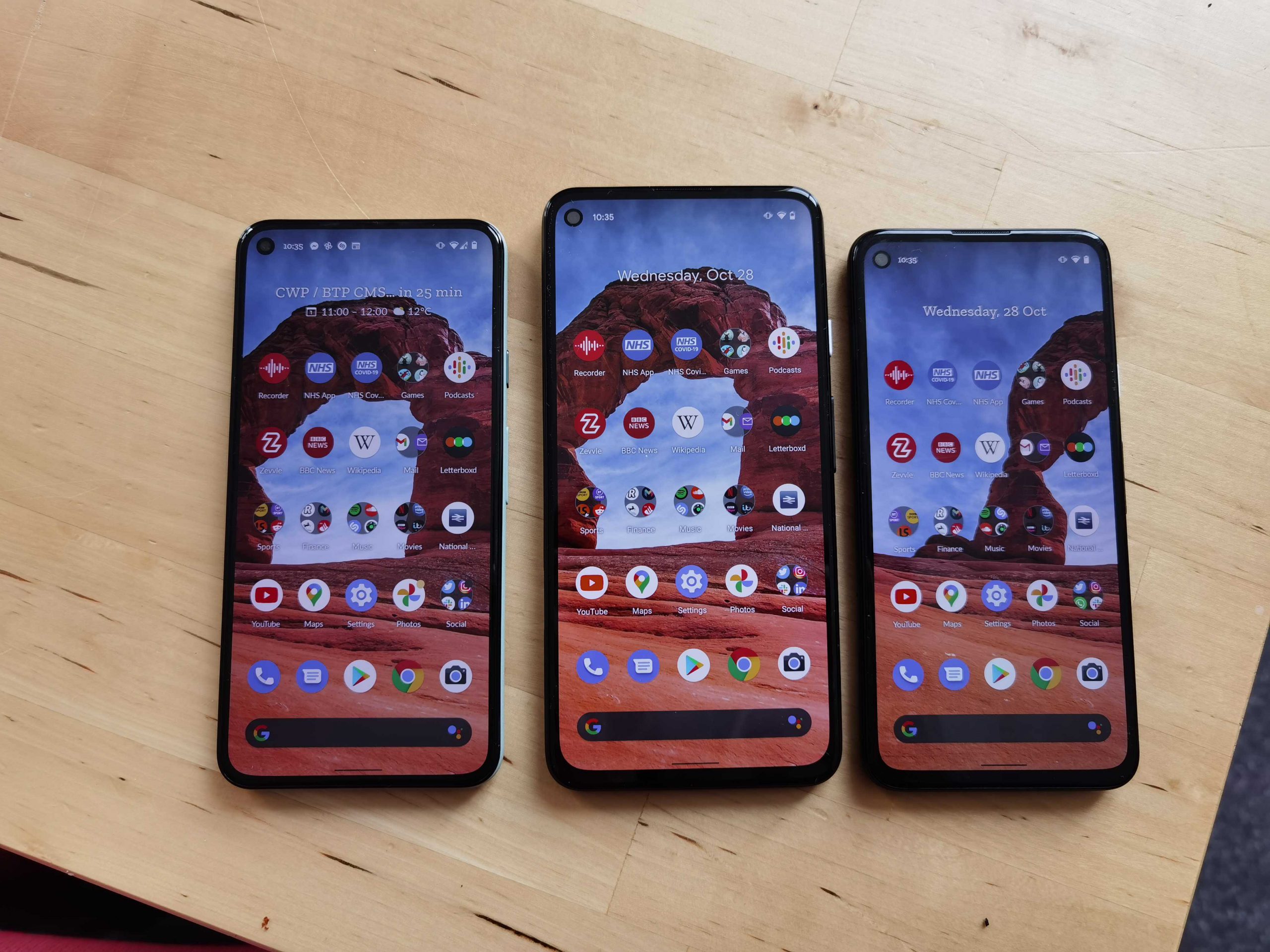 It's when you pit the 4a 5G against the 5 that things get interesting. For £100 less than the Pixel 5, you get a phone with a bigger screen, the same chipset, the same internal storage, and even the exact same camera. You even get a 3.5mm headphone jack.
The Pixel 5 does have aspects in its favour that justify the price difference. It's made of metal, not polycarbonate, it's got Gorilla Glass 6 while the 4a 5G only has Gorilla Glass 3, it's battery is bigger than the 4a 5G's 3,885mAh lens, and it has an IPX8 water and dust-proof rating while the 4a 5G has no ratings at all. The 4a 5G also doesn't have a 90Hz screen option, only has 6GB RAM, and has no wireless charging capabilities. The Pixel 5's wireless charging is even more impressive given its metal housing.
Still, the difference between the devices isn't all that clear-cut. You could also argue that the differences in 'rugged' design are fairly moot, as Pixel buyers are likely to put them in a case, and aren't going to be subjecting their phones to any strenuous drop or submersion tests.
Performance
Across the board, the battery performance of this year's Pixels was a pleasant surprise. The Pixel 4a's 3,140mAh battery isn't a particularly large battery for a phone of its price, but it's still an improvement on the Pixel 4's. Google has worked very hard on its software's power consumption, because the phone comfortably lasted a day.
The Pixel 5 and 4a 5G go even further, with both managing to last two days with fairly normal use. Although the Pixel 4a 5G has a smaller battery, it could probably last longer than the 5, given it has less RAM.
The 5 and 4a 5G launch with Android 11, while 4a owners can now upgrade their device to the new iteration. Benchmarking the devices was a surprise, with the gap between the 4a 5G and 5 so close as to be negligible. I've included the Pixel 4a's benchmarking results as well in the below results.
Benchmarks
Geekbench single-core
– Pixel 5: 600
– Pixel 4a 5G: 604
– Pixel 4a: 532
Geekbench multi-core 
– Pixel 5: 1,606
– Pixel 4a 5G: 1,615
– Pixel 4a: 1,531
GFXBench 
– Pixel 5: 613.6
– Pixel 4a 5G: 537.2
– Pixel 4a: 677.5
3DMark 
– Pixel 5: 2,251
– Pixel 4a 5G: 2,250
– Pixel 4a: 1,884
As you can see there's not much in it, with the 4a 5G neck and neck at 3DMark and Geekbench, and even the regular 4a isn't that far behind. Strangely, it was a clear front-runner when doing GFXBench's test, despite having worse hardware.
Full spec comparison: 5 vs 4a 5G vs 4a vs 4
OS: Android 11 (Pixel 5, Pixel 4a 5G) | Android 10 with upgrade (Pixel 4a, Pixel 4)

Processor: Qualcomm Snapdragon 765G (Pixel 5, Pixel 4a 5G) | Snapdragon 730G (Pixel 4a) | Snapdragon 855 (Pixel 4)
Screen: 6″ (Pixel 5) | 6.2″ (Pixel 4a 5G) | 5.8″ (Pixel 4a) | 5.7″ (Pixel 4)
Resolution: 1080 x 2340 pixels (Pixel 5, Pixel 4a 5G, Pixel 4a) | 1080 x 2280 pixels (Pixel 4)
RAM: 8GB (Pixel 5) | 6GB (Pixel 4a 5G, Pixel 4a, Pixel 4)
Internal storage: 64GB/128GB (Pixel 4) | 128GB (Pixel 5, Pixel 4a 5G, Pixel 4a)
External storage: N/A
Water resistance: IPX8 (Pixel 5, Pixel 4) | N/A (Pixel 4a 5G, Pixel 4a)
Rear camera: 12.2MP x 16MP ultrawide (Pixel 5, Pixel 4a 5G) | 12.2MP x 16MP telephoto (Pixel 4) | 12.2MP (Pixel 4a)
Front camera: 8MP (Pixel 5, Pixel 4a 5G, Pixel 4a, Pixel 4)
Video: 4K@60fps (Pixel 5, Pixel 4a 5G) | 4K@30fps (Pixel 4a, Pixel 4)
Battery: 4,080mAh (Pixel 5) | 3,885mAh (Pixel 4a 5G) | 3,140mAh (Pixel 4a) | 2,800mAh (Pixel 4)
Connectivity: 5G (Pixel 5, Pixel 4a 5G) | 4G (Pixel 4a, Pixel 4)
Dimensions: 144.7 x 70.4 x 8 mm (Pixel 5) | 153.9 x 74 x 8.2 mm (Pixel 4a 5G) | 144 x 69.4 x 8.2 mm (Pixel 4a) | 147.1 x 68.8 x 8.2 mm (Pixel 4)
Weight: 151g (Pixel 5) | 171g (Pixel 4a 5G) | 143g (Pixel 4a) | 162g (Pixel 4)
Camera
Thanks to Google's predilection for a software-focused approach to camera setups, this comparison is fairly simple. The Pixel 4a has the barest setup of the three, with a single 12.2MP rear camera that can shoot 4K video at 30fps, and an 8MP selfie camera. While there's no telephoto lens, you can still get a portrait mode and the quality of the pictures is pretty terrific all round. It's broadly similar in quality to the Pixel 4s, which for a significantly cheaper phone is fine, as the Pixel 4's was up there when it first released.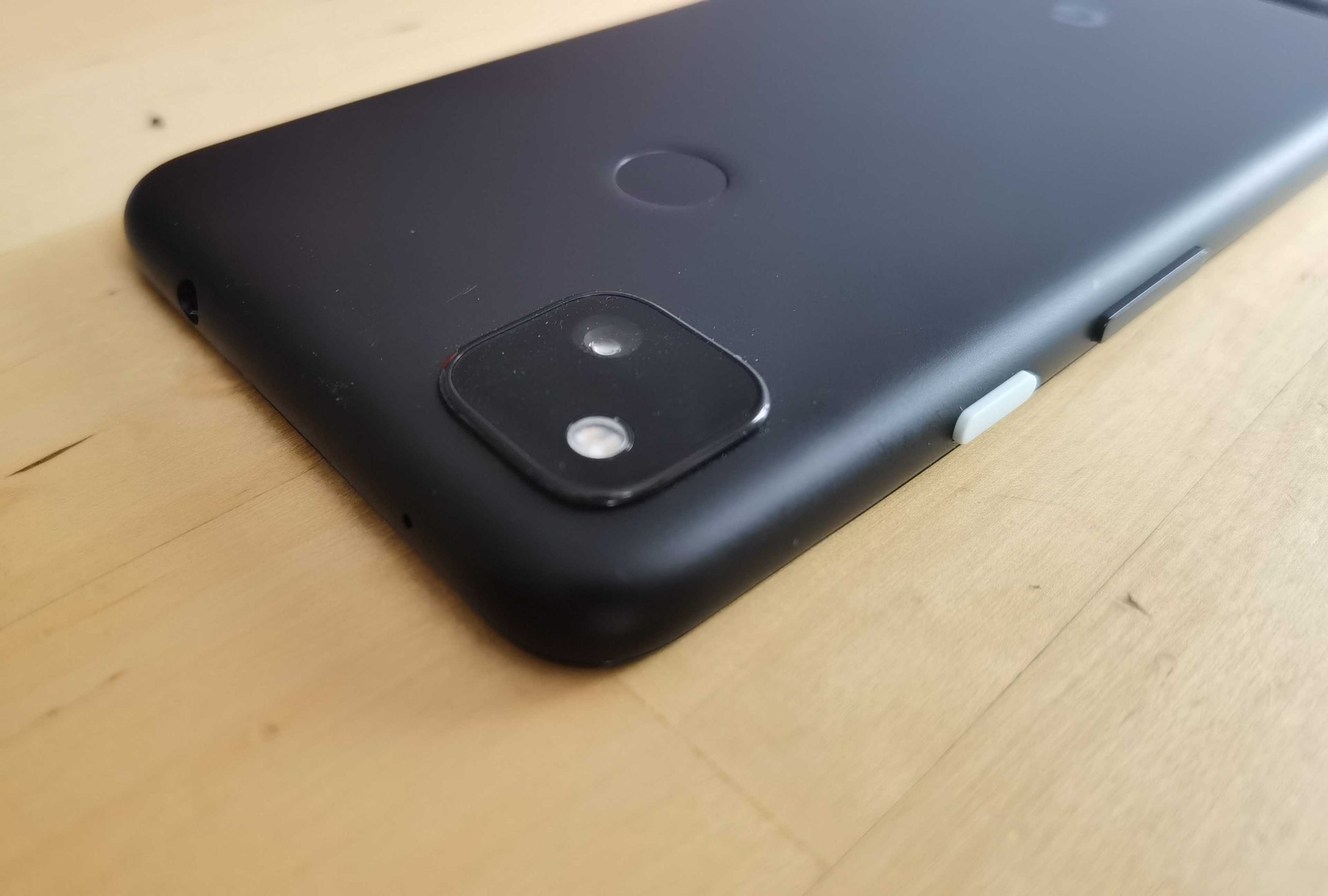 Meanwhile, there is no difference whatsoever between the cameras in the 4a 5G and the 5. Both also have the main 12.2MP rear lens and 8MP front camera, with an added 16MP ultra-wide camera. They can shoot 4K at 60fps, and you get a slightly modified layout when using the camera compared to the 4a that presents you more options while shooting instead of hiding them in a menu.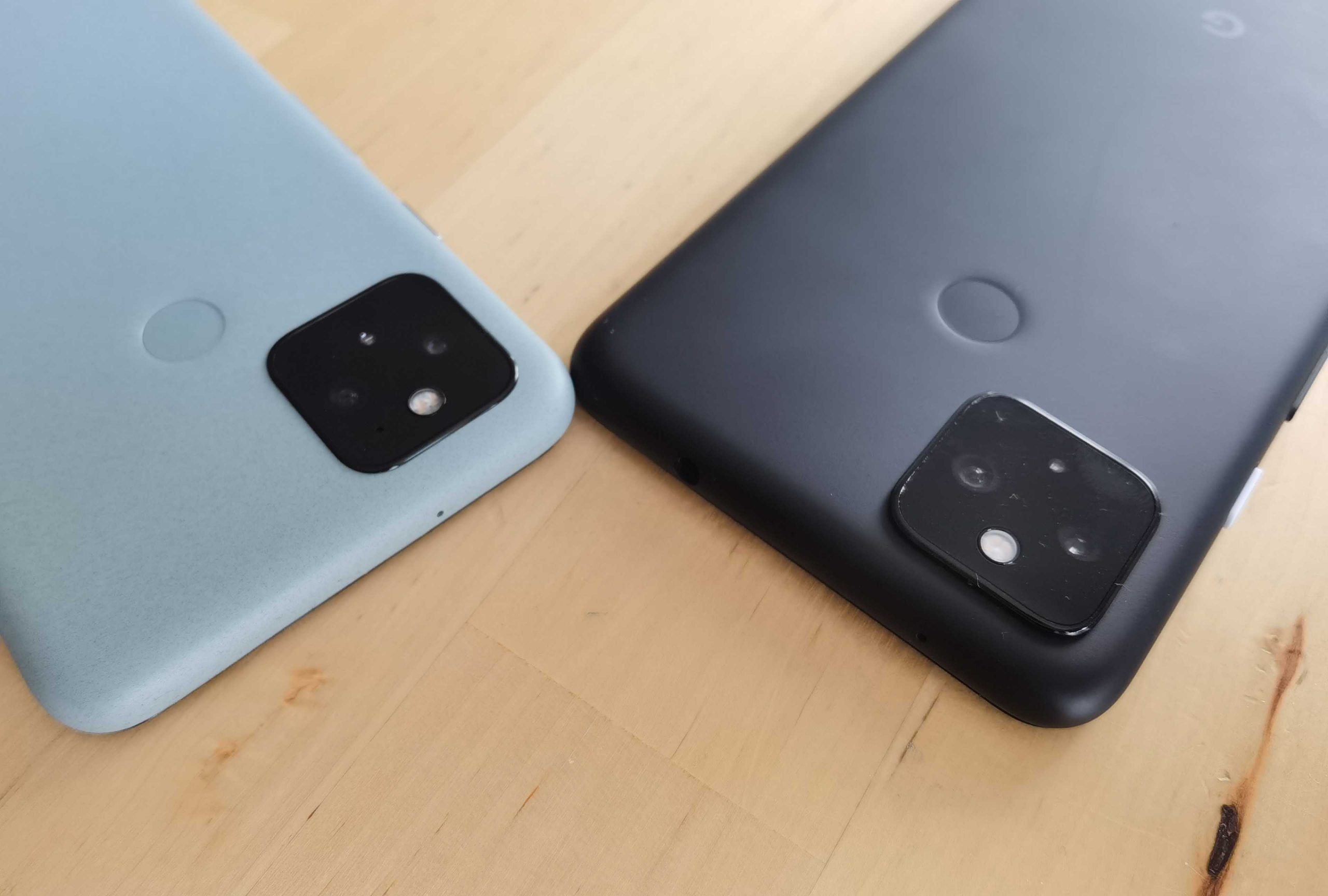 You can also do night sight in portrait mode, auto night sight, and portrait lighting. As these are software-based implementations, it's possible that the regular 4a will seem them added in a future update, but for now they give its cousins an edge.
The Verdict
More than most other device ranges, the 2020 crop of Pixels overlaps with each other across features, while still sitting apart.
Ultimately, the best value device of the three is probably the Pixel 4a 5G. For £100 less than the Pixel 5, it gives you the same camera, a bigger screen, and a negligible difference in battery life, as well as a headphone jack.
Equally, it's justifiable to spend an extra £100 on the Pixel 5 for its slightly more 'rugged' design, higher RAM and wireless charging, because it still comes in at less than the Pixel 4 did.
Finally, the regular Pixel 4a is a fair mid-range version of its cousins, with the exact same body as the 4a 5G, and a cheaper launch price than the 3a. It has a weaker chipset, and loses the ultra-wide angle lens and 5G connectivity, but it has an appealingly compact size and there's no noticeable downgrade in performance, and these concessions help to elongate the life of its smaller battery.