After being the third UK operator to launch 5G, Three thinks a measured approach can help it win out
It's definitely a time of change in the industry, with crescendoing 5G rollouts and the industry's brightest working out how best to take the new service to market.
Arguably, this is nowhere more the case than at Three, where the network is gearing up for what could be a crucial next few years. Consistently known as the plucky underdog among the big four mobile operators, Three has suddenly found itself in a position to deliver the best 5G experience of the lot thanks to some canny spectrum purchases, according to CEO Dave Dyson.
Mobile News sat down with Dyson and director of network strategy Phil Sheppard at the operator's 5G broadband launch in August to get their thoughts on the new service, customer growth and its rivals' plans.
Home broadband
What immediately stands out about Three's 5G launch compared to those of its competitors is that the MNO has led with a plug-and-play home broadband offering in London instead of a multi-city mobile launch like all its competitors.
With 5G in its infancy and available in a limited number of areas, Three didn't want to put its initial focus on a mobile service on which people might lose coverage.
"With mobile, people are moving around, whereas with a home product they generally aren't," he explains. "If you have 5G broadband coverage, you'll always have coverage, whereas if you're on mobile, you might have it at home but if you go out you won't always have your 5G experience with you.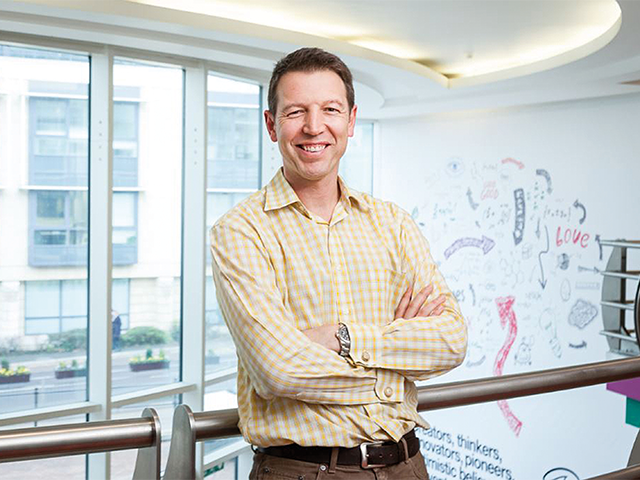 "We felt that starting from scratch with a few sites available meant it was better to launch a fixed proposition than a mobile one."
Dyson views the end of the year as the point at which Three can launch a "reasonably credible 5G mobile service", once the operator has rolled out the technology to 25 towns and cities across the UK.
In the meantime, he's encouraging prospective users to register their interest online so the network can prioritise its rollout geographically.
Best 5G
When Three does launch more broadly, it will do so as the best of all 5G networks, according to Dyson and Sheppard.
And they seem to have good reason to think this, with Three being the only network to have 100MHz of contiguous spectrum for 5G. This amount of spectrum is at least twice as much as that of Vodafone, EE and O2, while its contiguous nature makes it more dependable.
Sheppard reckons this means the network will be able to achieve a theoretical peak speed of 1.5Gbps – although the rate that people will usually get is likely to be somewhere between 200 and 300Mbps, or about 10 times the average current 4G speed.
"[1.5Gbps] would mean being very close to the site so that you don't get any distance loss and no interference – and are also the only user," Sheppard qualifies.
"If you have 5G broadband coverage, you'll always have coverage, whereas if you're on mobile, you might have it at home but if you go out you won't always have your 5G experience with you."
Furthermore, Three has been busy reinventing its network to incorporate a cloud-based core, involving a massive overhaul.
"All the functions that a core network does in terms of routing, access control, getting customers onto the network and mobility tracking are now software-based," explains Sheppard. He emphasises that a software-based network is also more automated and resilient.
At the same time, he says, costs for the hardware parts of the network are reduced by using common off-the-shelf products. "The cost of increasing the capacity is a lot cheaper because rather than buying customised hardware, you're buying standard hardware from anybody who makes it, which means real price competition."
Financials
Yet while this overhaul signifies cheaper costs in future for scaling and maintaining the network, it has impacted Three's margins this year.
The company's revenue was down two per cent year-on-year in the first half, with margin and EBITDA down one and eight per cent respectively – somewhat accounted for by a 24 per cent increase in capital expenditure.
This type of network overhaul is "the right thing to do if you take a more strategic long-term view", maintains Dyson. "We knew that we needed to lower the cost of delivering a gigabyte of data on the network. To do that, we needed more scale and spectrum."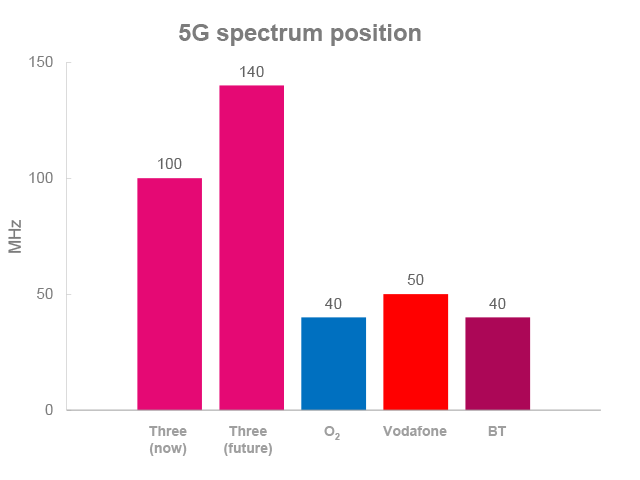 Key to this were a few spectrum-related purchases away from Ofcom's auctioning processes, which Dyson seems rather happy to have grabbed without any competition.
First was its purchase of some L-band spectrum from Qualcomm in 2015, followed by the 2017 buy of internet provider Relish (now UK Broadband) – from which it gained more spectrum usable for 5G.
Sheppard adds that Three is converting some of its 3G spectrum to 4G to ensure a strong service on the rest of its network at the same time as 5G ramps up in ubiquity – though he doesn't have a concrete time for when the operator will turn off its 3G network.
"We will eventually shut off 3G; we can see the beginning of the end," he says. "But we have to make sure there's 100 per cent 4G network support, so it's a few years away."
5G equipment
Though Nokia is Three's main equipment provider on the 5G network, there is a slight concern over the operator's use of Huawei equipment in antennas for the new technology.
"We will eventually shut off 3G; we can see the beginning of the end. But we have to make sure there's 100 per cent 4G network support, so it's a few years away."
However, Sheppard urges calm and a measured approach from the government, especially given that Huawei has been involved with the 5G launches for EE and Vodafone as well.
"We'll obviously comply with whatever the government says, but we've all launched with Huawei radio technology, so it's quite critical to our 5G launch in the UK," he says.
"If we couldn't buy Huawei equipment, we'd expect it to be more expensive because there would be less competition. It would also be technologically behind because Huawei is the front runner with this technology." While the current political situation is anything but relaxed, a government decision not in Huawei's favour would be damaging for all the networks.
Third to launch
Being the third operator to launch 5G, after EE in May and Vodafone in July, means that Dyson has been able to observe other operators' launches first.
He was sceptical about EE's decision to initially go with capped monthly data offerings for 5G (although since our conversation, it has launched unlimited plans), while considering Vodafone's unlimited offerings to be "aggressive" in response to a bad few years.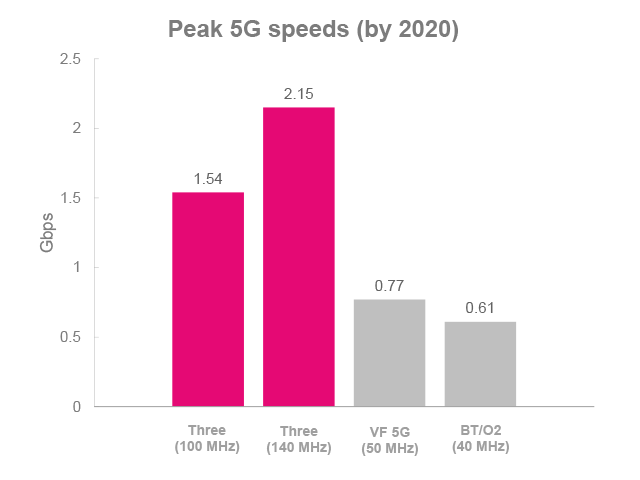 "They've struggled the past few years, so going unlimited doesn't surprise me," he says. "But it's also a sensible thing to do in terms of 5G: if you want to provide a good data experience quickly, unlimited is the way to go."
It could be that true 5G uptake may depend on which operator gets the first Apple device to offer the technology – though it might take at least a year for the vendor to bring out a 5G phone, according to most analysts.
Legacy perception
An analyst recently told Mobile News that Three has often been seen as the "weirder" network, carrying a scrappy "underdog" status and more offbeat advertising, with its smaller status not always helping its reputation.
Dyson and Sheppard both recognise that Three has a "legacy perception" issue that has dogged the operator's customer ratings – but that the advent of 5G could be key to turning that perception around.
"5G is a great opportunity to reposition the brand," says Dyson. "The network perception in our case is well behind the reality, as we didn't have a good network historically. Our 4G network is comparable with other networks today, but non-customers don't see it that way because our legacy has historically been a bit weaker.
"But if we can lead on 5G – which I think we can – then I think that their network perception will start to change." Given Three's customer and financial growth targets, Dyson will certainly be hoping this is the case: the operator is aiming to double its customers, revenues and profits, which he estimates will take about five years.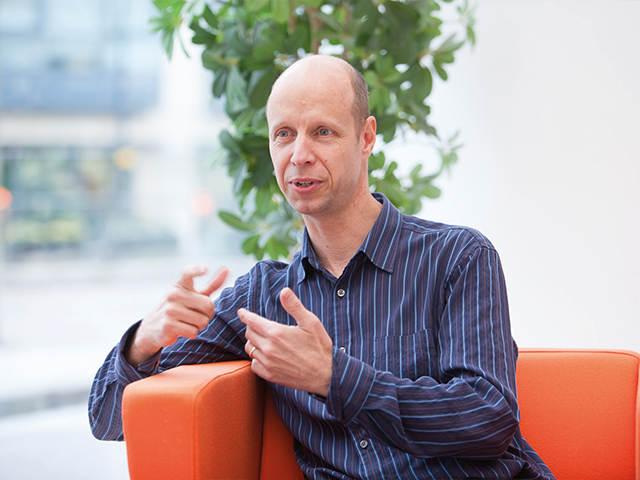 "5G will introduce more opportunities," says Dyson. "It's an inflection point to look at different solutions such as private networks and IoT, so we're looking to build our capabilities in those spaces as well. Everyone's going after the same consumer, so we need to find other ways of growing the business."
Desire for data
Three makes no secret of its users being the hungriest data consumers around. Its customers use an average of 8.3GB of mobile data per month, compared with the market average of 2.9GB in 2018 according to Ofcom.
And with the desire for data, Dyson sees unlimited plans as the future not just for early adopters of 5G and heavy users, but most average 4G users as well.
"You've got two groups of customers: one that appreciates the fact that they want to use a lot of data and therefore value unlimited propositions, and another group that haven't got a clue how much data they use but want that insurance policy that they're not going to end up with a huge bill at the end of the month.
"They might not be super-users, but they are quite happy to pay a little bit extra for that piece of mind."
And given that Vodafone offers unlimited (albeit speed-throttled) 5G plans, with EE since following suit, it seems this will be the way to go for many more users in the next year.
Whatever happens, the industry will be watching with anticipation to see how the 5G industry shapes up over the next few years – with Three bullish it can offer the best service.